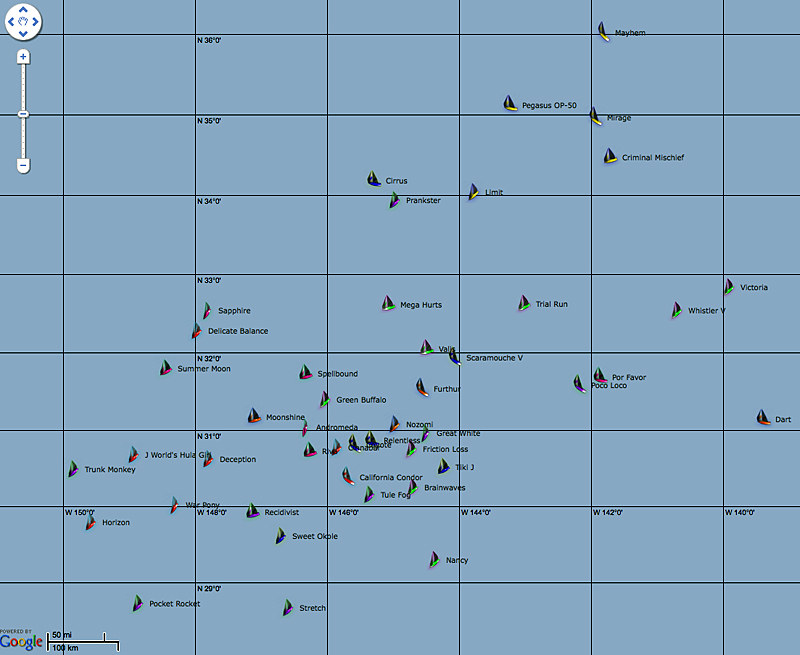 With much of fleet either past or approaching the half-way point, the fickle breeze that all but Thursday's starters experienced in their first few days at sea must be forgotten. With many boats recording double-digit speeds according to the race's tracker, the majority of the '10 Pacific Cup fleet is jamming toward Hawaii. For a few boats though, the party started too late. Bill Helvestine's Bay Area-based SC 50 Deception is nursing a bad rudder bearing; Kathy Pickup and Chuck Johnson's Berkeley-based Passport 40 Trial Run is racing with a broken boom; Ken Olcott's Bay Area-based Schumacher 39 Recidivist has had to substitute a halyard for a broken headstay; Wayne Lamprey's Bay Area-based Quest 33 Rhum Boogie is having backstay issues; Jim Partridge's Antrim 49 Rapid Transit is on its way to Santa Barbara with steering issues, and Buzz Blackett's Antrim Class 40 California Condor broke the bottom rudder gudgeons on both of its rudders. Condor is now proceeding to Hawaii and the crew are steering with a drogue and a drastically-reduced sailplan.
Up in front of the fleet, Emma Creighton and Andy Hamilton have been putting on a show, recording daily runs in the mid-200s aboard Creighton's Mini Transat Pocket Rocket, and taking the lead among all the doublehanded boats. Jame Gillmore's Columbia 30 Uncontrollable Urge is leading Division C, having snuck up into seventh overall. Of the Thursday starters, Jack Taylor's Dana Point-based SC 50 Horizon has been leading overall for a few days now, and shows no signs of giving in. In Division E, which started on Saturday, Chip Megeath's Tiburon-based R/P 45 Criminal Mischief is still bombing along, after a Monday-Tuesday run of 349 miles, and as of today's sked has moved up into sixth overall. On that same day, Philippe Kahn's Open 50 Pegasus MotionX 50 tallied 402 miles, while Alan Brierty's R/P 63 Limit knocked off 415 miles!
Receive emails when 'Lectronic Latitude is updated.
SUBSCRIBE