Pacific Cup: It Takes All Kinds
The Pacific Cup yacht race is unique in the world of sailing. The Pacific Cup Yacht Club is committed to running a race that is competitive, fun and safe while focusing on preparation and openness. The Pac Cup routinely caters to a wide range of sailing yachts with crews from diverse backgrounds — from tiny doublehanders to megayachts and from adventurous families to well-tuned racing syndicates. Case in point: When Manouch Moshayedi's Rio100 — a 100-ft super-maxi full of professionals — blasted its way to a course record in the windy 2016 race, a couple of mates with regular jobs sailing a Moore 24 won overall. It takes all kinds in the Pacific Cup, and 2020's fleet is as diverse and interesting as any we've seen.
Doublehanded Entries
The smallest boat in this year's race is Peter Fray's 21-ft Mini Transat, 415. Minis are well known in Europe. They're purpose-built for singlehanding across the Atlantic Ocean. Downwind in a breeze, the boats punch well above their weight and are capable of phenomenal speeds. Fray's boat is a prototype design and sports carbon fiber construction, a carbon mast and a canting keel. Peter purchased the boat in early 2018. He has undertaken an extensive and thorough refit to prepare her for racing the Pacific Cup doublehanded with Jim Nachtman. The duo competed in a 300-mile race from St. Petersburg, Florida, to Havana, Cuba, in March 2019 — great training for a Pac Cup. With another year of solid preparation and sailing, as well as constant optimization, look for 415 to be a force majeure within the doublehanded division.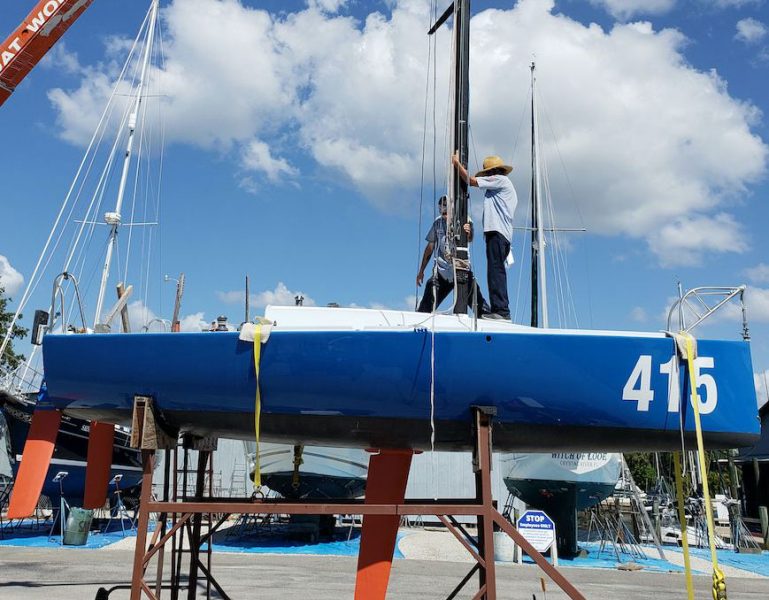 Also sailing in the doublehanded division is past Pacific Cup YC commodore Buzz Blackett and his longtime sailing partner, the renowned Bay Area-based naval architect Jim Antrim. The duo is back for their fifth Pacific Cup together and third doublehanded. Having owned an Antrim 27 in the past and then an Antrim-designed Class 40, Blackett decided on a new build for this year's race. His new boat, 'io, is a custom all-carbon Antrim 27 that was thoughtfully prepared for doublehanding and launched on January 24. The pair — who both turn 70 this year — won this year's Three Bridge Fiasco overall, finishing first out of an incredible 272 starters in their debut race.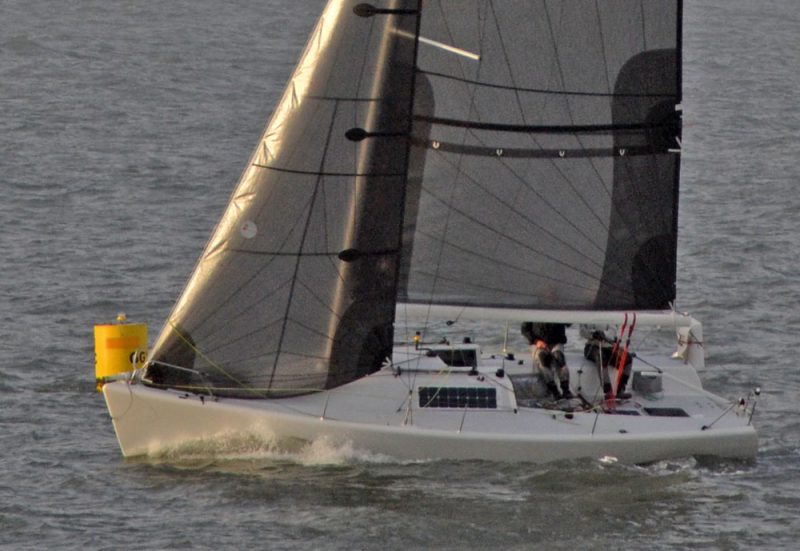 Race Rookies
As well as the multi-time race veterans, the Pacific Cup almost always features a handful of race rookies. This year, an all-female crew of Pac Cup rookies, some of whom have never made a major ocean crossing, will sail to Hawaii onboard Carliane Johnson's full-time liveaboard Freedom 38 Kynntana. After racing to Hawaii solo in the 2018 Singlehanded Transpacific race, Carliane thought about doing the solo race again, but after meeting new friend Tammy Mercado-Ruff at Island YC's Women's Sailing Seminar in Alameda last year, she hatched a plan to do the Pacific Cup with a crew of women. As Carliane puts it, "We definitely enjoy racing and sailing with our male friends, family and husbands, but it is shocking to me how few woman sailing teams there are in the San Francisco Bay Area, where it is such a huge sport and hobby. Coincidentally, it's looking like I might also have an all-woman delivery crew for the return trip as well. There's no shortage of enthusiastic, capable and adventurous women sailors!"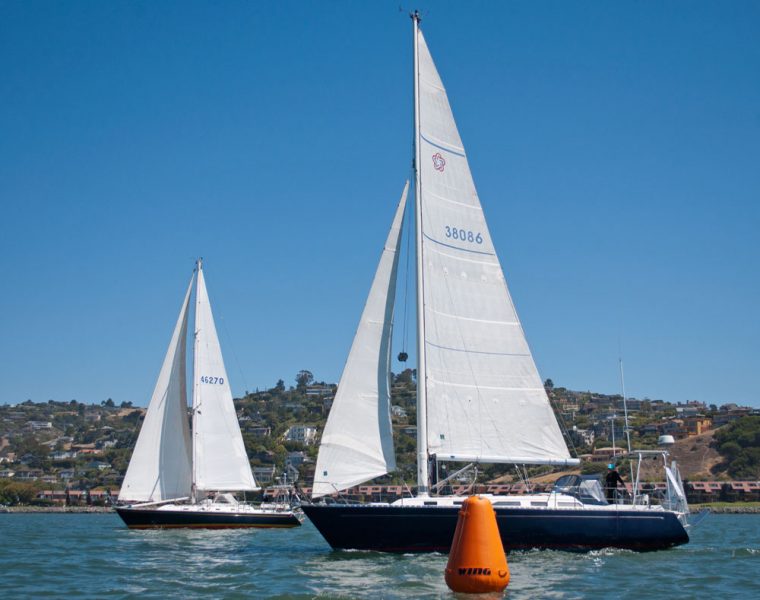 Another crew with some notable rookies is the Richmond-based Andrews 43 Kahoots. "I sailed the Transpac in 2015 with some fellow RYC dinghy sailors on Adrenalin, the Santa Cruz 50," Greg Mitchell told us. "Fast-forward two years to 2017, and on the drive back from Stockton Sail Camp my daughter Kate (then 13) asked if I would ever race to Hawaii again, as she'd like to do it. I didn't need any more hints!" Greg put together a stellar crew that includes five sailing coaches from RYC's junior sailing program and a couple of junior sailors. In addition to Greg's daughter Kate, who is now 16 and will operate the pit, the crew includes RYC's Laser coach Miles Englehart and his 15-year-old son Chase, who will serve as bowman.
The Pro Sailors
A crew of consummate professionals will sail the Kernan 68 Peligroso. A veteran of several races to Hawaii, Peligroso is now owned by Doug Baker. Baker's several successful boats have included the multi-race record-setter Magnitude 80. Having sailed with some of the best and most experienced sailors on the West Coast for decades, Doug has had the luxury of cherry-picking a dream team of legends and longtime mates to help him make his Pacific Cup debut on Peligroso a success.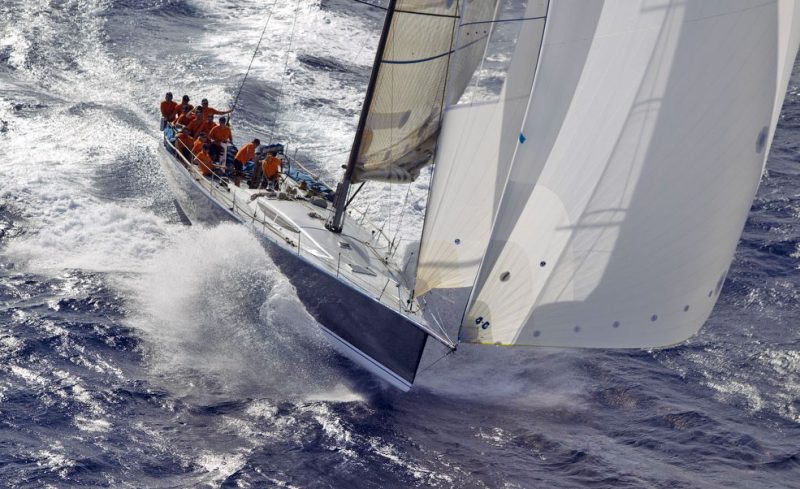 With Whitbread Round-the-World legend Keith Kilpatrick and famed naval architect Bruce Nelson as watch captains, and a crew that includes Jimmy Sloughter and experienced navigator Ernie Richau, Peligroso should be exceptionally well sailed. A Tim Kernan-designed 68-footer built in the mid-2000s as a modern interpretation of a 70-ft sled, Peligroso will almost certainly be the scratch boat in this year's race. She could well be the first boat into Kaneohe and a top contender on handicap.
Back for 2020 with a new and improved boat is the Richmond-based team Rufless. Since winning their division in 2018 on a Melges 32 of the same name, Rufus Sjoberg has now joined forces with his brother Jason Crowson to purchase and rehab one of those unicorn boats that have claimed an almost unrivaled amount of Pacific Cup and Transpac hardware in recent years, an all-carbon J/125. When Crowson stumbled onto an internet ad that appeared to show an abandoned J/125 sitting in the Netherlands, he immediately told Rufus. The two brothers hopped the next flight to Amsterdam to verify the boat's identity and then bring it back to the US.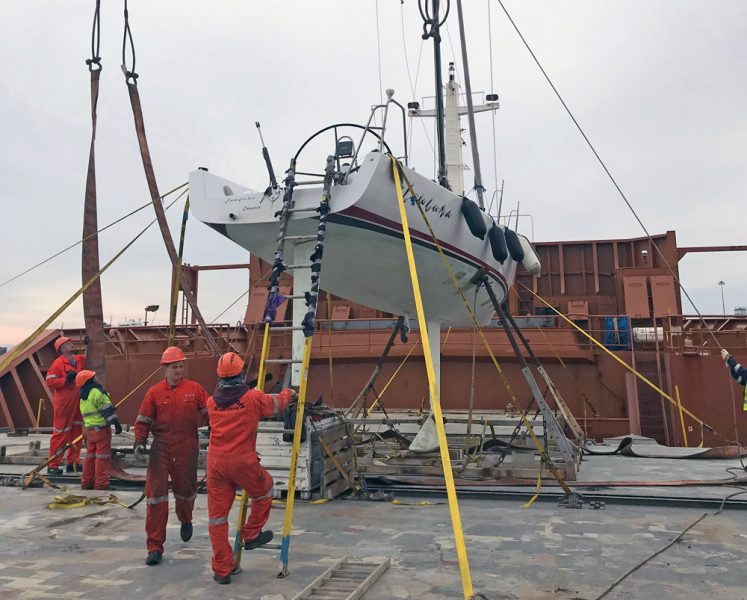 Once the boat was offloaded from the shipping company in Maryland, the brothers had to do some last-minute welding to their newly acquired 1D35 trailer to get the boat to Richmond. When the new Rufless finally arrived in her new home, the boat was discovered to have a bad rudder. She needed an extensive amount of work. With Rufus's skillsets as a boatbuilder and professional sailor who has even been employed to repair boats in the Volvo Ocean Race, we fully expect the new Rufless to be one of the best-prepared and fastest J/125s on Earth. J/125s went 1-2 overall in last year's 50th Transpac. With Zachery Anderson, Will Paxton and their crew on rival J/125 Velvet Hammer, no one is going to bet against this pair of well-sailed 40-ft carbon J/Boats in the Pacific Cup.
With the 21st edition of the Pacific Cup now less than four months away, it's full steam ahead for much of the fleet. Be sure to check out the race website and stay tuned for more articles as the race approaches.
Receive emails when 'Lectronic Latitude is updated.
SUBSCRIBE