The Ocean Race Grand Finale Includes San Francisco Bay Sailor Bérénice Charrez
July 1 concluded The Ocean Race, with the Grand Finale of the 2022-23 edition. It was the last day of racing for the 14th edition of The Ocean Race, which took place in Genoa, Italy, on a Saturday afternoon. According to official Ocean Race news on June 30, The Ocean Race 2022-23 featured more female sailors than any of the previous events in the race's 50-year history. This means more women also featured in other traditionally male-dominated roles, including onboard reporters and race jurors.
We've been following the story of one female sailor in the competition, Bérénice Charrez, friend and student of the rigorous sailing training grounds of San Francisco Bay. She shared her love of the S.F. Bay sailing community with Latitude 38 readers just before embarking from The Hague in the Netherlands for Stage 3, the final leg of the VO65 Ocean Race Sprint competition, and before re-emerging with her team for their impressive third-place arrival in Genoa. "Erik Brockmann's team gybed the Mexican boat nicely on the inside of Gerwin Jansen, and the Austrians and México sneaked into third place as they set out on the third leg of the course," The Ocean Race reported.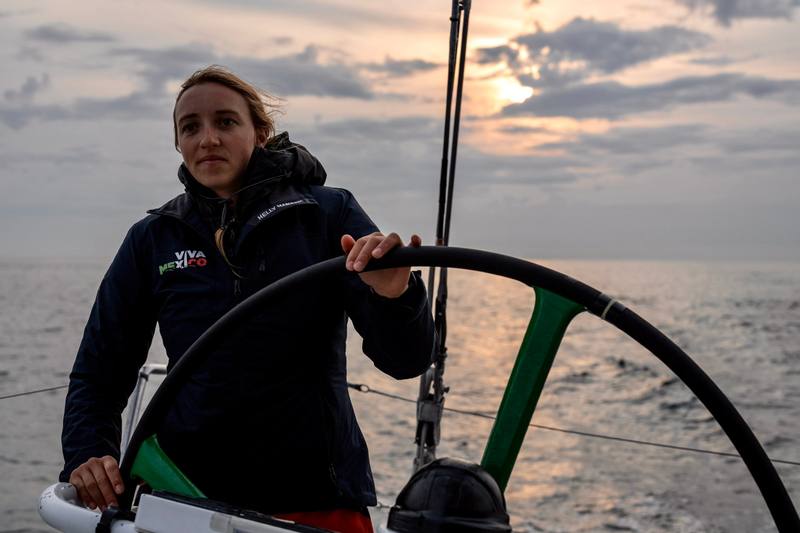 Of course, one of the highlights is their finish after battling for their place underway. Team Viva México came in third, "but we were close to second," Charrez said. "Viva México was known to be the smiley team. We were just happy all the time, lucky to have this opportunity, always in strong spirits. Not only were we always laughing and joking, but everyone on the boat are incredible competitive sailors, some of them with strong Olympic or match-racing backgrounds and others with extensive offshore experience, including winning a previous edition of the Ocean Race," she added. "It was the perfect mix of focus and fun. I wouldn't have wanted to do this race with anyone else."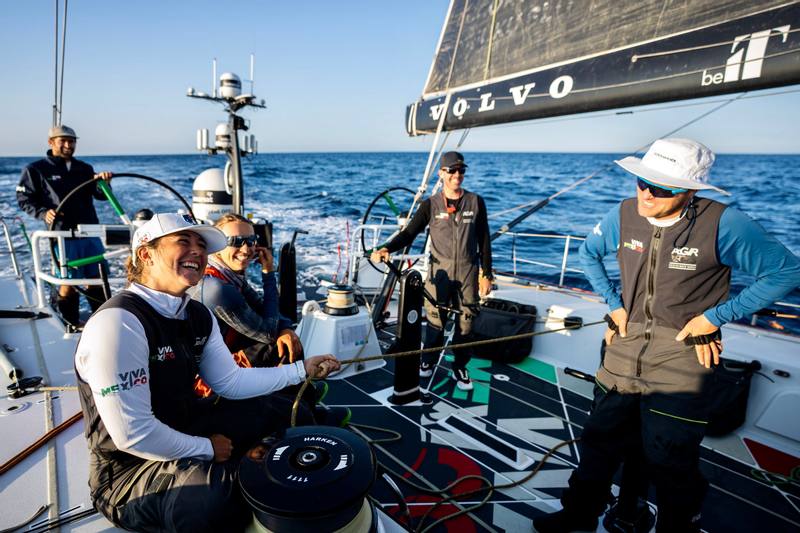 The best part of Leg 3, for Charrez, was by far the Gibraltar crossing. Leg 3 took the team down the Portuguese coast through the Strait of Gibraltar between North Africa and Spain's south coast. "As we were racing down the Portuguese coast we kept on getting closer to Jajo and Mirpuri fighting for the second place. When the three boats were about one mile apart, some orcas visited Jajo; it was panic onboard to drop their sails and assess if any damages occurred after the encounter," Charrez recounts. You can check out some of the incredible footage on YouTube, but here's Charrez's version of the adventure:
"At this point Mirpuri and my team freaked out. We jibed away to the coast, hoping the orcas would not follow us. A few minutes later, Mirpuri called on the radio, saying the orcas were with them. But the orcas never came to Viva México so we kept sailing and eventually passed Mirpuri and Jajo. Emotions were high. We entered Gibraltar, which I had never been through. The coast was gorgeous, the sun was setting with beautiful red colors, and dolphins were jumping around our bow. And we were match racing with Mirpuri, tacking along the coast with Jajo not far behind. It was just incredible, so much going on at the same time …"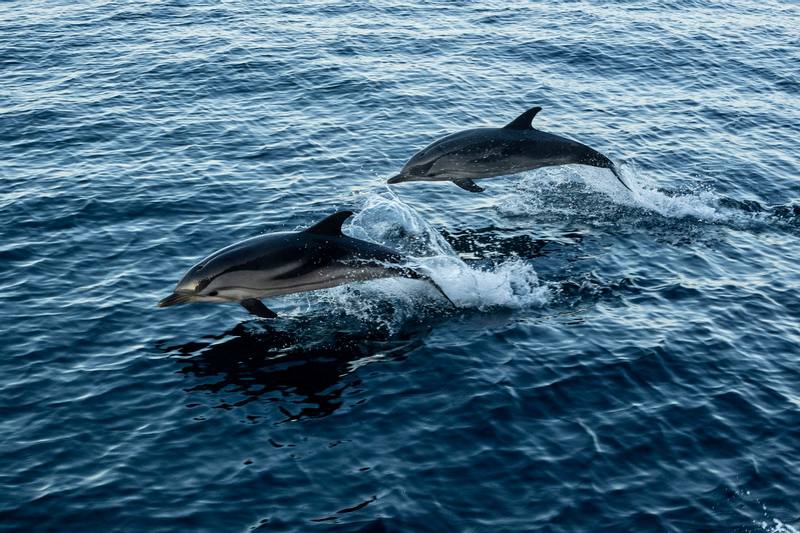 Despite the risks, the beauty, and amazing team spirit, it's a physically grueling project to take on. For Charrez, the hardest part is still the sleep schedule. "I felt less tired this leg than the previous one, because conditions were calmer and therefore the little sleep you get is more efficient," she explains. On this leg, Charrez didn't sleep more than one hour at a time, and no more than four hours of sleep per day total. Sounds pretty tough to adjust to! "Your deep sleep was always interrupted, sometimes by a spinnaker dropping on your face," Charrez laughs.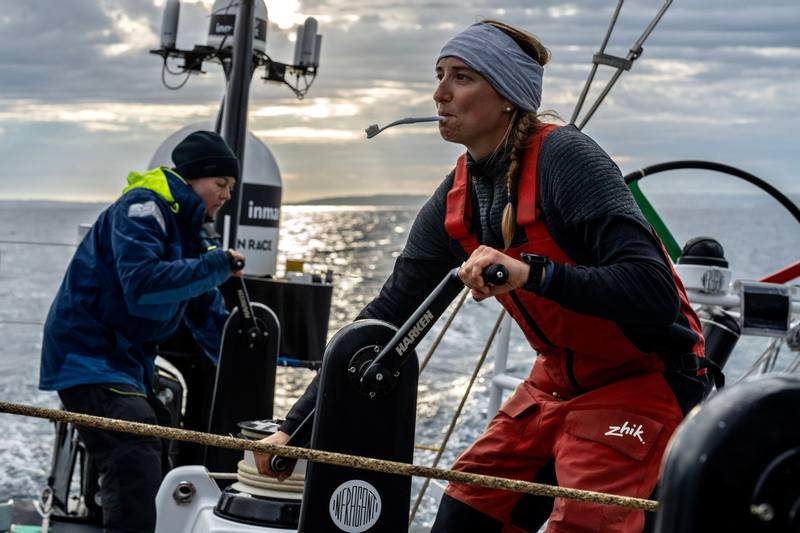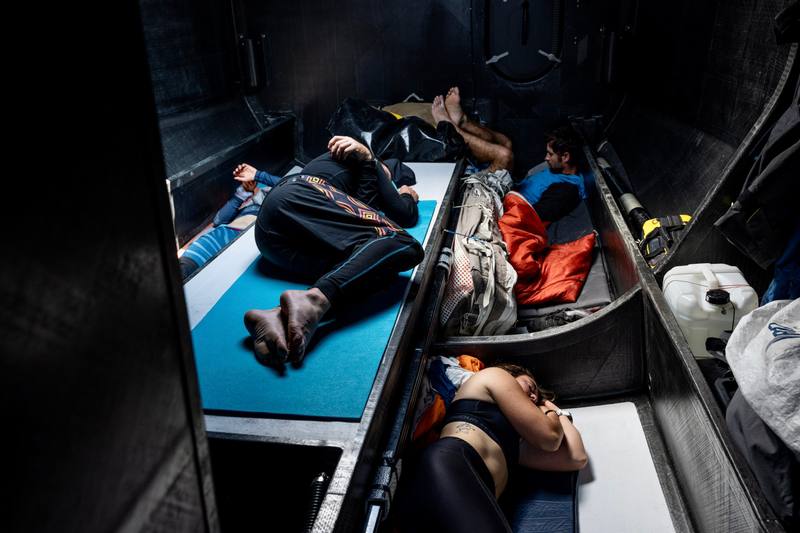 Sleeping crew in the bow get awakened by the kite dropping, a tack or jibe, or reshuffling to stack all weight to the windward side, or called up for maneuvers that require all hands on deck. It's all in a day's work for Charrez, who lives for the challenge and adventure.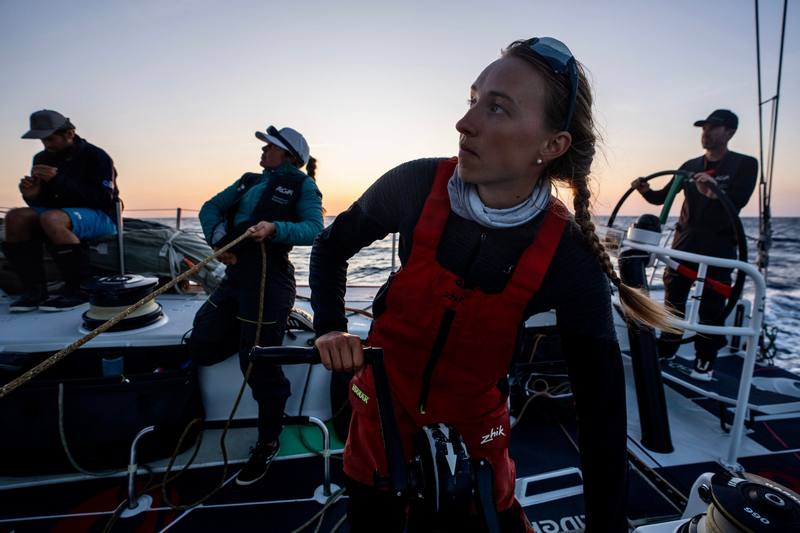 "It's a huge achievement. I'm very proud of how far we've gone with this team, getting better every hour of racing, and very proud of myself with what I've learned and how I performed and fit in well within the team," Charrez explains. She's certainly come a long way since her days sailing on the Bay as a UC Berkeley student. As with all good things, this project too must come to an end, she says with just a touch of sadness. "… I wish this project kept going. It was a perfect adventure, all along. Thank you, Erik Brockmann, for this unforgettable opportunity." Who knows what's coming next for Charrez? We'll see where her next race will be, especially pending decisions after participating in this week's qualifiers for the America's Cup Swiss team, Alinghi Red Bull Racing.
Receive emails when 'Lectronic Latitude is updated.
SUBSCRIBE