New Trimaran's Shocking Capsize
A shocking bit of news came out of western Europe over the weekend as current Vendée Globe champion and Banque Populaire skipper Armel le Cléac'h and a shorthanded crew capsized the brand-new Banque Populaire IX maxi-trimaran west of Morocco and the Strait of Gilbraltar while on a delivery from the team's base in Lorient, France, to Nice for the boat's first major regatta. With Armel sailing the boat essentially singlehanded on a port tack, though accompanied by boat captain Pierre-Emmanuel Hérissé and an on-board cameraman, the boat capsized onto its starboard side when it was hit by an unexpected gust of wind at around 3 a.m. Wind conditions had been about 18-20 knots at the time, relatively steady, and the 100-ft trimaran was romping along with the small jib and one reef in the main. Le Cléac'h had been in between maneuvers and had just lain down in his bunk when he felt the port ama rise rapidly. He made an attempt to help de-power the boat remotely, but to no avail.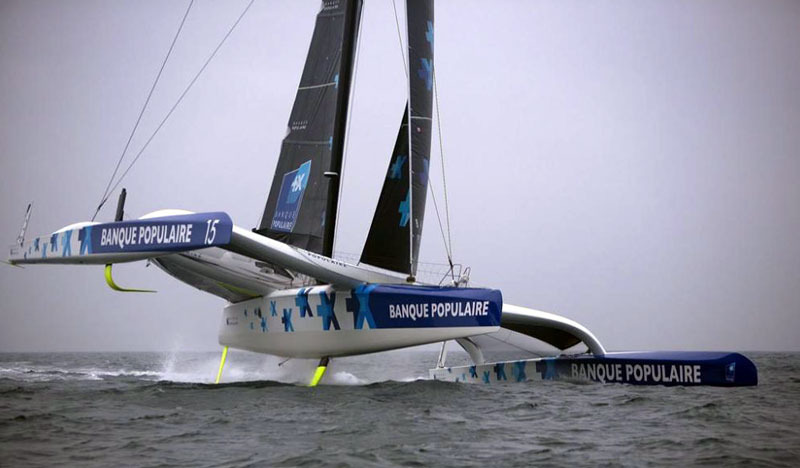 The three crewmembers onboard were all airlifted to safety by a Moroccan Army helicopter and turned over to the French consulate in Casablanca. The boat, meanwhile, was reportedly still mostly intact with all its hulls and crossbeams in place, though the mast broke into several pieces. A technical team with three members from Banque Populaire and two rescue divers arrived back at the boat on Monday to prepare the boat for towing. Conditions at the scene were said to have been pretty manageable, but weather was coming, so time was of the essence. The divers salvaged some parts and cut away other parts before towing could commence. The tow was slow to avoid further damage; it took 48 hours to cover 130 miles.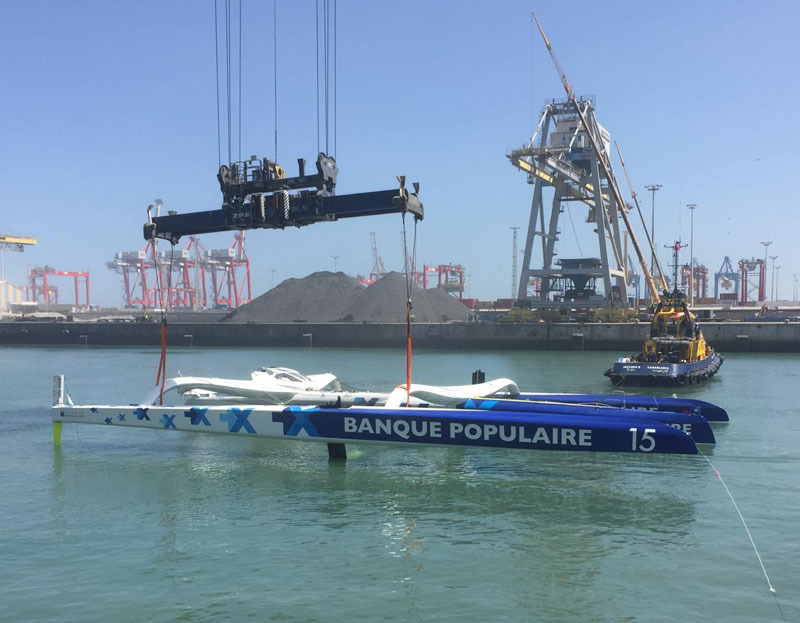 Ronan Lucas, director of the Banque Populaire team, said they would "make an initial assessment of the damage; it is found that many parts of the central hull deck around the mast foot are damaged, as well as the deck of the floats and the arm fairings; some of the caps were washed away."
The incident is a major setback for both Team Banque Populaire and for the new Collectif Ultim group that is promoting the racing of such monstrous boats. This new 'league' of mostly solo maxi-trimaran racing is just getting underway with their first big regatta in a week's time as they prepare for the Route du Rhum later this fall and a round-the-world race to begin next year.
You can watch a video of BPIX's first sail here. The brand-new boat reportedly cost between $15 and $20 million euros to construct.
Receive emails when 'Lectronic Latitude is updated.
SUBSCRIBE