Mexico, More Than Just Great Cruising
With all the focus on the elections in Greece and the possibility that the country would elect a leader who wanted to default on their loans and destroy the European Union, not so much attention has been paid on what's going on today in Cabo San Lucas. What's going on is the G20 Summit, which is the big pow-wow of the leaders of the world's 20 largest economies. President Obama will be there, as well as the leaders of the other top economies in the world such as China, Japan, Germany and so forth. The two-day meeting is a real feather in Mexico's cap, as it's the first time that the Summit has ever been held in Latin America.
We suspect the average American has a distorted view of Mexico. Most see it as a very poor country with some beautiful beach resorts and horrible narco violence. Parts of those things are certainly true, but there is much more to the story of the nation of 120 million people. For example, just 20 years ago Mexico was viewed as being as economically pathetic as Greece is today. But not only did Mexico get out of horrible debt and put its financial house in order, it's thriving. Mexico wasn't clobbered by the financial crises of '08 and '09, and its economy continues to grow. For the last two years everyone raved about Brazil's economy. Well, Mexico's did even better. For the last 20 years Mexico has managed to have a stable economy and keep inflation in check. That, in addition to having a wide-open economy, is why so many major international companies are investing in Mexico rather than China, and why Mexico is becoming more of a political power in the world.
Just for fun, can you name the biggest economies in the world? They are: 1. United States. 2. China. 3. Japan. 4. India. 5. Germany. Mexico is currently in 15th place. But get this, many economists are projecting that by 2020, which isn't that far away, Mexico will have leapfrogged 10 countries to become the 5th largest economy in the world. And with that increasing economy would come increasing political power. We thought those of you cruising or about to cruise in Mexico would find that interesting.
By the way, the G20 hoped that Doña de Mallorca would be available to make the keynote address at the Summit in Cabo. Alas, there was a little bit of a weather window when she and her three crew on Profligate got to Cabo on Saturday night heading north, so they decided to keep right on truckin'. Maybe they should have stopped, as the Baja weather looks pretty crappy for the rest of the week.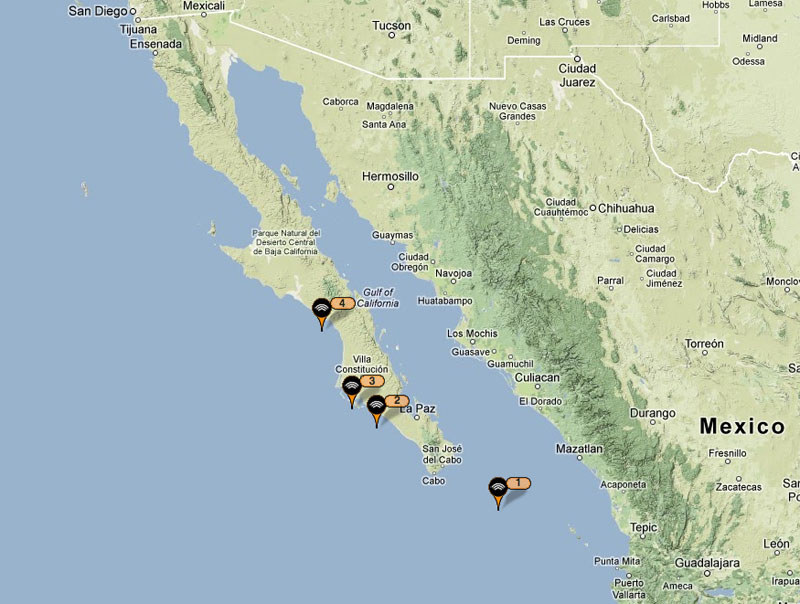 Receive emails when 'Lectronic Latitude is updated.
SUBSCRIBE