Meditating on the Size of the Banderas Bay Blast Fleet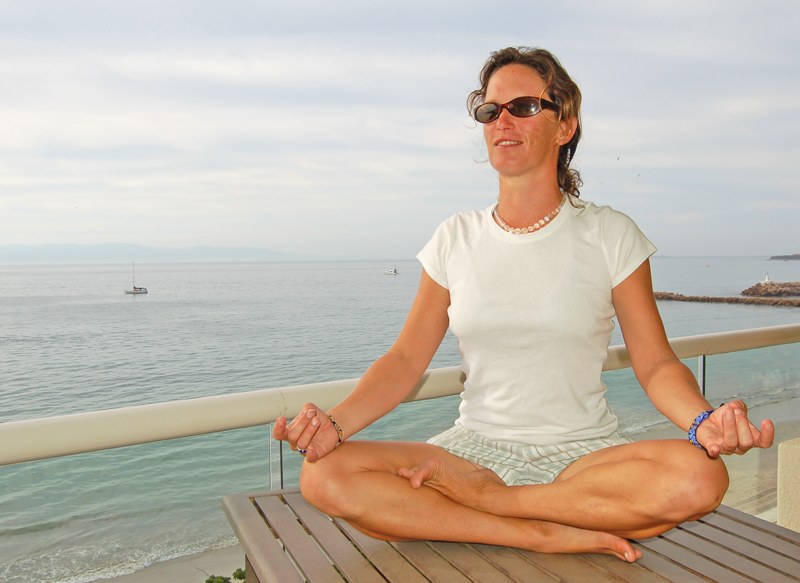 Today's Photo of the Day is of Eugenie "all the stories you've ever heard about me are true" Russell, Commodore of the Punta Mita Yacht & Surf Club, meditating on the number of boats that will participate in next weekend's first-ever Banderas Bay Bash.
The BBB, a three-race series that includes a seven-mile reach from Paradise Marina to La Cruz, a 10-mile beat from La Cruz to Punta Mita, and a 12-mile heavenly spinnaker run from Punta Mita to Paradise Marina — is to be an annual event pitting the rival Vallarta YC against the Punta Mita Yacht & Surf Club to raise money for various worthy youth charities around Banderas Bay. That last of three races is the infamous Pirates for Pupils Spinnaker Run, for which everyone is encouraged to — as in walk the plank if you don't — dress appropriately.
There are two ways to participate. One is with your own boat. The clubs are expecting anywhere from 15 to 25 boats, as many as eight of them large catamarans, to show up. All these entries will pay a modest entry fee, 100% of which goes to charity. In addition, many of the larger boats — such as Profligate, which will be match racing John Haste's Perry 52 cat Little Wing — are willing to take folks as crew who have made a donation to the charities. To get a ride on Profligate, you only need donate $20/day or $50 for all three days. Plus, you get to bring your own food and beer.
It would help both the clubs — and the organizers — if they could get a better handle on the number of boats and crew that are expected to attend. Commodore Eugenie has been doing the best she can meditating to come up with an accurate number, but having seen steam coming out of her ears, we've decided that it would be easier if you folks planning to participate would merely email Richard and tell us if you and your boat plan on participating, and for how many legs. Yes, this is a Ha-Ha style event, in which the emphasis is on having fun raising money for a good cause, so it's no big deal if you miss a leg or two.
Did we mention there will be social activites — to put it euphemistically — at Philo's in La Cruz on Friday night, at the Punta Mita Yacht & Surf Club on Saturday night, and back at the Vallarta YC in Nuevo Vallarta on Sunday? And that there will be a 'surf contest' before the race on Sunday? If you know how to have fun and you want to be a part of fun racing history, you'll not want to miss it.
Receive emails when 'Lectronic Latitude is updated.
SUBSCRIBE