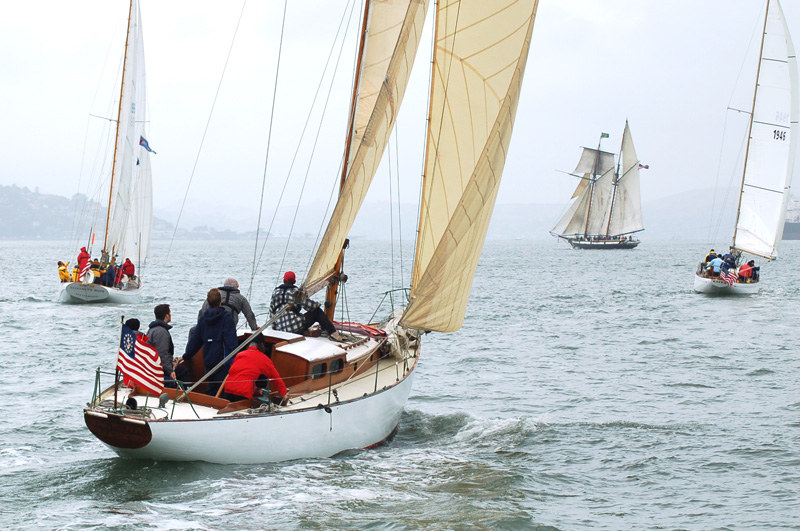 Gray skies, light winds, and even a little rain greeted 56 boats answering starting guns at the annual Master Mariners Regatta on Saturday, May 24. And that's pretty much how it stayed through the rest of the day, with perhaps a few brief 'gusts' to 10-12 knots. Ironically, on Friday when many boats went out to practice, they enjoyed the usual conditions found during this Memorial Day weekend event: blue skies, bright sun and wind in the high 20s.
The conditions did little to dampen the spirits of the classic yacht crowd. (With a few exceptions, Master Mariner boats must be designed before World War II — or built to a pre-war design using pre-war methods). And the smile quotient seemed as big as ever, both aboard boats passing in front of our cameras and at the post-race party at Encinal YC.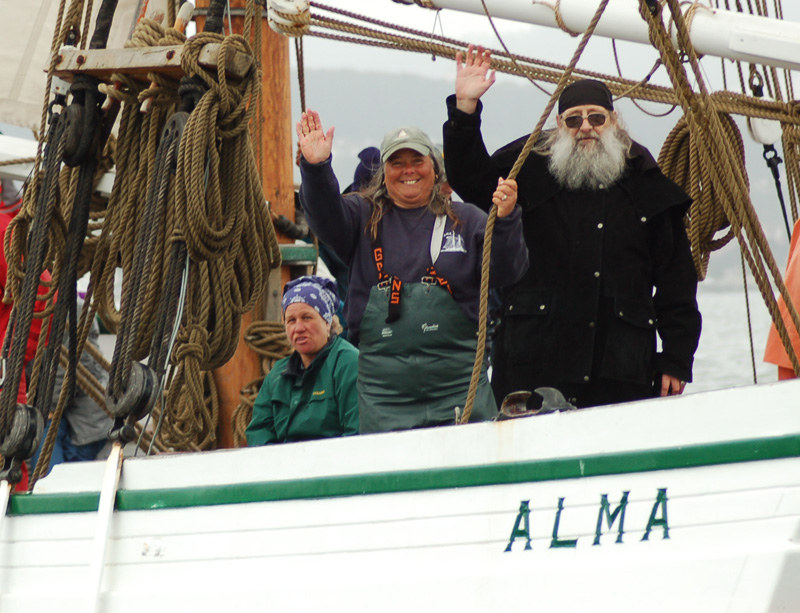 "Sailboat racing doesn't have to involve beating your brains out in 30 knots of wind to be enjoyable," said Bill Belmont, a 30-year Master Mariners veteran with his Farallon Clipper Credit. "It was a nice change that this year's race was more tactical. We had one big flood all day long and a lot depended on how you dealt with it to keep the boat moving."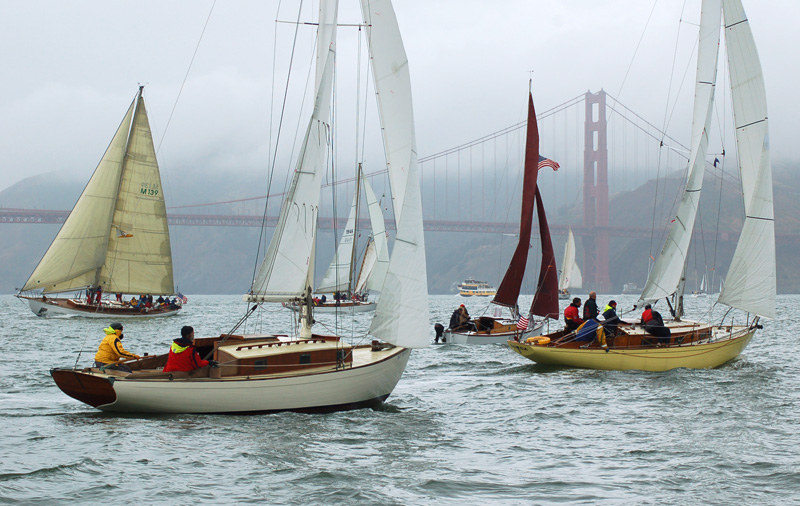 With a reverse handicap start (using a handicapping system as old and mysterious at the pyramids), the first boat in any division to cross the finish line is the winner. Here are the winning boats in this year's race:
Big Schooner — Lynx, Craig Chapman
Gaff 1 — Brigadoon, Terry Klaus
Gaff 2 — Blackwitch, Rick Hastie
Marconi 1 — Santana, Paul Kaplan
Marconi 2 — Sunda, Bob Rogers
Marconi 3 — Corsair II, Mike O'Callaghan
Ocean 1 — Kate II, John Emerick
Ocean 2 — Ouessant, Gene Buck
Bears — Magic, Tim Maloney
Birds — Robin, Pat Kirrane
For complete results, log onto www.mastermariners.org.

Receive emails when 'Lectronic Latitude is updated.
SUBSCRIBE