A Lifetime of Sailing Memories in a Windless Moment
Hello Latitude 38. I am an active sailor with an Ericson 34 berthed at Marina Bay, and I work with sometimes-severely disabled people in a skilled nursing facility in San Rafael. There is a 75-year-old man who recently had a stroke resulting in several serious medical problems. He does write, however, and spends much of his day writing short stories. I thought  Lat 38 would want to see something he penned. He would prefer to remain anonymous.
Very rarely the ocean adopts a 'breathless' stance in which its visible surface, in all directions, remains unmarred by even a slight indication of a mere breath of wind, and the slow undulations that could bespeak subsurface turbulence of any sort, at least, are eerily absent as well.  At these seemingly 'endless' moments, one is bluntly reminded that some sort of wind motion, no matter how restrained, is ubiquitous on the vast seascape with which we are so familiar; naturally that wind became, long ago, the handily accessible power source for any and all humanoid nautical exploits.
In lieu of belaboring a very lengthy seafaring history (and obvious colorful tradition) I'll shortcut gracefully (I hope) to the emergence of the combined art and science of modern sailing as a highly symbolic and recreational scene.
As my two brothers and I were growing up in Ojai, California (a bit inland, between Ventura and Santa Barbara, but in Ventura County), our father was working in L.A. to pay for our beautiful life and education; we lived at home with our mother. On weekends he picked up the three of his sons for a weekend of sailing out of the yacht harbor in Santa Barbara. Even though my father was Jewish, the "good old boys" of the Santa Barbara Yacht Club ultimately banded together ceremoniously and invited him, his sons and his beautiful racing yacht to join that club and to participate in the regular sailboat races every weekend.  I could write an entire book about that scene, but the real point here is that we gained a pleasant sense of social belonging by entering that friendly maelstrom of very technical little rivalries.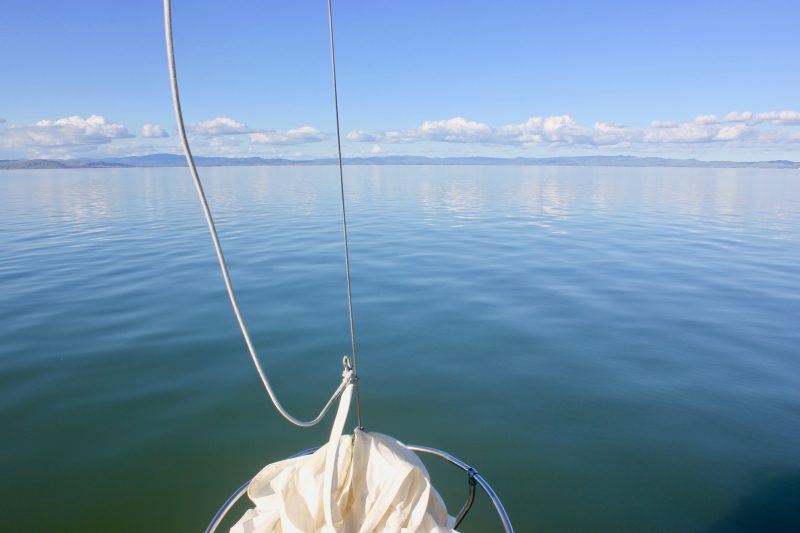 The inside-y and sort of arcane terminology in modern recreational sailing would no doubt amaze the reader, but limitations here restrict me to some samples. A "sheet," for example, is a line attached to the bottom of a sail, and then somehow to the boat itself, allowing the thrust of the sail to be transferred and converted into the boat's forward motion. A "block," on the other hand, is a pulley; a "snatch block" is a pulley that can be moved around and then attached temporarily at different places on the boat. Another important item of nautical slang, and one which found its way onto land long ago, is "head" (for 'bathroom'). This was because the "headstays" were firmly anchored to the midship side rail in such a way that with the help of an ally one could cantilever one's necessary parts out over the ocean.
The sailboat races held weekly by the yacht club are really a showplace at which the wealthy local sailboat owners can kinda get together and "strut their stuff" in a public display. A straight downwind leg is included in every race, at which each captain can show off his or her latest spinnaker, a large, colorful and balloon-like sail that requires spectacular seamanship just to fly at all.
Since the so-called Channel Islands are only 20-ish-plus miles away from the Southern California mainland, we did a great deal of overnight traveling to and around those islands; anchoring in Pelican Bay or Valdez Bay at Santa Cruz Island even allows one to go ashore briefly, or to explore some of that island's numerous waterline caves. Exploring waterline caves requires (unless you are one of the sea lions whose relatives have been doing it au naturel for eons) the use of a dinghy or raft of some sort and powerful handheld lights. Such exploration always precipitates deep philosophical meditation about cosmic time periods and how life fits into them.
Getting going in a sailboat's cabin after a night's healthy rest, which has been accompanied by the reassuring creak of anchor lines, may entail six young eyes carefully studying (for future reference) their father's elaborate way of shaving. Living together, over many consecutive days and in the close quarters of a sailboat, is a real learning experience for growing boys, even in California. Our longest single adventure/trip was the traditional race to Ensenada, Mexico. The camaraderie that develops among the adults participating in these events is something to behold.
I think my fondest memories from sailing along the coastline of Southern California are of lying on the elevated (upwind) teak deck and looking at the sun-baked panorama, which featured rounded, golden California hills sprinkled with dark green oak trees. That scene always reminded me of the excellent illustrations in various childhood storybooks. Since both my brothers and I were never really into the deafening pageantry and phony comradeship of high-school sports, the flailing sheets and screaming of winches that filled the cockpit of a fast racing sailboat very adequately replaced that scene in our lives, at least as far as we were concerned at the time.
Receive emails when 'Lectronic Latitude is updated.
SUBSCRIBE