Lessons Learned from Boat Blaze
We do our best to keep track of the 200-plus boats that do the annual Pacific Puddle Jump, but once they move beyond French Polynesia many tend to fall off the Latitude radar. That was the case with the New Zealand-flagged Bavaria 51 Sunny Deck, which was destroyed by an engine fire in mid-ocean June 23, somewhere between Rarotonga, Cook Islands, and Tonga. Details of the incident reached us only a few days ago. And while this may now be old news, there are some valuable lessons that we can learn from this life-threatening ordeal.
Late on that Tuesday night, Kiwi owner Murray Vereker-Bindon, 70 and crewman Michael Boyd, 68, were asleep in the aft cabin while Victor Campos, a 35-year-old professional skipper from Mexico, was alone on watch. At roughly 11 p.m., Campos smelled smoke and, upon lifting the engine room hatch, found the chamber ablaze. Toxic smoke billowed out, greeting Bindon and Boyd as they awoke to Campos' screams of "Afuera! Afuera!" (Get out!)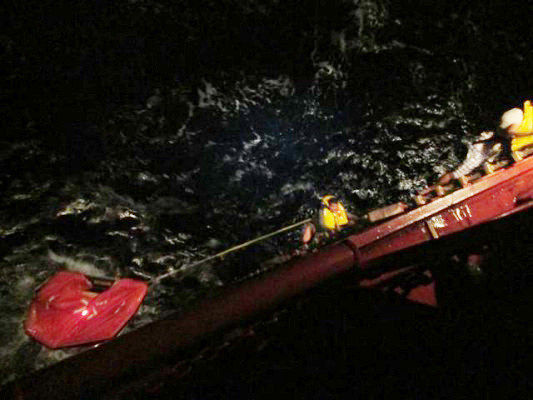 Seconds later all three men jumped overboard to escape the caustic flames, wearing nothing but their undershorts and lifejackets. Luckily, one of them had the presence of mind to activate the ship's EPIRB before exiting. Luckier still, they were able to swim to the back of the boat and release the liferaft, although they poked a small knife hole in it while cutting its tether.
When he bought Sunny Deck from a German owner, Bindon failed to update the EPIRB's emergency contact info in the central database, so the alert initially went to a rescue center in Bremen, Germany. When the former owner received a confirmation call from rescue authorities there, he called Bindon's home in Acapulco, and alerted his Mexican wife, Yolanda. She, in turn, called Bindon's son Matthew in New Zealand, who had already noticed that the big sloop's AIS signal was not functioning. Rescue Coordination Centre New Zealand then took charge, and diverted the 748-ft container ship Cap Capricorn, which was about four hours away, en route from California to Auckland. The ship's crew reportedly were guided to the scene of the emergency by the tall flames of the fiberglass inferno, and spotted the liferaft nearby in the reflected glow of the fire.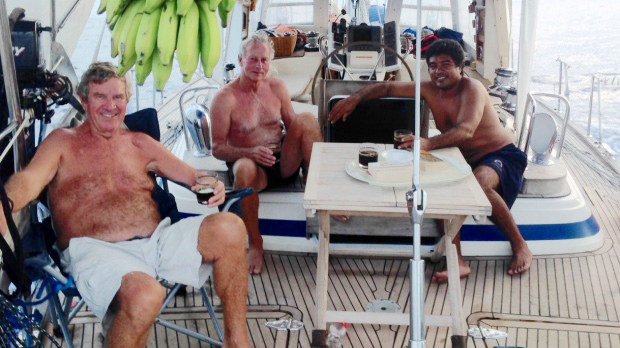 Conditions were rowdy at the time, with 45-knot winds and swells of roughly 12 feet, making it extremely difficult for the three men to pilot their raft to the side of the ship. But after about an hour of struggling, they made it, around 3 a.m. (June 24). The specific cause of the fire is unknown.
Receive emails when 'Lectronic Latitude is updated.
SUBSCRIBE