Lake Havasu Pocket Cruisers Convention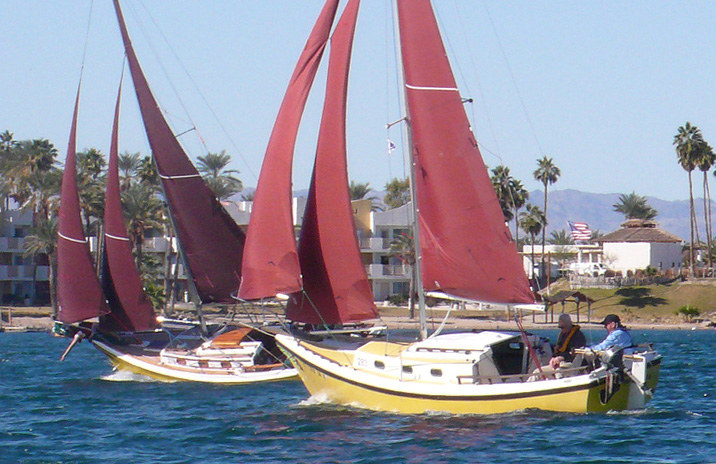 My sailing buddy Jack Foster flew out from Warrenton, VA to join me for the 600-mile tow from Napa to Lake Havasu, AZ, for the 6th Annual Havasu Pocket Cruisers Convention with my Venture of Newport 23 Clarsa, the first visit for both of us. The seven-day event — held February 8-18 — was attended by about 200 boats, from as far away as Michigan (2,100 miles!) The weather was pleasant all week, though veteran attendees said it was cooler than normal for this time of the year. Winds varied from calm to perhaps 15 knots during the week.
Daily afternoon sailing events such as races and fun sails were preceded by informative seminars that were well-attended. The racing events concluded on Sunday with the Manufacturers' Cups, offering separate races for MacGregor, Catalina, Potter, Montgomery, and International Marine fleets. Due to nearly non-existent winds that day, these events were terminated at the windward mark, which took those who didn't withdraw early about 90 minutes to reach.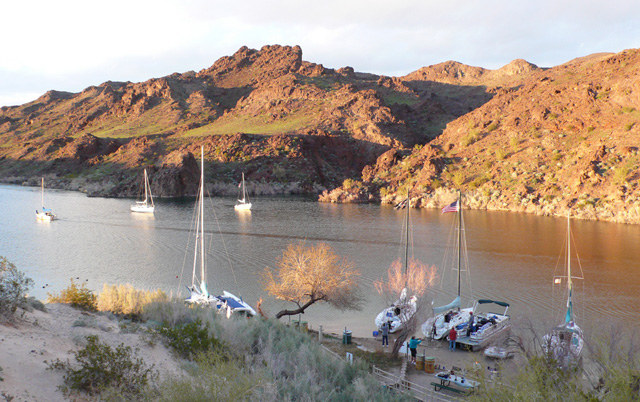 Jack and I left our boat in her slip that day to crew for fellow Venture 23 sailor Henry Rodriquez, who had towed Chiquita 2,000 miles from Mound, MN. We raced in the MacGregor fleet against 25- and 26-ft boats, over which we prevailed by a mere foot-and-a-half in a photo finish.
The GPS familiarization/poker run was a weeklong event that took us all over the area by land and water to match 30 landmark photographs with their appropriate GPS coordinates. The number of correct answers on your score card got you playing cards to turn into your best poker hand, which in turn were traded for prizes. A entertaining and educational game.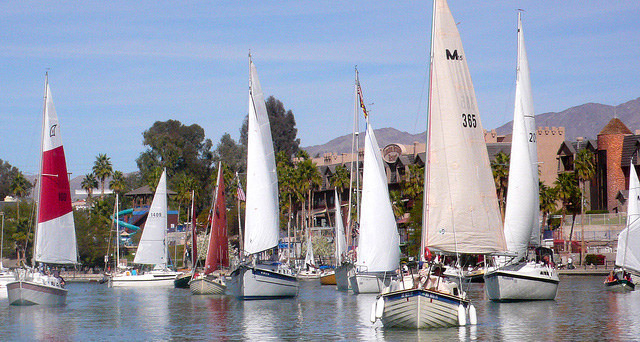 Saturday was set aside for a dockside boat show that was well attended by sailors and the public, followed by the Parade of Sail under the London Bridge. A nicely catered awards banquet on Sunday night concluded the weeks' festivities, and it was punctuated by many sailors talking about their plans to return in 2014. For more info on the event, go to sailhavasu.com.
Receive emails when 'Lectronic Latitude is updated.
SUBSCRIBE