Jimmy Buffett and a Salt Shaker that Will Never Be Found
In these seemingly timeless times, what better occasion to check in with that drifting-est of drifters, that leaf floating on the proverbial wind, that proverbial proverb who is both the enigma and the answer. We are, of course, speaking about a Mr. James Buffet (as no one calls him), better known as Jimmy Buffett, a sailor, surfer, branding and marketing genius, tireless tourer, and, by his own reckoning, a pirate born in the wrong time who's been searching for a thing he never seems to find.
What better mystic maestro to serve as captain of a romantic ideal of the sailor's life, where we seek a journey as much we do a destination? But what is it, exactly, that we love so much about Buffett's songs, concerts, merchandise and lifestyle?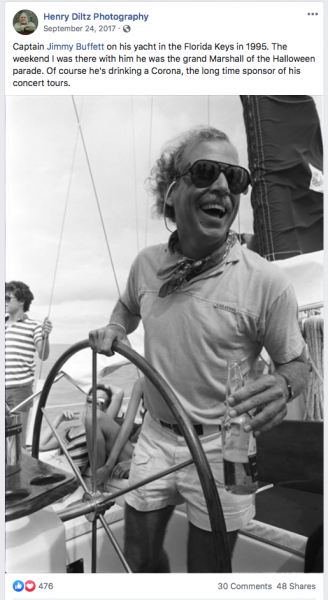 There is little news to report on Mr. Buffett, save a few nuggets. (By definition, if not by cosmic design, a drifter floats into one's life at the most unexpected of moments.) While locked down and diving deep into our video library recently, a friend and I rewatched a favorite: Hook. The film includes a cameo from longtime sailor David Crosby, as well as a lesser-known spilt-second of film: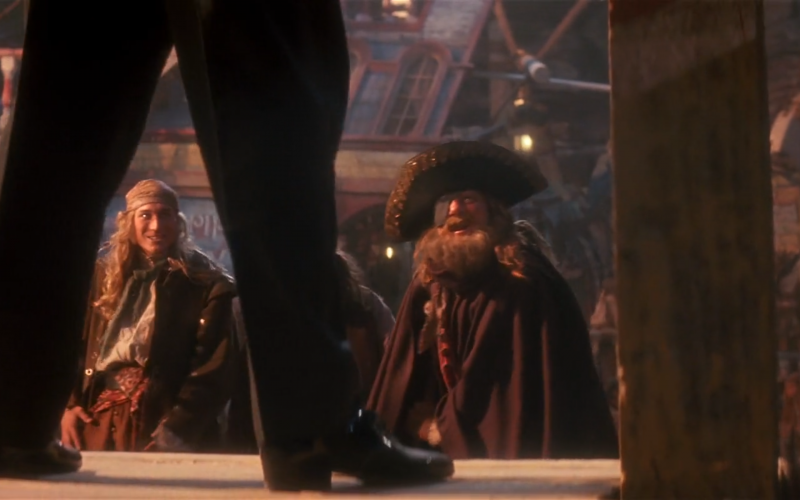 A few weeks ago, a West Virginia newspaper reported that Jimmy Buffett and the Coral Reefers will bring their "iconic island escapist music" to nearby Burgettstown, Pennsylvania, in mid-July; Jimmy B's current tour, which does not include the West Coast, was put on hold because of COVID these last few months. The newspaper story went on to take a quick tour of the singer's career, including how Buffett got his start "playing for drinks."
Can you imagine a journalist finding any excuse, no matter how little of a news hook available, to write about Mr. Buffet?
Also on hold indefinitely is Escape to Margaritaville, Buffett's theater adaptation of his most famous ballad.
When asked, "Why Broadway?" by NBC News in 2018, Jimmy Buffett said, "It's been a longtime dream; I think it started with my mother taking me to musicals where I grew up on the Gulf Coast," Buffett said. "I've always liked [musicals]. I've always liked the fact that there are live audiences there." Buffett told NBC that he "almost" got to Broadway with a show he co-wrote with Herman Wouk, the Pulitzer Prize-winning novelist. Their musical Don't Stop The Carnival was onstage in Florida in the late '90s.
A friend of Latitude who described themselves as a "hardcore, lifelong fan" of Jimmy B. caught Escape to Margaritaville earlier this year, and said, to their regret, it was "cringeworthy at times." Escape felt a little hokey and contrived, "like they were trying to crowbar all of his songs into the play," our friend said. A 2018 review by the New York Times said of the musical, "The story asks that you notice the winking way it sets up situations that will later make Mr. Buffett's lyrics seem as if they were custom fitted to the yarn rather than the other way around."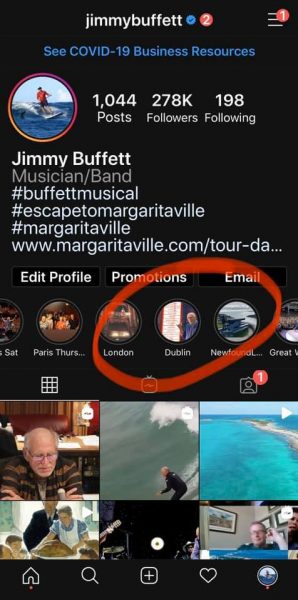 A review of Escape to Margaritaville by  DC Metro Theater Arts called the show was "overly literal." "The writers don't give Buffett's songs enough credit. They're rich, self-contained stories, worth exploring as metaphors." DC Metro went on to say, "There is one truly funny, self-aware line, delivered courtesy of the black musical agent who discovers [the Buffett-inspired protagonist] playing in a bar: 'Acoustic guitar, songs about the beach, Hush Puppy shoes?
"White people love that kinda shit.'"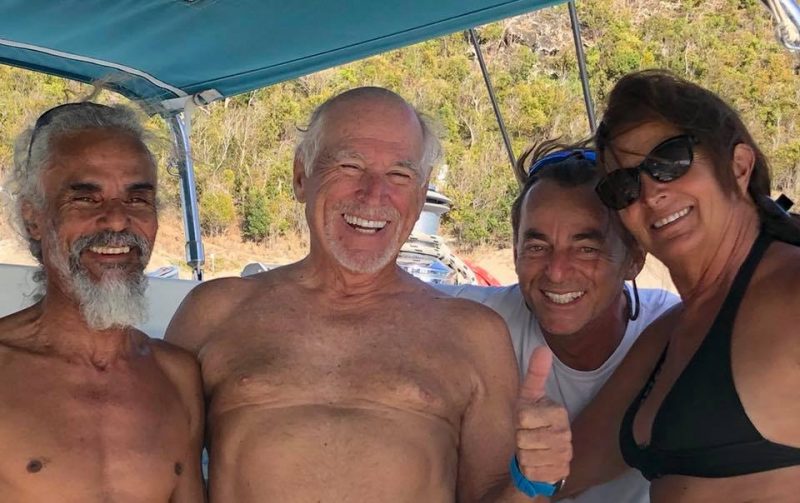 Did Jimmy Buffett's art arrive in a moment of epic cultural timing, singing us a song that we'd always wanted to hear? If one is truly drifting, then it's supposed that they're drifting — with both abandon and intention — toward serendipity.
We stumbled onto a surprisingly good YouTube documentary that traced the roots of Jimmy Buffett's colossal success to America's post-WWII fascination with Tiki culture, leading to the clean-ish-cut, happy-go-lucky beach culture of the '50s and '60s — followed by the harsh, end-of-the-fairy-tale reality of the '70s and '80s. "Around the latter half of the latter half of the century, Americans were once again ready for something light and beachy, whether they knew it or not," said the documentary. "An unlikely southerner, named Jimmy Buffett, wrote the anthem which continues to define the neo-Tiki culture."
The documentary said that Margaritaville ascended from an island folk song to a full-blown enterprise worth millions of dollars. "Today, well over a dozen products bear the name of Buffett or his hit song. To name a few: Jimmy Buffett's Margaritaville restaurants, with nearly 30 locations and plans to expand; Mott's Margaritaville margarita mix and Tequila; Margaritaville Men's and Women's apparel; Margaritaville outdoor beach furniture; Margaritaville Frozen Concoctions maker, and more."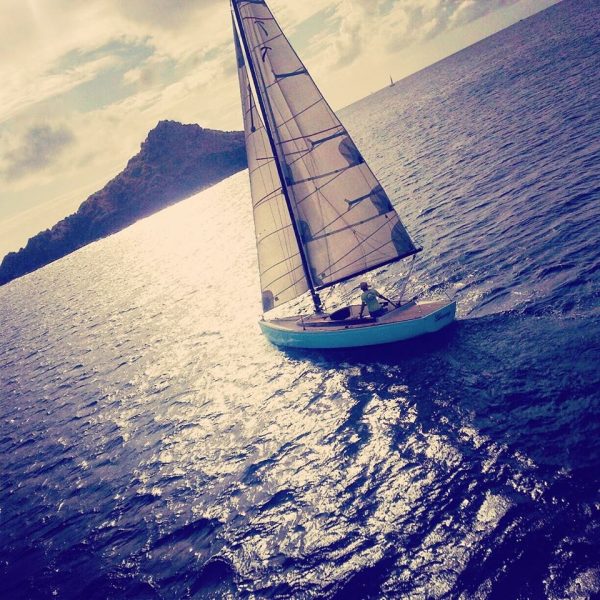 In that 2018 NBC News interview, Buffett was asked about his astonishing success by host Megyn Kelly. (Forbes says Buffett is worth some $550 million.) Buffett shared an anecdote: "I couldn't really get work as a musician, and I had a degree in journalism, so I went to work for Billboard Magazine in Nashville. Two years there gave me an insight to what the music business really was like: You're pretty much a disposable commodity. I learned that if you were going to be successful, it was essential to take care of your own business and not let other people do it."
"You're an example of hard work," Kelly said. "What's your advice when it comes to ambition for joy vs. ambition for success?"
"Put the work-to-play ratio in proper perspective," Buffett said. He told Kelly that he'd originally planned to go to the Naval Academy, "But I got that guitar, and it seemed interesting."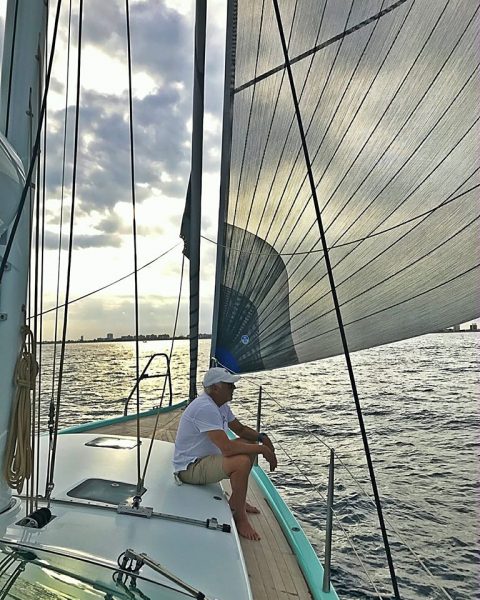 While society has always looked down on beach bums and surf slackers, we also quietly hold them in esteem — or secretly envy them. So what, exactly, attracts us to the Jimmy Buffett lifestyle? Does Buffett speak to the soul of sailors, especially those of us getting on in age?
My dad cranked Jimmy Buffett early on Saturdays and Sundays while he did chores. I hated the music viscerally, cringing at the slow, twangy country cadences, the repetitive choruses, and — to my surprise now — the abject hedonism of Buffett's ballads. I hated that my dad held that in such esteem; Why Don't We Get Drunk (and Screw) was his favorite song. (How often do children find their parent's music morally bereft?)
It was only years later, perhaps around the time that I was looking at 40, when I began to appreciate Buffett's heartfelt poetry.
Buffett's songs are endlessly catchy, and I often find myself singing along without realizing, or sometimes to my horror, without wanting to. (Even as I write this line, Buffett's melodies crash through my head in a twangy cacophony.) This is not to say that Buffett's songs are 'simple'. Quite the contrary. "My occupational hazard being my occupation's just not around," Buffett sang. "Yes I am a pirate, two hundred years too late. The cannons don't thunder, there's nothing to plunder. I'm an over-forty victim of fate."
How many songs are there about facing middle age, and facing your own irrelevance? And how many people can make such existential quandaries sound cool, even enviable?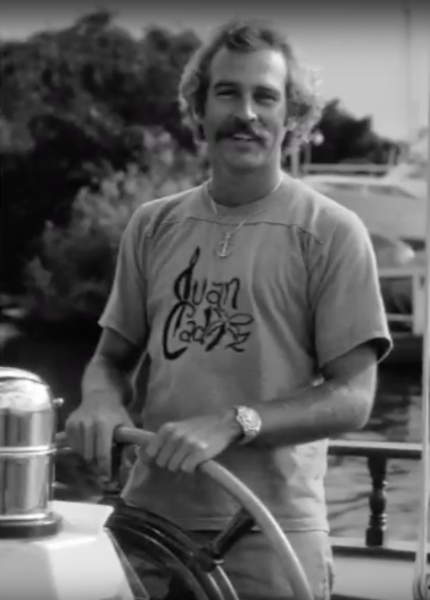 Oh yeah, Jimmy Buffett is also a best-selling author — one of only eight writers to reach Number 1 on the New York Times bestseller list for both fiction and nonfiction, according to the YouTube documentary. And, after decades in the music industry, Buffett began winning awards in the early 2000s.
The Drifter's talent, ambition, range, business acumen and work ethic are second to none.
It is endlessly ironic, however, that Buffett's empire was built on the idea of simply kicking back with some cold ones, and taking life easy — at least in the right ratio.
"From war, to prosperity, to prosperity corrupted, Western Man has always possessed a deep-seated desire to return to Eden," the Jimmy Buffett documentary said. "Although this may manifest in indulgent, frivolous and tacky ways, perhaps, once in a while, we owe it to ourselves to take things lightly."
This story has been updated.
Receive emails when 'Lectronic Latitude is updated.
SUBSCRIBE