Is the AC's Poop About to HIt the Fan?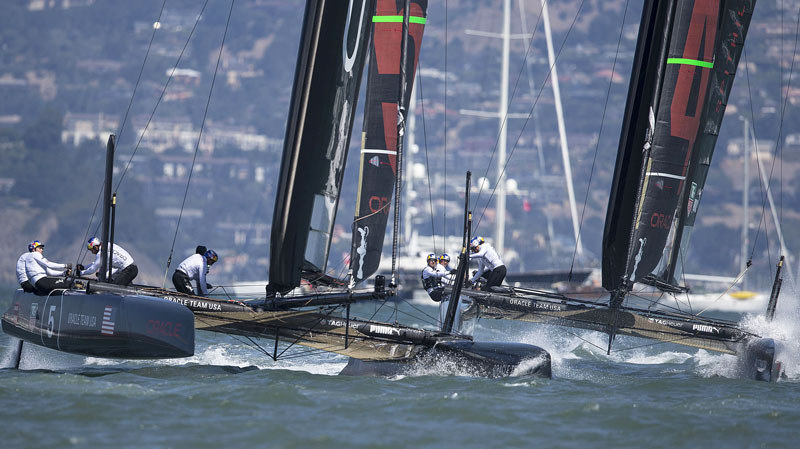 "It is still possible that they (Oracle Team USA) will survive the jury hearings and the evidence gathered against them, but most observers are predicting that team members (will be) banned from the regatta and at least two points docked from Oracle's defense of the Cup." This according to a Monday article in the New Zealand Herald. As it stands now, the Cup is a 'best of 17 race' series, slated to begin September 7.
According to the Herald's Paul Lewis, things are looking worse than ever for the Oracle team. The original committee allegation was that there had been an "installation of illegal materials," including bags of lead weight, to Oracle's AC45s with the intent of adding "weight, length and stiffness to a part of the boat that helps bear the load of the masts and sails." This could easily be construed as cheating, of course, but perhaps 'innocent cheating' done unbeknownst to higher ups by a goofball member of the shore team.
But now things are looking worse. According to Lewis, "the discovery of the new modifications" indicates that the changes to the kingposts were far more complex than just stowing a bag of lead. The sophisticated modifications are said to have been "designed, built and installed." If this was the case, it is hard to believe the modifications were the work of one goofball/renegade member of the shore team acting on his own, but rather ran much deeper into the Oracle team.
The jury has already interviewed 16 members of Oracle Team USA and five members of America's Cup Race Management in advance of two hearings. The first hearing, to be held Friday, will investigate gross misconduct by an individual or individuals. This hearing will determine who, if anyone, gets banned from the Cup. The second hearing is to determine what, if any, penalties should be applied to the Oracle team for bringing the Cup into disrepute.
"There are strong rumors afloat," writes Lewis, "that two members of the Oracle sailing crew are involved, including one front-line member."
Receive emails when 'Lectronic Latitude is updated.
SUBSCRIBE