Hilary Brings Flash Floods to Baja and SoCal, but Its Bark Appears Worse Than Its Bite
As the remnants of the first tropical storm to hit Southern California in 84 years now evaporate over northern Nevada, people are trying to assess the damage done by the heavy rainfall and flooding from Hilary.
The New York Times said: "Los Angeles Survives Tropical Storm With 'Minimal Impacts,' Officials Say," noting that there have been no reports of deaths or major storm damage in L.A. itself, but that "the impact in other cities is still being assessed." The Los Angeles Times said, "Hilary Leaves Massive Flooding, Mudslides, Upheaval Across Southern California," citing that parts of San Bernardino saw mud and debris slides that closed roads.
About 18,000 customers of the Los Angeles Department of Water and Power were without power Monday morning, according to the L.A. Times. Los Angeles Mayor Karen Bass said the damage from Hilary was "minor." (By the way, yesterday there was a 5.1 earthquake centered near Ojai, inland from Ventura; no damage or injuries were reported, but surely an already tense situation was made worse.)
At the moment, Hilary appears to be more annoyance than the potentially "catastrophic" storm with the potential to bring heavy flooding to desert landscapes that are unable to absorb a deluge of water. As residents of Florida and the Gulf and East coasts well know, hurricanes often come with ominous warnings and a media frenzy, then underwhelm the hunkered-down populace.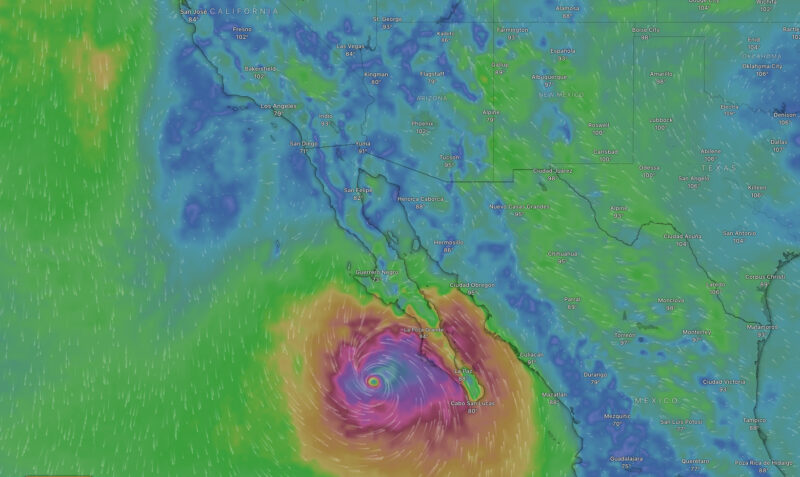 "If that was the hurricane I have to deal with, I could deal with that every year — no problem," said my cousin, Ed 'Frondo' van Os, who lives with his family in San Miguel, just north of Ensenada, Baja California, Mexico. "It was, like, 25 knots at its worst. We had zero damage at the house and zero damage at the shop, other than losing a couple of days to preparation, and a lot of stress."
Mexican authorities are assessing the damage Hilary caused in Baja before crossing the border, according to the New York Times. "Nearly 3,000 Mexican Marines were mobilized to provide aid in parts of the Baja California peninsula, the military said Sunday night." The Times said that the Mexican navy rescued the municipal president of Mulegé and other government and military officials, as well as 13 citizens, from floods.
Winds of up to 85 miles an hour were reported in Cabo San Lucas, and at least one person died in Baja, according to CBS News.
Above: Footage from Mulegé, Baja California, Mexico, on the Sea of Cortez.
In a summer of record heat, smoke-filled days in the Midwest and Northeast, and the recent tragedy in Lahaina, Hurricane Hilary was another wild headline among a deluge of unbelievable weather-related headlines. Hilary was not the first over-hyped hurricane and it certainly won't be the last. This is part of what can make hurricanes so deadly: People live through numerous non-events, over-prepare for storms that fizzle, and eventually become numb to warnings, making them complacent — and vulnerable — when a severe storm does actually deliver.
If you're in Southern California or Mexico, please tell us about your experience with Hilary.
Receive emails when 'Lectronic Latitude is updated.
SUBSCRIBE