Ha-Ha Registration Opens Monday
If you've been chompin' at the bit to sign up for next fall's Baja Ha-Ha rally from San Diego to Cabo San Lucas, your time has come! We've been working on a new online signup protocol, and expect to have it up and running just after noon next Monday, May 3 at the event's website.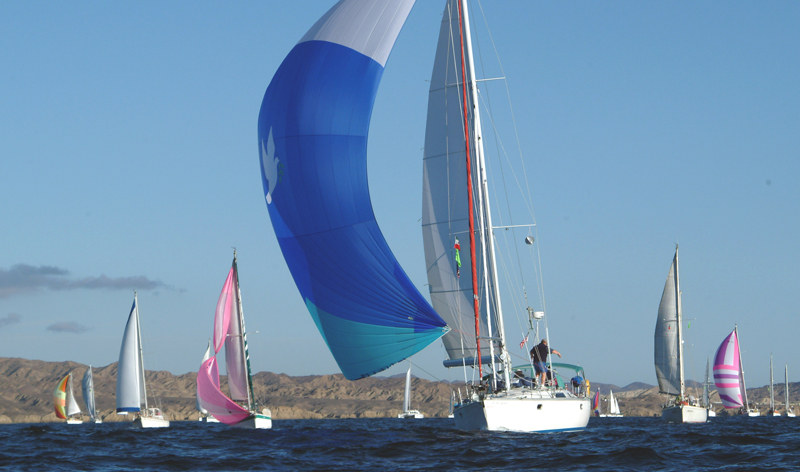 All told, more than 2,000 Ha-Ha boats have made the run to the Cape thus far, with more than 7,000 crew aboard. Tallied together, they've sailed more than 1.5 million miles! Enough to circumnavigate via the tropics 60 times.
If you plan to join the fun this year, be aware that those who sign up early will have the best chance of getting a slip when the fleet arrives at Cabo. But before you get caught in the sign-up frenzy, let us repeat our annual mantra: If your boat was not built, equipped and maintained for offshore sailing; or if you would not be willing to make the trip on your own, please do not sign up. Even though the route is off the wind with favorable currents, overnight offshore sailing is serious business. That said, if you are ready, we're eager to welcome you to the Ha-Ha 17 fleet, which promises to be a great one. At least a dozen boats currently cruising Mexico have vowed to bash back to San Diego just to be part of the fun again!
On the website you'll find complete info about the event (see About the Ha-Ha), as well as a wealth of tips and advice about cruising Mexico (see the First Timer's Guide). In a nutshell, the entry fee is still $350 (or $300 if your age or boat length is less than 35), which includes parties, all sorts of official Ha-Ha swag, and a mountain of worthwhile discounts from sponsors. We do our best to keep the entire event PG-rated, as we love having lots of kids along; hence, heavy partying is discouraged; the minimum boat length is 27 feet; singlehanding is not allowed; and powerboats are always welcome.
Beginning with the Costume Kickoff Party at the West Marine compound on October 24, the event runs two weeks, with the Awards Ceremony November 6 at Cabo Marina. So what do you say? Is this your year to Ha-Ha?
Receive emails when 'Lectronic Latitude is updated.
SUBSCRIBE