Ha-Ha Fleet Approaching Turtle Bay
As we post this report (noon on Wednesday) via SailMail from the Baja Ha-Ha mothership Profligate, we're about 60 miles from crossing the finish line of Leg One, just outside Bahia Tortugas (Turtle Bay), with the fleet spread out far and wide around us.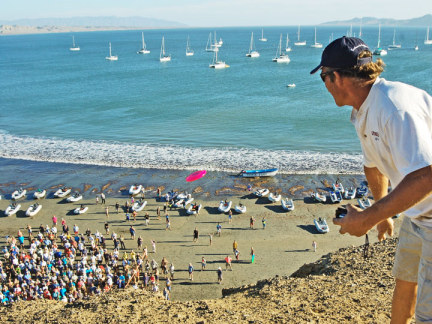 With only zephyrs of wind blowing at 11 a.m. Monday, when the starting horn sounded outside San Diego Bay, the event's Grand Poobah declared a "rolling start," meaning that all boats could motor along the rhumbline without penalty until the wind piped up. Not more than 20 minutes later, however, a gentle sea breeze started to fill in from the northwest, so at 11:30 the rolling start was cancelled and the fleet sailed south with their lightest sails flying.
The light air wasn't a big surprise, but the huge band of heavy fog that the fleet sailed into was definitely odd. Before breaking free of it just south of the Coronados, it was so thick — at its worst — you could see only a few boat lengths ahead of you. Once out of the soup, however, the afternoon and evening were glorious: sunny and clear, with flat seas and very light winds, as predicted.
In contrast to the forecasts, however, the breeze — which was expected to be light for two days — built to the 8- to 10-knot range under spotty cloud cover about 11 p.m. that first night, yielding splendid sailing conditions beneath a brilliant full moon. Although veteran Ha-Ha'ers may have wished for more breeze, it was an ideal beginning for the undoubtedly anxious first-timers. Light-to-moderate winds allowed us -— and, we presume, most of the fleet — to sail under spinnaker during most of Day Two (yesterday) and through last night, with top wind speeds around 15 knots.
We'd heard that water temps were abnormally warm along the Baja, and that info proved to be correct, as we recorded steadily rising sea temps. From a low of 61 degrees at the start, the sea temp had risen to 71 by Day Two's 7:30 a.m. roll call, and up to 75 at the time of this morning's net. As every fisherman knows, warmer water means better fishing. Aboard Profligate we've already caught about as many fish, including a beautiful dorado, than we did on last year's entire trip —and we don't even know what we're doing!
A review of our check-in log shows that 115 boats actually started (of 149 sign-ups), which is down substantially from last year, although the crew-per-boat ratio is substantially higher: 412 souls, all told. A number of additional boats — late starters — are expected to catch up while the fleet lays over at Turtle Bay. With any luck we'll be able to post additional reports from there with photos. In the meantime, the only negative, as we look ahead to the coming days, is that a tropical storm is threatening to steer toward Cabo. But that's seven days and 420 miles south of us. Hopefully it will fizzle long before our anticipated November 8 arrival. Right now, life is sweet out on the ocean, free from the stresses of the rat race!
Receive emails when 'Lectronic Latitude is updated.
SUBSCRIBE