Sailors, how is your backstroke? Only one of 11 skippers didn't spend some time swimming on June 18 during the 2016 Sir Francis Chichester Race, the Laser fleet's periodic circumnavigation of the island nation of Alameda. Roger Herbst wowed spectators and his competitors by successfully sailing under each of the four bridges that connect Alameda to the mainland, no small feat since three of the bridges have a clearance lower than the Laser mast is high. All ten boats that chose the counterclockwise route sailed successfully under the first bridge, but nine skippers then spent time in the water swimming to tow their boats to clear air after planned — or unplanned — capsizes at one or more of the other bridges. Kip Warnsetja, the sole competitor who went clockwise, found it impossible to swim against the ebb and turned back at the Park Street Bridge.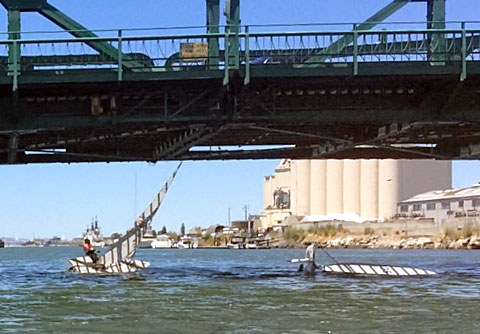 "Yes, this race usually involves capsizing and swimming," said Marc Sloane, who finished first in the race despite some time in the water. "It's all about the currents." After more than an hour of intense match racing up the Estuary against Sloane, Herbst finished second, followed closely behind by Mike Bishop.
Video by Elisa Williams
This year's Chichester race was hosted by Alameda Community Sailing Center and began and finished at Seaplane Lagoon in the old Alameda Naval Air Station. This is only the second sailing race ACSC founder Kame Richards knows of having been held at Seaplane Lagoon (the first was a Bart's Bash regatta hosted by America's Cup Team Artemis, whose base was nearby) and it showcased stunning backdrops on three sides: giant aircraft carriers to the south, aircraft hangers and a fanciful orange circus tent and the Oakland hills to the north and a crystal-clear view of the San Francisco skyline to the west.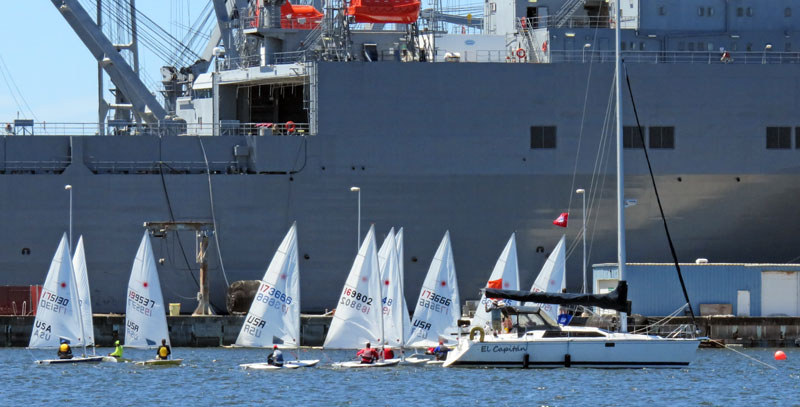 The day began with an exhibition buoy race, where Sloane also finished first, Bishop came second and Herbst came third. As the sailors were putting their boats away in the parking lot, laughing about their mishaps (Josh Lindsay got his mast caught briefly in the bridge and moments later found a manta ray swimming under him) and congratulating Herbst on his bridge-ducking finesse, Chris Gabbe said, "Can we stop for a minute and talk about that exhibition race? How perfect were those conditions? Flat seas and good wind? How often do you see that?" The consensus among the Laser fleet was that they're looking forward to more racing at Seaplane Lagoon. Even if it doesn't involve swimming.
Receive emails when 'Lectronic Latitude is updated.
SUBSCRIBE