Foiling Cats to Return to the Bay
Surprise. After the 2013 America's Cup on San Francisco Bay and local disappointment over moving the 2017 Cup to Bermuda, it felt like we'd never see Larry Ellison, Russell Coutts and their foiling spectacle on the Bay again. We're reminded again, never say never.
The 2017 AC35 cats have been redesigned, rebuilt and dialed up to 50-knot-capable foiling cats that will start a 2019 five-city tour in Sydney, Australia, in February. Their next tour stop will be on San Francisco Bay on May 4-5. We wrote about the rumored circuit a week ago, and it was confirmed in an announcement bash last Wednesday in London.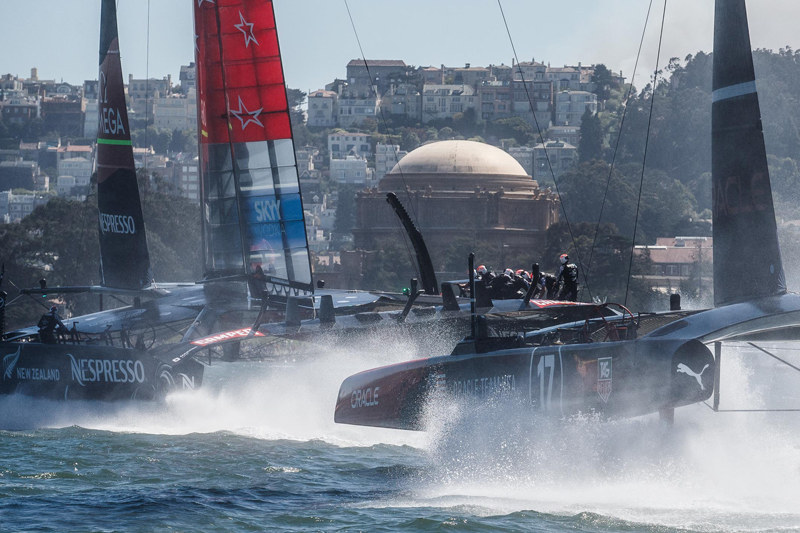 What's new? Quite a lot. Freed from tradition, match racing and the collaboration attempts of the America's Cup, the new SailGP circuit will feature a nation vs. nation format with each country's greatest sailors racing identical supercharged F50 catamarans for a $1 million winner-takes-all prize in two-day inshore race series. SailGP has currently attracted six teams from Australia, China, France, Great Britain, Japan and the United States who will duke it out with strict nationality requirements.
The boats are expected to be so scorchingly fast they might make your Internet connection feel slow. The SailGP team has taken lessons learned in the 2013 and 2017 Cups and amped up the package further for another speed and technological leap forward. These new F50s are predicted to break the 50-knot barrier as the most challenging, high-tech one-design racing boat ever produced.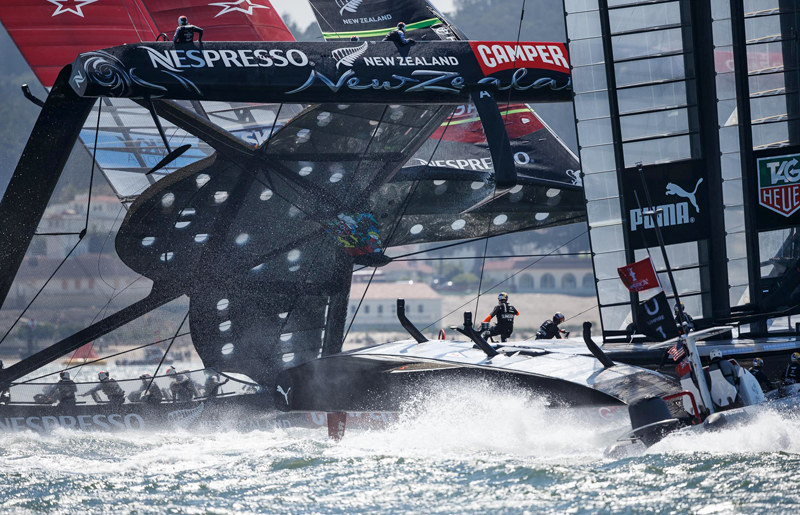 According to Sail GP, the boats have been redesigned, re-engineered and rebuilt from the inside out. Advancements include the command and control systems to maintain stable flight and keep the boats sailing at pace. The foil and rudder pitch will be actively controlled, making the flight of the boat through the maneuver significantly more efficient. The foils have been produced in higher modulus carbon fiber, producing a thinner section that has less resistance at high boat speeds. The list goes on. Top speed is expected to be 53 knots, which would make for some interesting opposite-tack closing speeds and crossing calls!
Six of the wing-sailed F50s will be on the water for the first event in Sydney. Three have been extensively modified using parts from the previous AC50 models. Three sets of the F50 hulls are complete new builds. They'll sail with just five crew and be loaded up with hydraulics and batteries to provide ample power to drive the systems.
What's happening locally? We don't have many details yet but an event of this scale doesn't come into town quietly. We talked to Laura Paul of the Yacht Racing Association, who's in the midst of working with local clubs to put together the 2019 racing calendar. May 4-5 would be the traditional date for the Great Vallejo Race. It looks like there'll be an ebb, setting up the possibility of good Cityfront chop. It sounds like the six-boat fleet will set up somewhere near the old Artemis America's Cup base in the former Naval Air Station Alameda. At 50 knots they can sail over to the racing area in about 7 minutes.
Russell Coutts and Larry Ellison have long envisioned a global, professional sailing league with cash prizes and career athletes crewing high-tech boats. This latest iteration has incorporated many of the lessons learned over the past decade of Cup campaigns with media, foiling cats, spectators and other aspects of professional sports management.
The Bay remains one of the world's most spectacular venues for racing and, if you're going to take a global race series anywhere, San Francisco Bay should be on the top of the list. Once again, it is.
Receive emails when 'Lectronic Latitude is updated.
SUBSCRIBE