First Transpac Starters Head to Hawaii Today
The first of four Transpac starts will take place at 1 p.m. today off Point Fermin, the southernmost point of San Pedro, just outside Los Angeles Harbor. With moderate westerly breeze of 12 to 16 knots predicted in the Catalina Channel, Divisions 7 and 8 (each containing 11 boats) may gain some advantage over later starters on their 2,225-mile sprint to Honolulu, as some forecasting models show winds diminishing mid-week.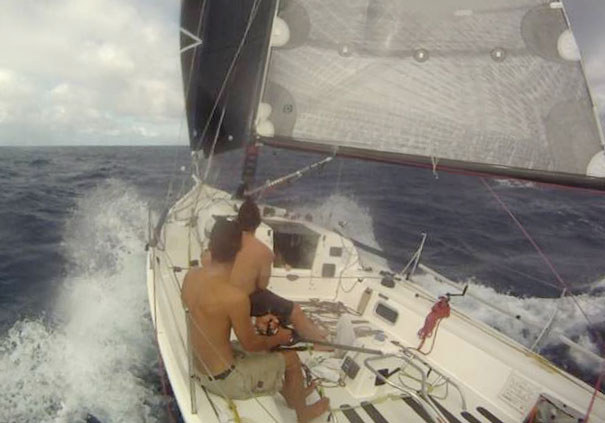 Divisions 4, 5 and 6 of the 48th Transpac's 61-boat fleet will start Thursday at 1 p.m. On Saturday the multihulls will head west at 12:30 p.m., followed by Divisions 1 and 2 — the maxi monohulls — at 1 p.m. Armchair racers can keep track of the action (albeit with a six-hour delay) via the Yellowbrick Tracking site.
If wind and sea conditions cooperate we could see any or all of the monohull, multihull, and Barn Door records broken. This year's fleet includes the ultra-fast 105-ft tri Lending Club 2, whose crew hopes to complete the course in less than five days. Roy Pat Disney chartered the 100-ft super maxi Wild Oats XI in hopes of making a record-breaking run, but ace navigator Stan Honey's ability to make the trip is currently questionable, after his injury (above) during the Transatlantic Race. Manouch Moshayedi's Newport Beach-based fixed-keel 100-footer Rio100 will be vying for the Barn Door trophy (currently 6d 19h 44m, and not available to canting-keelers such as Wild Oats XI).
With a fleet ranging from the 108-year-old schooner Martha to Lending Club 2, the cutting-edge tri that's been called the fastest muItihull in the world, the 48th edition of the Transpac promises excitement from start to finish. See the complete entry list, and much more, at the official website and Facebook site. And look for updates here in the coming days.
Receive emails when 'Lectronic Latitude is updated.
SUBSCRIBE