Take the Estuary Water-Shuttle Survey
A free water shuttle traveling between Jack London Square and west Alameda could be in service as soon as this summer. The cities of Oakland and Alameda, along with a coalition of businesses, are asking people for their feedback on a pilot water-shuttle program "to help us design a service that will best serve the community. Tell us how you might use a water shuttle!"
Here's a link to the survey, which we'll provide again, below. The survey takes about five minutes.
For more than 10 years, the cities of Alameda and Oakland have been — to put in government-speak — analyzing and evaluating potential strategies for crossing the Estuary either by foot, bike, or transit. "Seventeen different crossing options were studied, including a gondola, different bridge types, Posey/Webster Tubes enhancements, water-shuttle services and a new transit tube," the survey website said. "Solutions for the near-, mid-, and long-term were explored. The top recommended, mid-term option was determined to be a water shuttle service.
"The proposed shuttle would operate between the dock at Alameda Landing (behind Target and at the end of Fifth Street), to Jack London Square (at the foot of Broadway), with possible additional service to the Marina Village Research Park, as shown in the map below."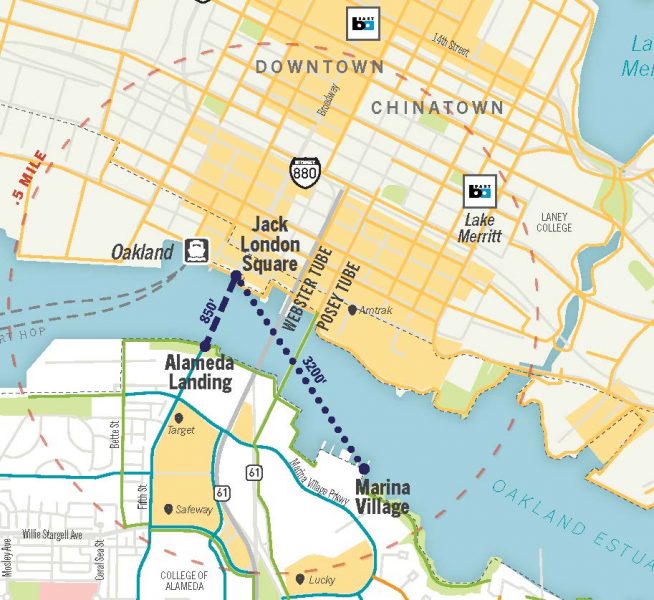 Since 2009, Oakland and Alameda have been trying to fund a free, public water-shuttle service for Alameda and Oakland. Recently, private-sector interest and tentative financial commitments are helping the shuttle service come together. "WETA [a Bay Area ferry service provider] has also agreed to administer a pilot program. The tentative projected operating costs for a five-day service of 9-12 hours per day is estimated to be between $1.5 million to $2.0 million annually," the City of Alameda said.
We've been reporting on the first-ever public meetings about the proposed pedestrian bridge, and have considered readers' perspectives. Although still in the early stages of discussion, it's becoming clear that any pedestrian bridge will pit the interests of sailors against the interests of bikers.
We're not trying to drum up controversy; we're just being honest about what's at play.
Latitude fully supports a robust, user-friendly and well-maintained bike network around the Estuary and in the Bay Area in general. We love the idea of being able to bike, safely and conveniently, between Alameda and Oakland. Any bridge will have to be at least 70 feet tall to accommodate the most frequently used sailboats on the Estuary, but a bridge that tall represents a pretty steep climb for bikers.
Therein lie the competing interests at stake.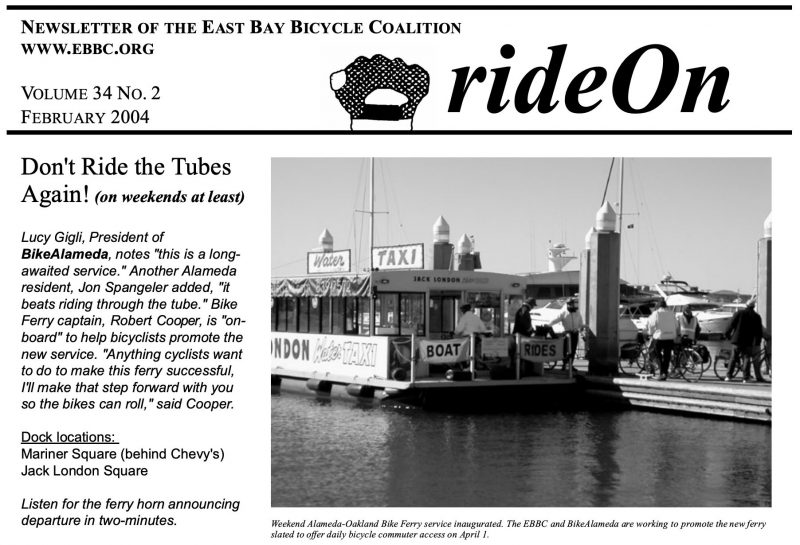 To be honest, we think it's smart politics to help the bike lobby — which is large and well-organized — realize some of its goals. If a bridge spanning the Estuary were constructed overnight and opened tomorrow, it seems clear that the current bike network in Oakland could not accommodate the theoretical influx of bike traffic. The larger context at play are the economic disparities between Oakland and Alameda, and we respect that governments are trying (forgive the pun) to bridge that gap. Will a giant piece of infrastructure that fundamentally alters the Estuary help to accomplish that goal?
"If you're trying to get from west Alameda to Jack London Square most routing directions will take you across Park Street Bridge," wrote Nathan de Vries, who lives in Alameda, in January. "The problem is not the two-mile ride from west Alameda to the bridge or that it's not a dedicated bike path, the problem is that as soon as you're on the Oakland side you're on unsafe, industrial, poorly lit, heavily polluted roads, often with shoulders loaded up with burnt out cars, RVs, chop shops, human waste etc.
"Short circuiting west Alameda and Jack London Square with a bridge might seem like a great idea (it's only a one-mile ride if that's exactly your starting point and destination!), but the reality is that it's a great bike network, not a singular bike path, that increases bike traffic."
You can read Nathan's full letter in the May issue of Latitude 38.
Here's the link to the survey again:
www.alamedaca.gov/Departments/Planning-Building-and-Transportation/Transportation/Estuary-Water-Shuttle#section-2
Just click "Continue" to progress through the survey.
Receive emails when 'Lectronic Latitude is updated.
SUBSCRIBE