Don't Miss the Boat – Come to the Crew Party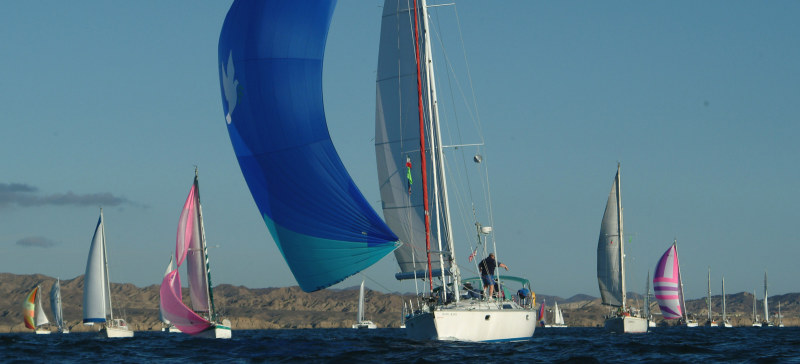 How'd you like to sail away to the sunny latitudes of Mexico this fall? We know just the place where you can find a ride that will take you there: Latitude 38's annual Mexico-Only Crew List Party, next Wednesday, 6 to 9 p.m. at Alameda's Encinal YC.
As longtime Latitude readers know, this open-to-all soirée is a prime opportunity for potential crew to meet skippers in need, and vice versa. Every year, solid connections are made which lead to Ha-Ha'ing as well as post-rally cruising in Mexico and beyond. Event sponsors will also be in attendance, exhibiting a wide range of cruise-oriented products and services.
If you're serious about getting a ride, we suggest you come prepared: bring a bunch of succinct sailing resumes to hand out, ideally with your photo on them so potential skippers will remember you. (Click here for directions and details.)
In the meantime, entries for the Ha-Ha are still trickling in via our new online sign-up system. If you have been thinking of taking your boat on the 'Fabulous Fifteen', remember that the deadline of September 10 is next Wednesday. Below are the latest sign-ups:
132) Morning Light, Catalina 320, Robert Gunyon, Newport Beach
133) Scouser, Beneteau 362, Steven Thomas, San Francisco
134) Chat de Mar, 42-ft catamaran, Leo Brodeur, Richmond
135) Julia Max, Custom Peterson 45, George Stonecliffe, Portland, OR
136) Endless Summer, Stevens 40, Frank Starai, Alameda
137) Deerfoot, Deerfoot 64, John Fradkin, Newport Beach
138) Sea Horse, Hans Christian 41, Cam Campbell, Sonora, TX
139) Sauvage, Wauquiez Centurion 40, Jim Eisenhart, Ventura
140) Tabu, Farr 44, Sheri Crowe, Newport Beach
141) Abrazo, Custom Campos 39, Richard Baila, Bellingham, WA
142) Gypsy, Newport 30 Mk III, Justin Lyon, Santa Barbara
143) Cedar Spirit, 64-ft trawler, Glen Brownlee, Vancouver, BC
144) Banyan, Mason 43, Jody Lemmon, Long Beach
145) Simplicity, C&C 41, John Lashley, East Greenwich, RI
146) Nepenthe, Shannon 38 PH, John Marshall, Marina del Rey
147) Libertad, Amel Maramu 46, Dennis Johns, Santa Barbara
148) Free Range Chicken, Perry 59, Bruce Anderson, Yakatat, AK
149) Two Wishes, Catalina 30, Gail Fliesbach, San Diego
150) Mahala, Jensen Marine 33, Ron Doll, Long Beach
151) No Problem, Puget 38, Dave Ferguson, Ketchikan, AK
152) Seaduction, Catalina 42 Mk II, Dan Lawler, Salt Lake City
153) Pierceteam, Hunter Passage 43, Patrick Pierce, Seattle
154) Sea Angel, Catalina 42, Mel Hamp, Napa
Receive emails when 'Lectronic Latitude is updated.
SUBSCRIBE