Doing Good While Cruising
A common question cruisers hear all too often is, "What do you do with all that free time?" Experienced cruisers laugh and try to explain that there's never any shortage of tasks to complete, whether is schlepping miles to the nearest grocery store, repairing worn sails or giving the bottom a good scrub. But many cruisers want to spend what spare time they have giving back to the communities they visit. Molly Arnold and Bryce Andrews are one such couple.
"We sailed from San Francisco in the '11 Ha-Ha and, as typical newbies, were consumed with the new lifestyle and making new friends," they report. "This month we returned to La Paz not only ready to get our CS36 Abracadabra out on the water again, but also to find ways to give back a little of our good fortune.
"Sure enough, there are plenty of ways to get out and get involved in the community. We listen to the local Net where people are often organizing fundraisers and volunteer projects. La Paz's Club Cruceros is another great source of information. Through a flyer posted at the Marina Palmira we learned of an Ocean Conservancy beach cleanup just outside town at Balandra Bay.
"We, along with many cruisers — including our friends Jeff and Julie Leonard from the Ventura-based Catalina 42 Buena Vida — La Paz nonprofit partner ConCiencia, as well as area residents, helped get the beach a little cleaner. After a hot and dusty morning, we proudly presented our giant Costco bag of trash to add to the group's clean-up efforts and were surprised to get a t-shirt in return! You can do well while doing good.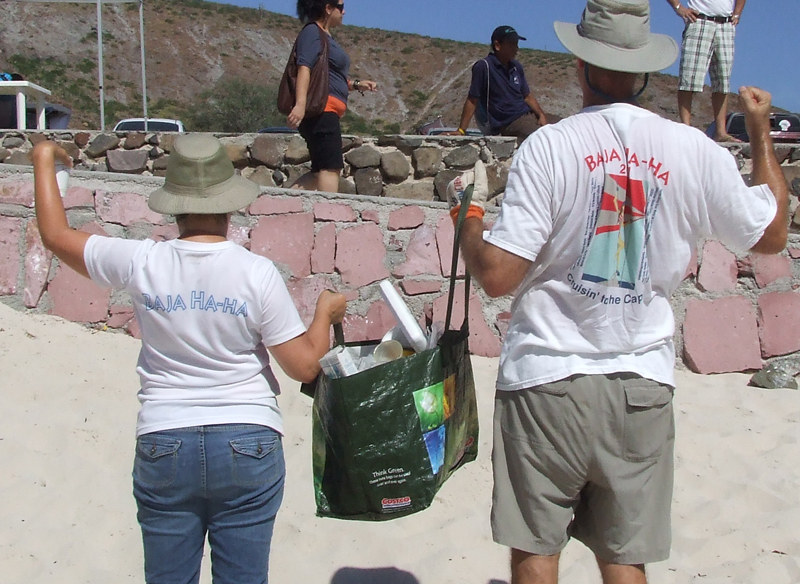 "We plan to keep our eyes and ears open for more such activities this season. As cruisers it's fun to get out and get involved."
If Molly and Bryce are near Puerto Vallarta December 12-14, they could have a great time for a great cause. The Banderas Bay Blast, including the Pirates for Pupils Spinnaker Run, is a fabulous way to give back. The Blast is three days of 'nothing serious' Ha-Ha-style racing, sponsored by the Punta Mita Yacht & Surf Club and the Vallarta YC. The annual fundraiser for primary schools in the Punta Mita area is better than free, as participants get a night of free berthing at the Marina Riviera Nayarit and a night of free berthing at Paradise Marina. Last year, $3,000 was raised, but organizers know cruisers can do better, so they moved the dates later in the month to allow folks more time to get down there. Let's make this the best Blast ever!
Receive emails when 'Lectronic Latitude is updated.
SUBSCRIBE