Weather Routing Inc. predicts a "good day" for tomorrow's Delta Ditch Run from Richmond to Stockton.
Synopsis
"A thermal trough (low pressure) is situated across interior California. The trough will expand westward toward the California coast and adjacent Pacific waters east of 125°N and weaken on the 1st. Farther west, a ridge of high pressure is found just off the California Coast from near Point Conception northward, extending westward across adjacent offshore waters, and will slowly drift westward over the next three days or so, changing little in intensity."

Hedge Forecast
"While a general southwest to west wind regime will be in place, winds will actually tend nearer to the high ends of the forecast ranges during the afternoon hours, as afternoon land/sea thermal differences increase with daytime heating. Other than this, forecast confidence is above average."
Conclusions
"Conditions this morning, outside of areas of tightened pressure gradients will remain southwesterly in nature and within reason inside the race area. Throughout the day today and into the early evening hours, expect increasing southwesterly winds due to diurnal surges of southwesterlies with higher gusts channeling into more narrow passages. A similar pattern of lower winds in the morning/overnight and increasing conditions in the later afternoon/early evening will ensue tomorrow, though the diurnal surges appear slightly stronger tomorrow afternoon. Within these areas of higher winds, a slight wind chop is expected with areas of higher southwesterly fetch. Otherwise, expect seas to be quite low."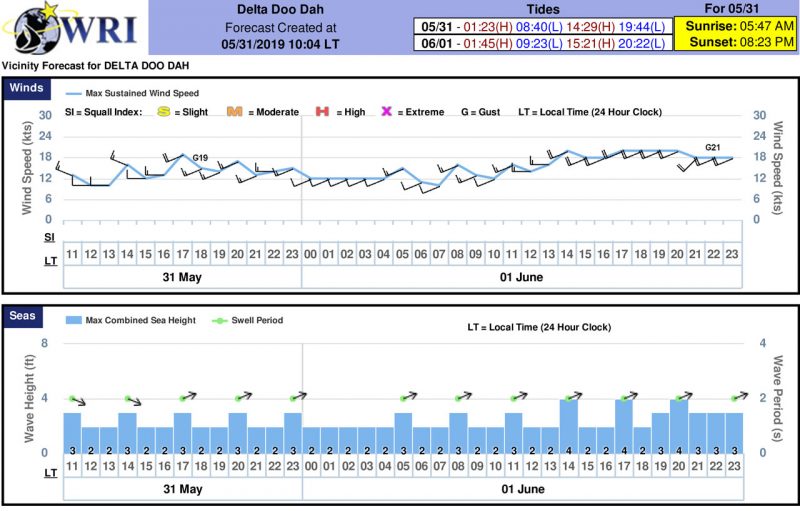 View this forecast online at www.wriwx.com/clientproduct.php?id=8875. We'll see you on the water!
Receive emails when 'Lectronic Latitude is updated.
SUBSCRIBE