Cruisers Rescued from Sinking Boat en Route to Seattle
At around 10 p.m on Saturday, July 18, USCG rescued four sailors who had abandoned their sinking Sabre 402, Stella Blue. The crew had issued a 'Pan-Pan-Pan' alert after realizing they could not stem the flow of water entering the boat.
Wally Fort, his wife Lori Warner, and two of their friends were headed for Seattle when the water was discovered. "We were motoring up the coast with about 2 kt of wind from the south and 2-3-foot swells from the NW, about 8 miles south of Pt. Arena and 5 miles offshore" Wally said.
"After discovering rising water in the bilge, we were frantically trying to pump the water out so we could find the leak. We discovered it was coming from the stern and when we looked in that locker we saw that the rudder-post bearing and seal had come loose from the hull. It was too cramped for anyone to get inside, and none of us could reach the problem.
"When we learned the Coast Guard's rescue vessel would arrive in approximately an hour and 45 minutes, we hailed a nearby sailboat, Sanssouci, a Beneteau 43, and asked for assistance.
"Earlier, Sanssouci had heard our Pan alert and asked if we were okay. We were then, but as the water rose our situation changed and we were now in a Mayday need of help."
The good Samaritans aboard Sanssouci are known only as Bren and Clay.
"They came close and threw us a line for their dinghy. We boarded the dinghy and paddled away from our boat. They then motored over to us to catch the dinghy line and pull us to their boat and we climbed on board."
Here, Stella Blue's crew waited for the Coast Guard while their vessel drifted nearby.
"When the Coast Guard arrived they boarded our boat and turned off the EPIRB and the strobe, and they rolled up the jib that we had raised to steady our boat."
At around 10 p.m. Wally and his companions were taken aboard the rescue vessel in preparation for the two-hour ride to Fort Bragg. The rescue concluded on the 19th, by which time the drenched sailors were quite cold and a little seasick, but uninjured.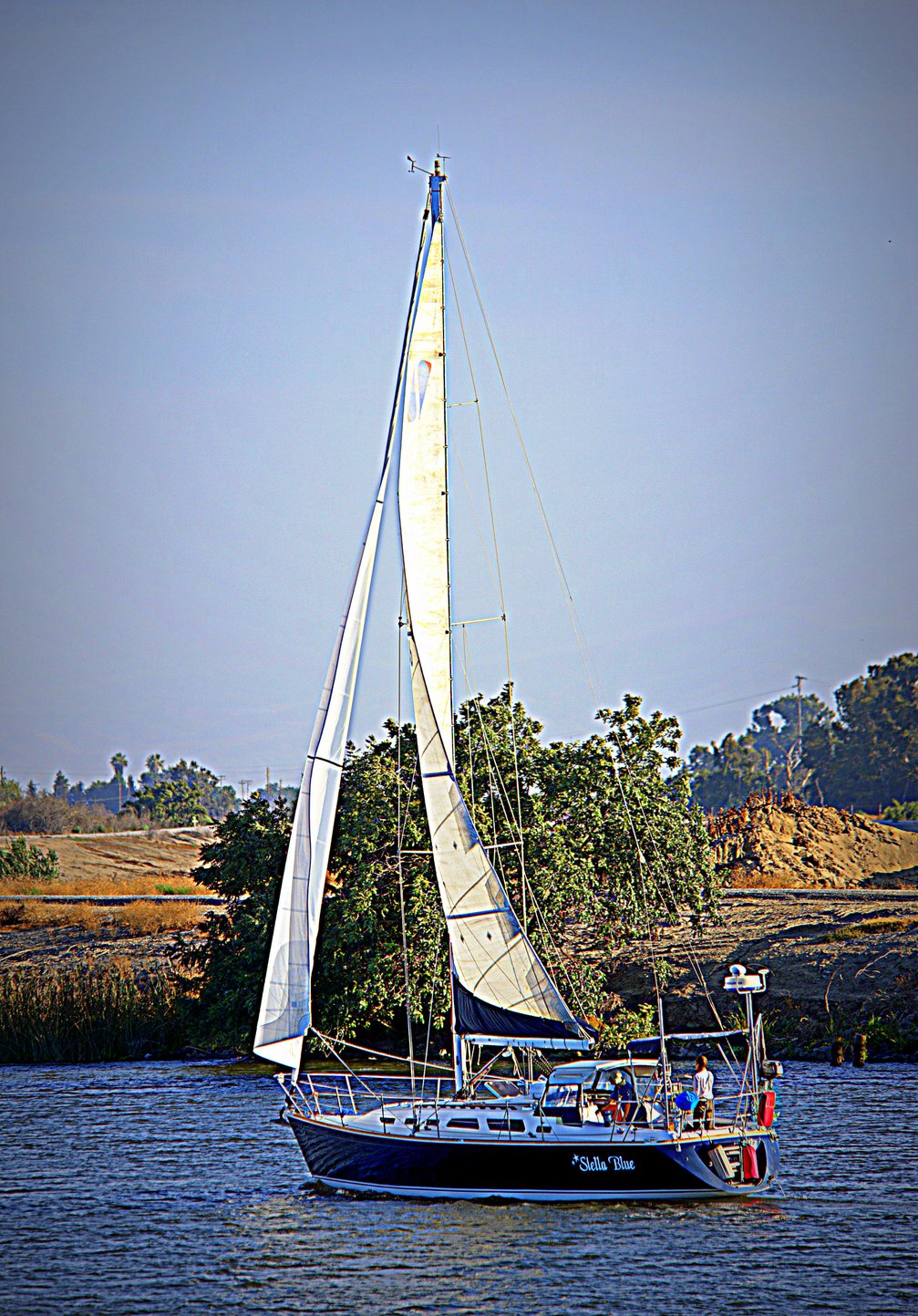 "I don't know what's happened to my boat," Wally said. "We're guessing it's at the bottom of the ocean." So far there have been no reports of the vessel's being spotted adrift or onshore.
Wally and Lori, members of the Stockton Sailing Club, have owned Stella Blue for over nine years. "We enjoy cruising. We've often sailed the Bay and have taken Stella Blue down the coast with the Baja Ha-Ha and into the Sea of Cortez. On another trip south we went to Panama and on to Ecuador. We were heading to Seattle to live aboard Stella and visit family for the summer."
"I don't know what we'll do now," Wally added. "We'll wait to decide what to do next."
Receive emails when 'Lectronic Latitude is updated.
SUBSCRIBE