College Women Get Banner Day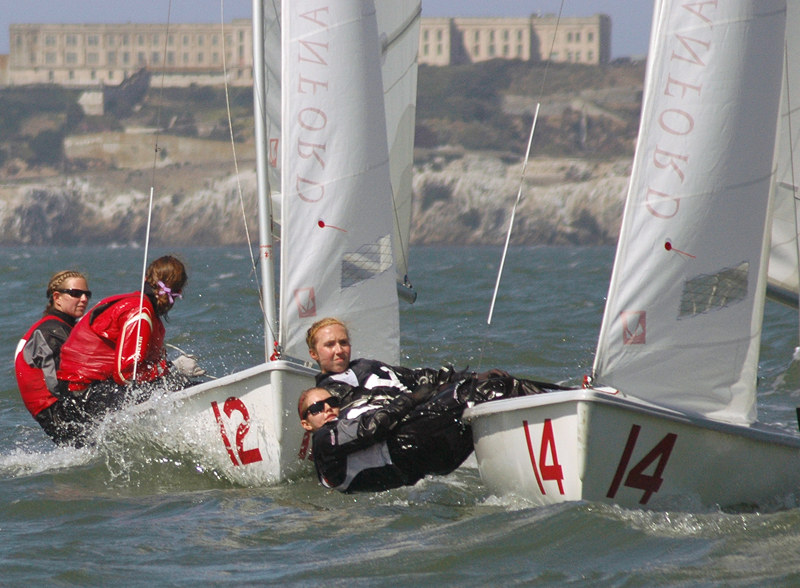 The ICSA Women's National Championships got underway yesterday at St. Francis YC, and the conditions couldn't have been better. The breeze started in the 10- to 12-knot range and built to 18-20, with a few squirts into the low-20s as the afternoon wore on. But that alone wasn't what made it so good. The breeze direction was initially pretty right-heavy, which coincided perfectly with the flood that built with the breeze from the 10 a.m. start time on. Then, as the day progressed and the ebb began to take over in the afternoon, the breeze swung back to the left. The result was that a much greater percentage of the course area was in play for the beats. Throw in all-day sunshine and, well, it was nothing short of perfect.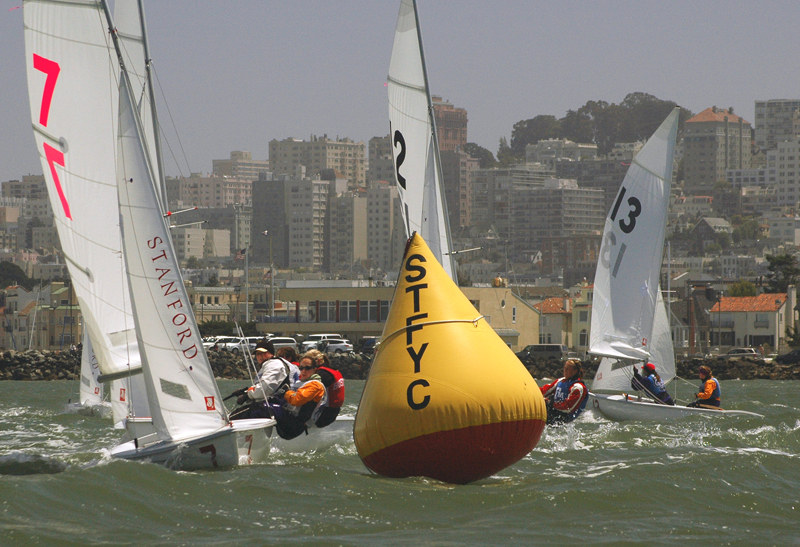 Yale leads after Day 1 with 73 points, with senior Jane Macky and junior Marla Menninger solidly in third place in A division and senior Katherine Hagemann and sophomore Elizabeth Brim sitting in second in B division. Junior Katrina Williams and crews — senior Alissa Ayres and junior Ashley Brusso — are leading A division by 13 points and have Old Dominion sitting in second with 79 points. Freshman Anne Haeger and junior Briana Provancha have a nine-point lead in B division to keep defending national champs Boston College in third place overall and in the hunt with 88 total points. The rest of the scores are here.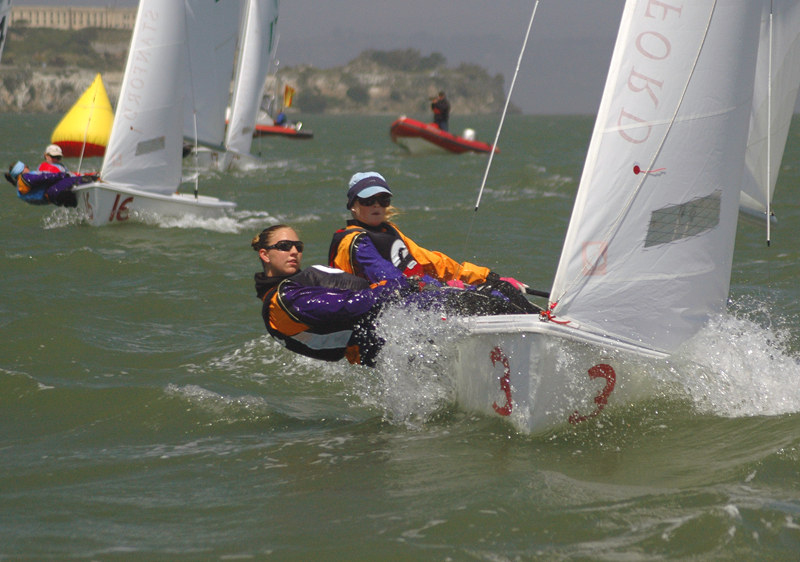 The racing wraps up today, so if you have the chance to get down to the Marina for some spectating, go for it. The action is close to shore in between the Golden Gate and St. Francis YCs, so binos are optional! We've been posting some select photos on our Facebook page, and have galleries from yesterday's first day and Monday's qualifying races. We'll be doing the same this evening, but it might be fairly late — we've been helping out on Race Committee and are out there on the water as this 'Lectronic goes up.
Although the Women's regatta ends today, the Team Racing and Co-ed Dinghy Nationals regattas are coming up this weekend and next week respectively. If you can volunteer to help out on race committee for either event, do it; it's a lot of fun! You can sign up for the Team Racing which runs Friday through Sunday at Treasure Island Sailing Center, by sending an email. Go here to sign up for the Co-ed Dinghy Nationals which start Monday and run through Wednesday. Even if you can only make one day, it'd be appreciated. There's also an "Afterguard" regatta for college sailing alumni tomorrow, so if you think you can still work some magic in a C420, check out the NOR.
Receive emails when 'Lectronic Latitude is updated.
SUBSCRIBE