West Coastal Cruise Weather Planning, Part 1
Where do you get your weather information for coastal cruising? My partner and I recently took a two-week cruise from Berkeley to the Channel Islands and back on our Kelly Peterson 46 Esprit. We had a couple of different major sources for our forecast and planning. We used PredictWind, Windy.com, SailFlow.com, and Weather Routing Inc. But I'm interested to hear what you're using.
I'm going to break this up into two experiences using our various options. The trip south was entirely planned using the free, web-based options. We'd have no access to data once offshore.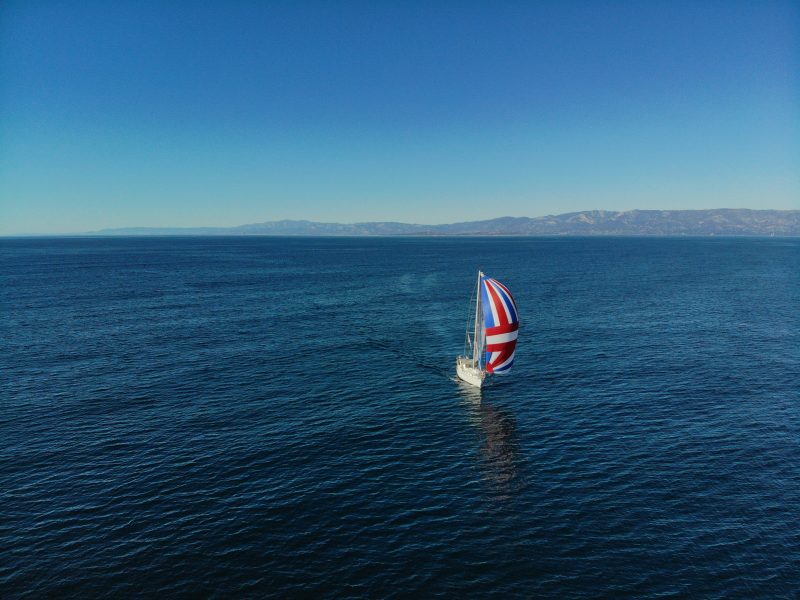 I'm always looking at the weather forecasts as far out as they'll predict, and for this trip, we planned to leave on Fleet Week weekend. (We did get a great day of watching the show on anchor in Richardson Bay.) Once we departed, the options for sailing were looking slim unless we went at least 30 to 50 miles offshore. Out there, we were expecting winds between 12-20 kts for the two to three days it would take us to get to Santa Rosa Island, our first planned landfall. PredictWind has a cool split-screen tool where you can compare two different visual forecasts side by side.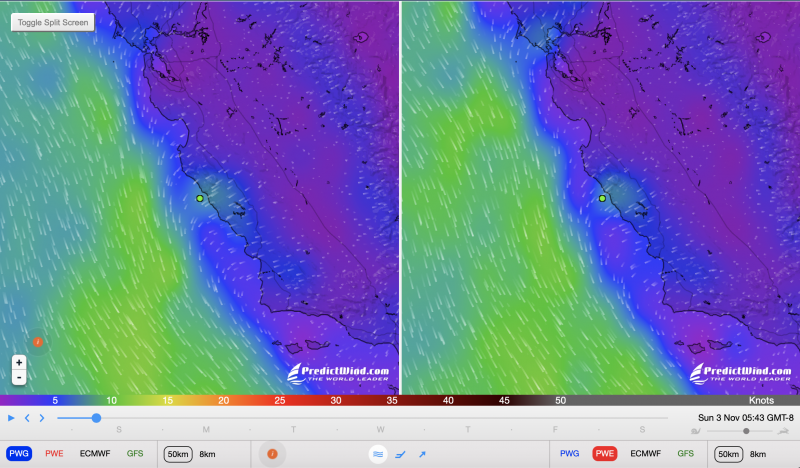 You do need to create a log-in, where they'll try their hardest to get you to buy a subscription, but the free option is great for the level of information we needed. Both the GFS and ECMWF — and the PW computerized interpretations of each (that's four forecasts) — showed light winds inshore and great sailing offshore. Windy showed the same, but less wind on average. SailFlow is great when looking at live wind and gusts (with the paid version) but we wouldn't have access to that offshore anyway.
Early on a foggy Sunday morning, we motored out the Gate and to the Farallon Islands where the northerly started to fill in. The farther west southwest we went — as predicted — the better the conditions became. Just before sunset, we poled out the genoa and sailed wing on wing, jibing about every 12 hours until we could jibe for a straight shot past Conception and into Bechers Bay on Santa Rosa Island. The weather and routing paid off as planned and held accurate for the 53-hour and 325-nm passage.
Unfortunately, that pass into the islands was cut short by a VHF weather forecast proclaiming a Santa Ana (aka the 'Devil Wind' of the islands) was going to get started in less than 36 hours. We spent the night anchored in the huge bay with one fishing boat and one other sailboat. The next morning we sailed out of Bechers and set the asymmetrical chute for Santa Barbara. As cell data became available, we checked our apps to compare the VHF forecast; there was a prediction for sustained winds in the 30s with gusts to 45 kts for a few days!
Once in Santa Barbara we kept an eye on all the options so we could make another dash for the islands after we switched out our crew. I also found a coupon from the Pacific Sail and Powerboat Show for 15 days of free premium service from Weather Routing Inc. — this is a team of meteorologists that offer customized ship and yacht weather routing. "Yahoo!" I thought, as I feared the trip north far more than I did the trip south.
Readers — We'll run part 2 of Mitchell Andrus' story next week, but in the meantime, if you have a favorite weather-forecasting service, please let us know. You can either comment below, or email us here.
Receive emails when 'Lectronic Latitude is updated.
SUBSCRIBE