Chris Poole Wins Congressional Cup With First-Ever Undefeated Record
It's never happened before and is unlikely to happen again anytime soon. Chris Poole (USA) and Riptide Racing, winners of the 58th Long Beach Yacht Club Congressional Cup, sailed a perfect series, winning all 24 of their races in one of the most prestigious match-racing events in the world. Chris and his crew were lined up against 10 of the world's top-ranked match-racing teams and never lost a match. To the best of anyone's knowledge, nobody has ever won the Congressional Cup in such a commanding fashion. Jeppe Borch (DEN) finished second, Nick Egnot-Johnson (NZL) third.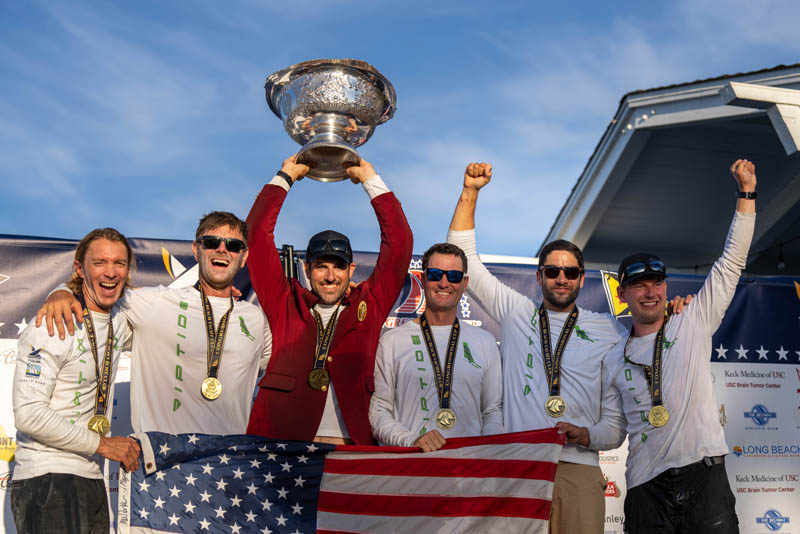 "I'm still in disbelief that we sailed the perfect regatta: I don't think it gets any better than that," said Poole, who claimed victory in his fifth attempt at the Congressional Cup trophy. "To be a part of the winner's circle of this event, at this club, is an incredible honor. It's the only Grade One in the US, and one of the most historic match races in the world."
Sailing with Poole, under the Seawanhaka Corinthian Yacht Club burgee, were Matt Cornwell, Luke Payne, Malcolm Parker, Bernardo Freitas, and tactician Joachim Aschenbrenner.
World Sailing ranks Poole as the number-one match-racing skipper in the world. But a Congressional Cup title has evaded him in a decade of trying. Poole first arrived at LBYC in 2013, finishing seventh in the Ficker Cup. He was remembered by some as an over-eager, even abrasive, 24-year-old. "When he first came to LBYC he would yell and scream at everybody," chuckled Bob Piercy, chairman of the 2023 Congressional Cup. "I've watched Chris mature over the years to where he is now: so polite, cool and collected. It's been a treat to watch that evolve."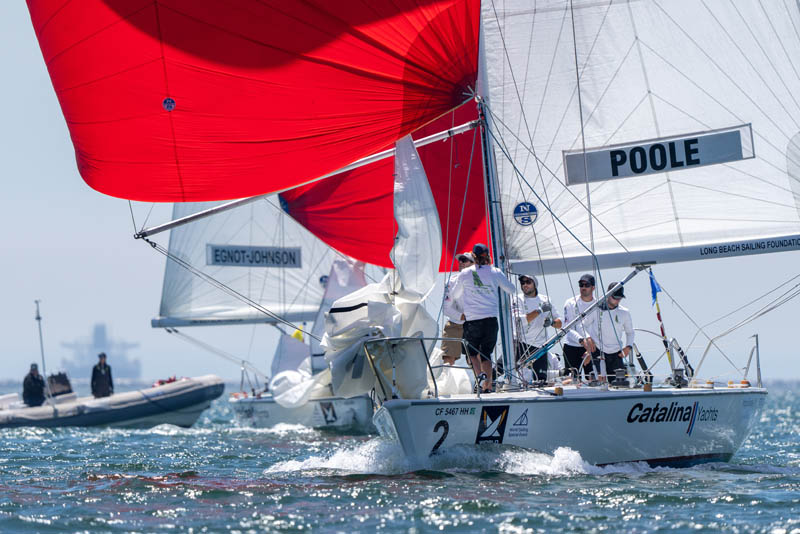 "And this whole season, almost everywhere he went, he seemed to be coming out on top," Piercy added. "As the 2022 winner of the Grand Slam series his was my first invitation to the 2023 Congressional Cup. I got the letter out that evening. My only regret was I didn't get to hand it to him in person. And now this result: It's amazing!"
In fact, Long Beach Yacht Club and Congressional Cup take some pride in Poole's metamorphosis. This event is more family and fraternity than callous rivalry. "I've definitely enjoyed this journey, from my first Ficker Cup 10 years ago," Poole said. "And 2019 was a pivotal year for me, a big shift and a big evolution, and that has kept progressing." Finishing third in 2022, he vowed to return to "finish what they started last year," adding, "I would love to have a Crimson Blazer [an icon similar to the green jacket at The Masters]."
Donning that sport coat at the prize-giving to a standing ovation, Poole choked up. "To sail a perfect regatta, and at this event, is truly a moment that will stay with me for the rest of my life. It's a humbling experience."
At this high level of competition, it's nearly unheard-of to have one team dominate the entire event. "This was just a phenomenal effort by Chris Poole and Riptide Racing," said James Pleasance, executive director of the World Match Racing Tour. "He's been working on this tour a number of years and done a load of events, getting better and better. I'm so pleased for him to get a win of a tour event, in his home country, and one as prestigious as the Congressional Cup. And to go undefeated the whole way through is a testament to his work, his crew's work, and everything he's put into this: the effort and time and travel. What an amazing achievement!"
For the final match-up it was Chris Poole against Denmark's Jeppe Borch. Poole and Borch's matches started fiery as well. Within seconds of entering the box Poole had a protest on Borch. Spinnakers up and down, picking their way through the spectator fleet … Poole was off the line precisely with Borch astern. Poole took the first match with seeming ease.
In the second match Borch returned the favor, delivering Poole a penalty in the prestart. It was immaterial. Riptide Racing was smoother, faster, higher, from pole to pole. Between races the teams had even swapped boats — a custom fleet of Catalina 37s — to guarantee evenness. Poole dispensed swift justice in all three matches to take the victory in the final.
"It's been a great week for us, and the boys have showed they can really be at the top level of the sport," said 25-year-old Borch, whose second-place finish in his second Congressional Cup appearance was impressive. "Chris Poole and his team were amazing: They had the speed, they had the tactics, and we just didn't have an answer for them today. But that's why we're here, to get beaten sometimes so we can learn a thing or two and then we can come back stronger."
Third-place Egnot-Johnson declared, "What an amazing feeling it is to make it on the podium! This has been a most amazing week for us; we are so stoked to be here."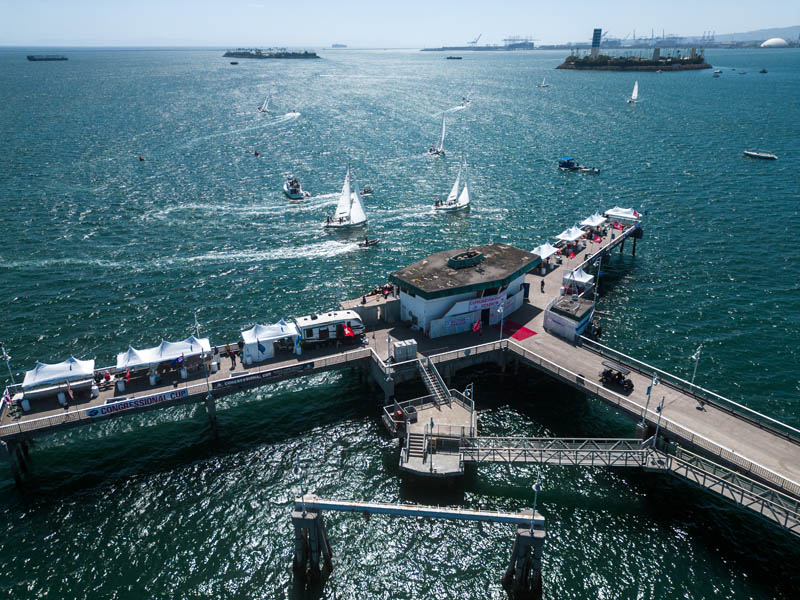 "I've felt spoiled, honestly spoiled, during my time at LBYC," said Megan Thomson (NZL), whose second-place finish in Ficker Cup qualified her for Congressional Cup. "Seriously, I've had a blast!"
"LBYC has been fantastic as usual," added Poole. "Everyone loves to race here: The conditions are phenomenal and the hospitality, parties, are second to none. We have never come here and not had a great time."
Complete results and highlights of the 2023 Long Beach Congressional Cup regatta can be found at www.thecongressionalcup.com. For more information on the World Match Racing Tour go to www.wmrt.com.
Final Results:
1. USA Chris Poole, Matt Cornwell, Luke Payne, Malcolm Parker, Bernardo Freitas, Joachim Aschenbrenner
2. DEN Jeppe Borch, Sebastian Pieters, Gustav Wantzin, August La Cour, Matias Rossing, Thor Malthe Andersen
3. NZL Nick Egnot-Johnson, Alex Higby, Bradley Mclaughlin, Sam Barnett, Alastair Gifford, Zak Merton
4. GBR Ian Williams, Paul Willcox, Jon Gundersen, Richard Sydenham, Matthew Cassidy, Craig Monk
5. SUI Eric Monnin, Ute Monnin-Wagner, Simon Brügger, Julien Falxa, Lukas Gerig, Nick Zeltner, Mathieu Renault
6. AUS Harry Price, Niall Morrow, Harry Hall, Connor Mashlan, Joshua Wijohn, Taylor Balogh
7. NZL Megan Thomson, Daniel Pegg, Steve Flam, Max Mayol, Collin Mulry, Max Brennan
8. SWE Johnie Berntsson, Robert Skarp, Anders Dahlsjo, Herman Andersson, Patrik Sturesson, Martin Berntsson
9. USA Christopher Weis, Richard Van der Weyde, Alex Burrow, Sidney Gathrid, Dylan Finestone, Roberto Stevens, Haydon Stapleton
10. USA Dave Hood, Chris Main, Garth Ellingham, Steve Natvig, Samuel Gilmour, Harrison West
Receive emails when 'Lectronic Latitude is updated.
SUBSCRIBE