Cat. 4 Cyclone Smashes Aussie Coast
Boat owners and residents in Australia's northeast are cleaning up and assessing the damage after Tropical Cyclone Debbie hit the region Tuesday morning. The storm — which reached category 4 strength — is said to be the largest to hit Australia since Cyclone Tracy destroyed Darwin in 1974.
Debbie smashed its way through the Whitsunday Islands, Queensland's famous sailing and tourist destination, with winds exceeding 140 miles per hour, carving a trail of chaos and destruction on Hamilton Island and the mainland towns of Airlie Beach, Shute Harbor and Proserpine. Boaters from the famed sailing destination — which may be familiar to Pacific Puddle Jumpers — are now facing the daunting task of salvaging vessels from damaged marinas and harbors.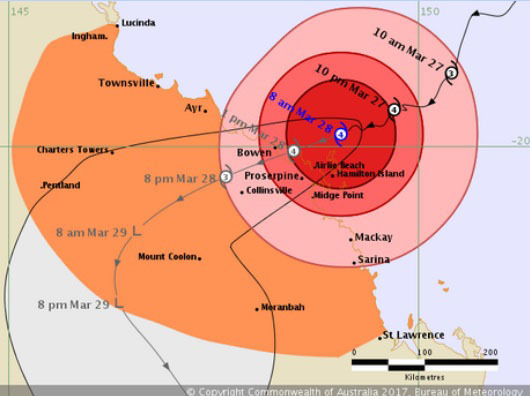 Debbie has now been downgraded to a severe tropical storm. Emergency and relief efforts are spread thin, as Queensland continues to be threatened by flooding. There are widespread power outages, and water supplies are scarce. Schools and businesses throughout southeast Queensland and northern New South Wales remain closed as the storm continues to crawl south.

Cyclone Debbie made landfall early Tuesday morning. Despite being downgraded to a category three storm when it hit the coast, Debbie took an excruciatingly slow path before turning southward. People hunkering down in shelters were granted a small reprieve around midday, as the eye of the storm passed near Airlie Beach. But the storm continued on with tidal surges and cyclonic winds that ravaged buildings, docks and boats.
Those who live and sail in the Whitsundays are familiar with severe storms and cyclones, but many locals said Debbie was the worst storm they'd ever seen. Sailboats were sunk, flipped, smashed into breakwalls, beached on shore and had their masts, rigging and cabin-tops torn apart.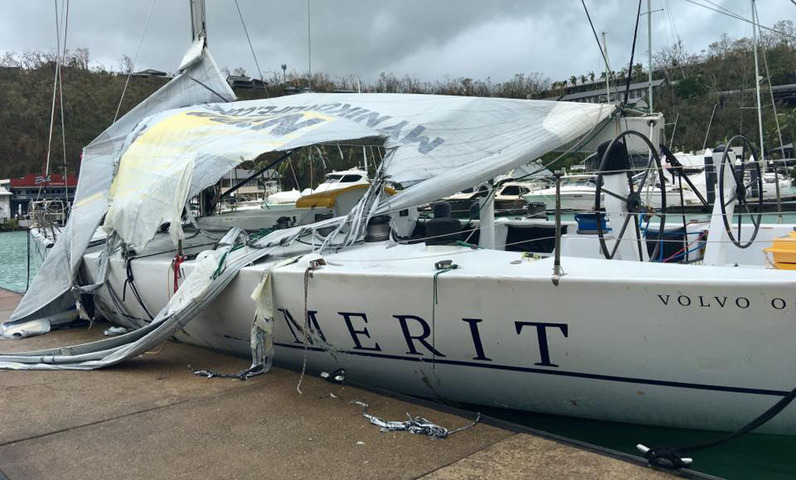 Professional Boat Care, a Brisbane-based company, said they always warn clients about the dangers of sailing north during cyclone season. Owner Peter Jenyns has been taking and sharing photos to assist absentee owners in identifying their vessels.

"I understand the marina workers are dealing with an overwhelming situation and have no communication facilities as of yet," said Jenyns.
"We've been overwhelmed with thankful owners who have now been able to identify their boats and the damage sustained through our photos," Jenyns added. "Sadly, just as many are asking if we can help find their missing boats."
Receive emails when 'Lectronic Latitude is updated.
SUBSCRIBE