The following is a December 11 blog post from Captain TEEM, a group of sailors we made contact with as they were passing through Sausalito in October. We featured them in December's Cruise Notes, and they can be found at To Sail or Not To Be. (If you know of a fun and exciting cruising blog from Bay Area sailors — or people who've passed through — please let us know.)
What is it with Cabo? First we could not get there fast enough for the captain to take on another job. And then, it would not let us go again. We tried several times. Twice we were all ready to go, thought we had the motor fixed, and twice the motor failed on us. Each time it caused a couple-days delay, as it was always right in time for the weekend with no mechanics in sight.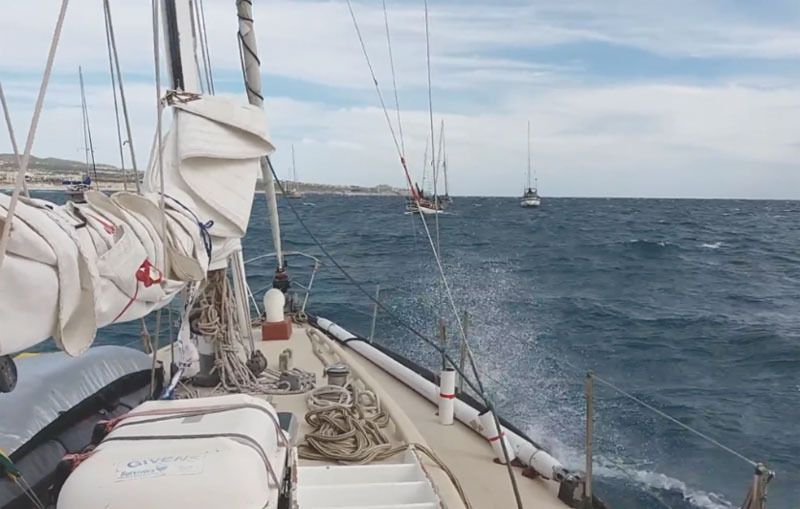 And now the weather doesn't play well, which made things quite difficult for everyone in the anchorage. It started with swell followed by strong winds, which made being on the boat feel like being inside a washing machine. The constant rolling and up and down made Mats and myself feel motion sick. After a night of no sleep, the captain packed us up, drove us to shore with the dinghy for an egg breakfast and found a great hotel right by the marina. And he did that right in time before things got worse. Here's a little clip when things were a bit more mellow again, to give you an idea.
The Captain's attempt at going back to [our 42-ft custom Dutch-built steel sloop] Alsager almost ended in a disaster — and us losing our dinghy. When he tried getting into the channel, a big wave threw the bow upwards and water rushed over the stern into the dinghy. The captain had to throw himself forward to prevent the dinghy from swamping. He shuffled the water out as best as possible and made a second attempt. He made it to Alsager, and while the waves threw the dinghy against the side of the boat, he tried to hold on and find a moment to get onto the vessel. I wasn't there, but we have done it with a kid and dog onboard, and even when the situation is not so intense, it's always an adrenaline rush to get everyone from one boat to the other safely. So, very glad he made it OK!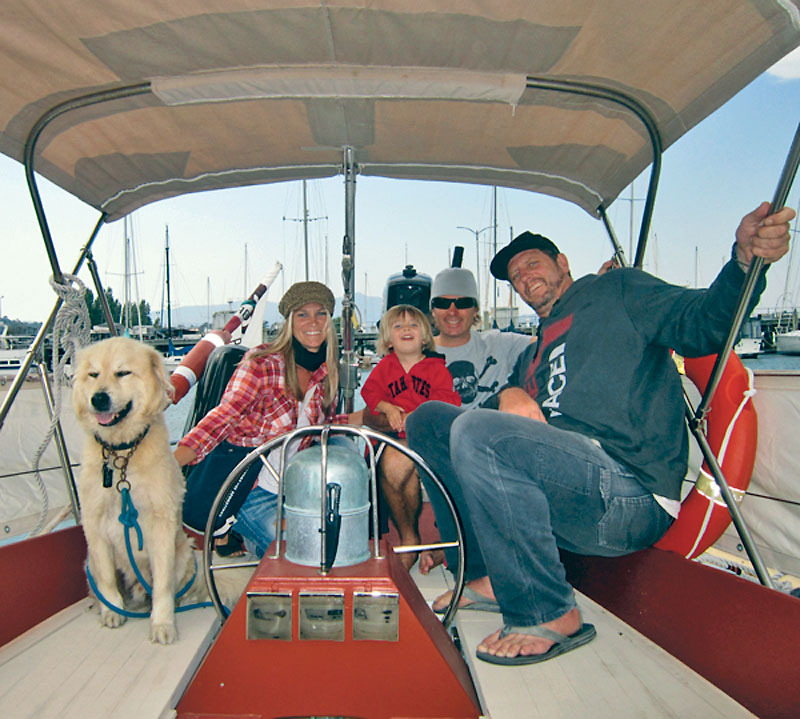 He noticed, that boats around him had all kind of problems, but since he was by himself, he had to attend to the safety of ours first. He immediately started the motor to make sure he could hold Alsager in place, in case the anchor started dragging. Then he got a second anchor out and with the help of a nice neighbor who assisted in his dinghy, they were able to set the second hook.
He stayed most of the day on the boat while Mats had fun at the pool and both of our bellies started feeling better. Poor captain. When he felt good enough about leaving the boat. I ordered a well deserved hamburger and margarita for him and we all passed out quite early that night. Now let's see if we make it out of Cabo!
Receive emails when 'Lectronic Latitude is updated.
SUBSCRIBE