Boat Goes Aground in Baja
A boat that sailed in this year's Baja Ha-Ha ran aground near Ensenada, about two weeks after the conclusion of the rally. Mr. Beefy — a Lagoon 440 catamaran from Newport Beach — was headed into San Quintín on her way back up from Cabo San Lucas.
"I guess I'm not eager to tell the story, but if it can help anyone else . . ." Dan Rawitch told us this morning, as he was heading back into Mexico with his wife Sophia to tend to the aground Mr. Beefy, which is named after their beloved English Bulldog that passed away while they were purchasing the boat. "I've replayed it over and over in my head. We knew exactly what our heading was and where we were going." Rawitch reported seeing 15 feet of water on his depthfinder while looking for a safe place to anchor. "All of a sudden, we knew the port prop was fouled because the port-side engine went quiet, and the boat was forcibly spun around and pulled down. Whatever fouled our prop was much stronger and bigger than a lobster trap. We later confirmed this when a local diver cut the line."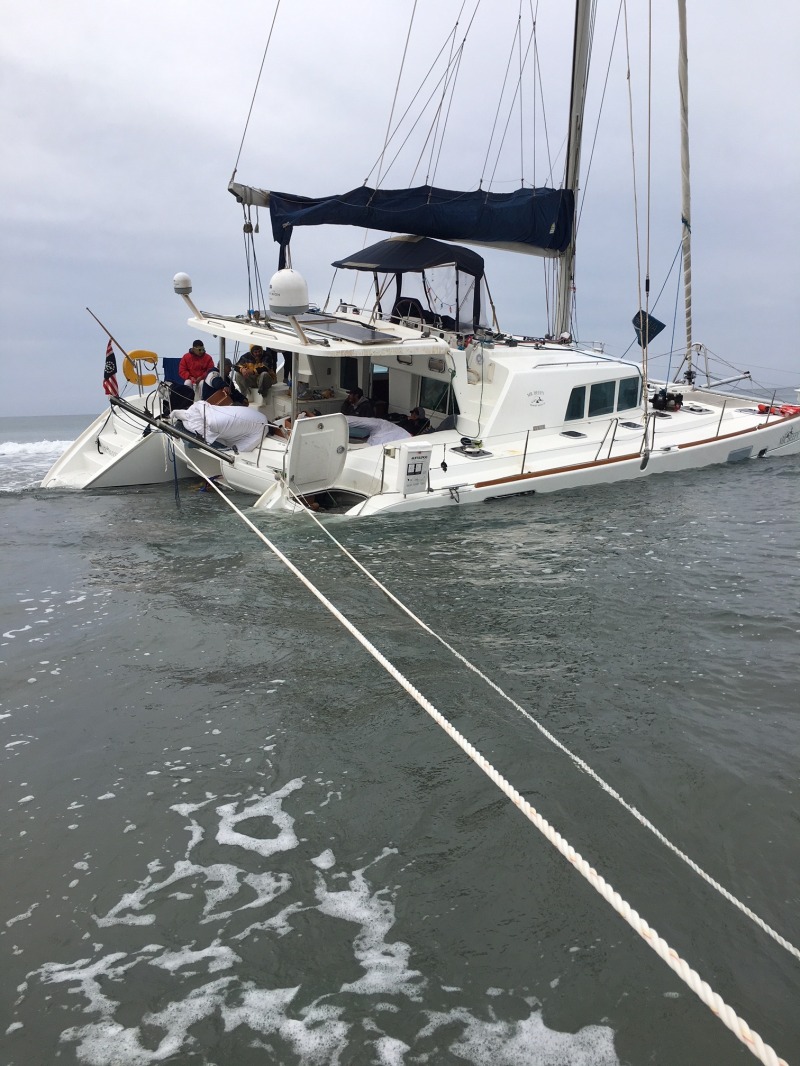 Mr. Beefy's starboard keel ran into a sandbar. "We're not sure how the stern ended up facing out to sea and the bow toward shore. That was 90 degrees in the wrong direction that we were going." Rawitch said that rather than feel like they ran aground, they felt a surge.
While experiencing this bizarre motion, Rawitch said that the saildrive seal warning on the starboard engine came on. "Once we spun around and were going to shore we still had forward momentum. When I went to power out and put full power on the starboard engine, smoke came pouring out. I thought there must be water in the engine. Why else would there be this billowing white smoke, especially considering the saildrive seal breach warning light was on? We basically had no engines, and tried all night to back off. And we were taking a beating. There were 8- to 10-foot swells all night and a lot of force on the boat. We were able to turn a little, facing outward. It was my wife's idea to put up the jib, which got us turned in a better direction, and made the night a little more bearable. But it was a frightening night for us and our two dogs.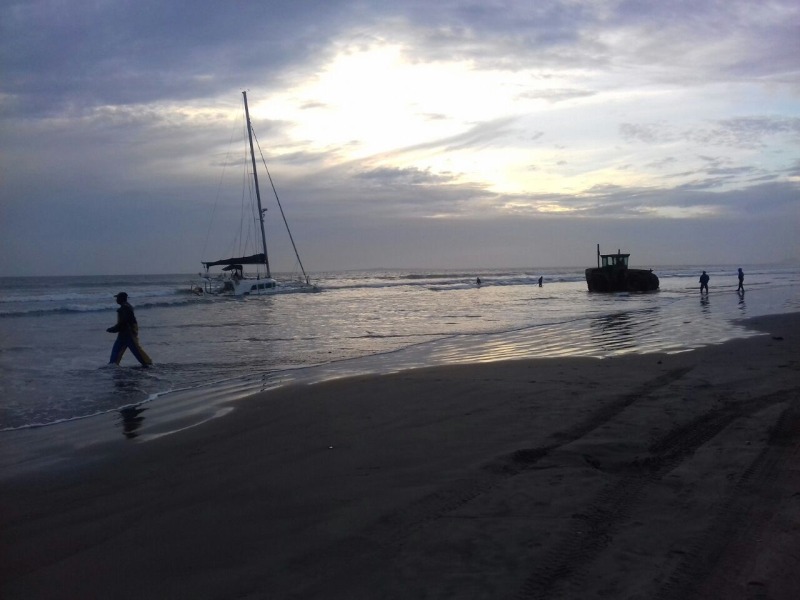 "I guess the adage 'never go into an anchorage you don't know at night' is true," Rawitch said, adding that a perfect storm of unfortunate circumstances led to the grounding. Coming from Turtle Bay, the weather was forecast for moderate wind and seas, which the Rawitches had, until the last day. "We had 45 to 50 knots in our face, and were making maybe two knots of headway. So fuel became a concern."
But once things went wrong in San Quintín, there was an outpouring of support from the locals. "This guy in a wetsuit came swimming out, and eventually we had six pangas trying to tow us. They did all of this without knowing what was in it for them. Some guys went home, got pumps, and carried them over their heads and down to the beach for us. That was unbelievable."
Rawitch said that a respected patriarch of the community who owned many of the pangas rallied people to help. "We made friends. A guy there — an American — translated, drove us to Ensenada, and eventually drove us to San Diego.
"Human kindness when you're in a jam like that is touching."
Receive emails when 'Lectronic Latitude is updated.
SUBSCRIBE