Dennis Olson of Santa Rosa sent us the following report about having big fun aboard little boats on Tomales Bay.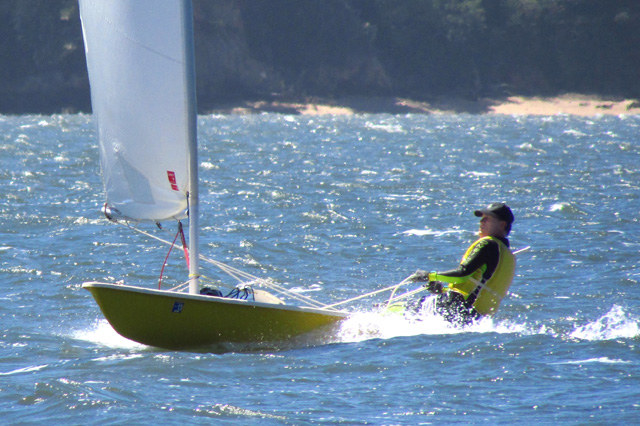 "Man down!" That was the call when we saw someone capsize. Turn, keep your eye on him and hope he doesn't need help. Putting your boat next to one that's capsized almost guarantees two boats will be upside down.
I was the first man down on April 14, when my friends Dave McEligot, Brian Roberts, Carl Sanders and I launched our Lasers in sketchy conditions on Tomales Bay. Barely five minutes after shoving off, I was pulling a normal show-off gybe near the beach. The mainsheet slipped from my grip and the boom wrenched forward, accelerating the boat into a death roll to windward. In that situation, the boat quickly comes over on you. You have to get out from under and start making a quick clean-up to get her back on her feet.
I hadn't capsized in about 10 years and suddenly I was in love with my wetsuit and lifejacket. I tried to stay calm and not fight it, but it was hard not to get anxious . . . especially when I realized that the boat wasn't drifting in the wind and the waves. The mast tip was stuck in the bottom!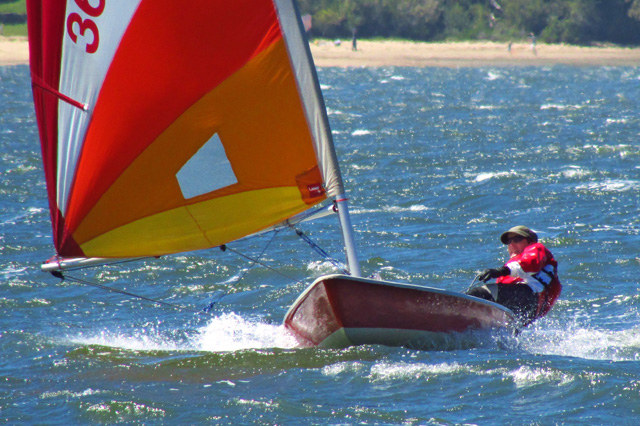 I swam around and tugged the bow so it pointed into the wind. You need to do this if it's windy or the boat will simply crash over on you again. I did a pull-up on the centerboard and waited. Slowly the mud released the mast and the boat came upright. Another pull-up and I was in the boat. Let me just say, you don't want to have to do that too many times.
The wind and waves continued to build to a solid 30 knots with what we estimated to be 40-knot gusts. It gets hard to see and breathe with so much water in the air. The building wave trains were fun to surf on, and the hiss of the boat's passage was punctuated by grunts and yells that I was only aware of later when I reviewed the GoPro footage. We were all sailing fairly conservatively to stay safe, yet everyone except Carl had at least one capsize and swim. The only reason Carl escaped that fate was because his mast broke while he was still right side up!
As Dave noted later, "This was one of those days that was not defined by the 'ballsy-ness' of what we did, but by maintaining that readiness to aid one another. I think it was this group effort, something that would not have been achievable otherwise, that contributed to the success of the day. Our combined integrity outweighed that of our equipment."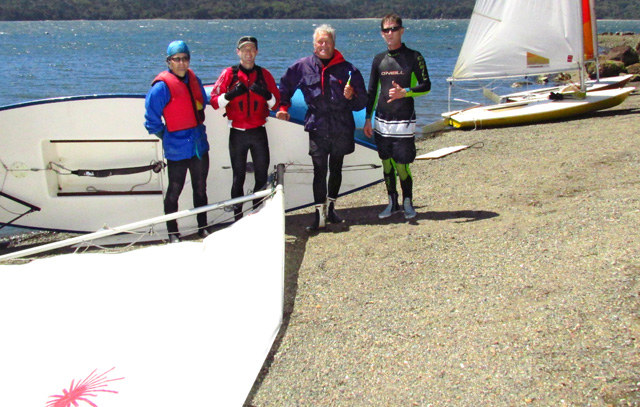 There is nothing quite like sailing small boats in big winds for cheap thrills. And you don't need to race to enjoy this kind of machine. My competition is with myself and the water planet. When sailing a Laser, you hang suspended with one hand in the ocean (tiller) and the other hand connected to the sky (mainsheet). You are the pivot point between these two great fluids, the two worlds, and you get to go along for the ride.
Receive emails when 'Lectronic Latitude is updated.
SUBSCRIBE