The 20th annual Baja Ha-Ha has been like all the others that came before in that the conditions just keep getting better and better. The event started Monday morning in rainy conditions and, by the afternoon, the fleet were dealing with light headwinds. And, man, that first night was C-O-L-D!
Yesterday afternoon, we had 13 knots out of the northwest and smooth conditions. Now into the third day, we're 50 miles north of Cedros Island and the wind is blowing 15-18 knots out of the northwest. The sun is out with scattered clouds, and life looks lovely.
Well, except the National Hurricane Center is forecasting that a tropical storm will develop near Manzanillo and possibly head up toward Baja and Cabo. Hmmm . . . the Ha-Ha fleet and a tropical storm in the same place is not a good thing. We'll keep an eye on the forecast and see how things are developing when we reach Turtle Bay.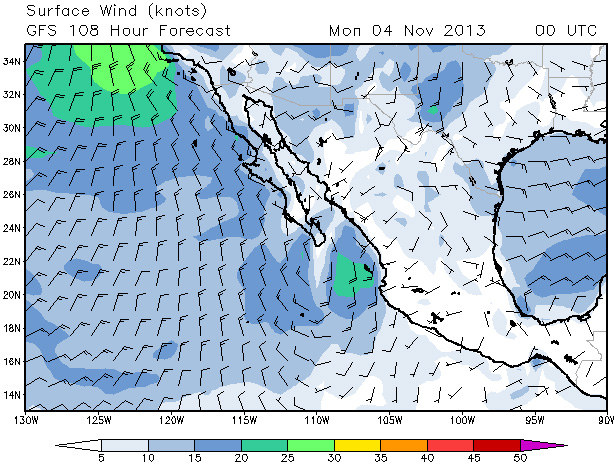 Speaking of, tomorrow is the baseball game between the Baja Ha-Ha fleet and the women and children — all terrific baseball players — of Turtle Bay. We can't wait to bring you the photos!
If you're into stats, the rally started with 128 boats and 489 people, but by the time the late-starters catch up, we'll have 130 boats and more than 500 people. The fishing has been good. One boat even hooked two dorado — they landed the first but the second ripped the rod and bracket right off the boat! And the best quote so far in the event came during a morning check-in when one crewmember reported that all was well aboard the boat. "Except," he said, "we blew a guy."
And with that, until next time.
Receive emails when 'Lectronic Latitude is updated.
SUBSCRIBE