Australian Sailor Rescued After Being Spotted Adrift in the Pacific
An Australian sailor and his dog were rescued by a Mexican fishing boat after having spent almost three months in the Pacific Ocean. Timothy Shaddock, 54, originally from Sydney, Australia, had left La Paz in May headed for French Polynesia, aboard his Wharram catamaran Aloha Toa. Weeks into the voyage the boat was crippled in a storm, Australia's Nine News reported. Around two months later, Shaddock's drifting boat was spotted by a Mexican tuna trawler's helicopter, approximately 1200 miles from land.
The helicopter was searching for tuna when the pilot spotted "something bobbing," the New York Times reports. The pilot dropped down a water bottle before heading back to the fishing boat. Soon after, a small boat arrived to take Shaddock and his dog Bella back to the main ship. After staying aboard the trawler Maria Delia while they completed their voyage, Shaddock set foot on land in Manzanillo, Mexico, on Tuesday, where he was greeted by a contingent of well-wishers and reporters.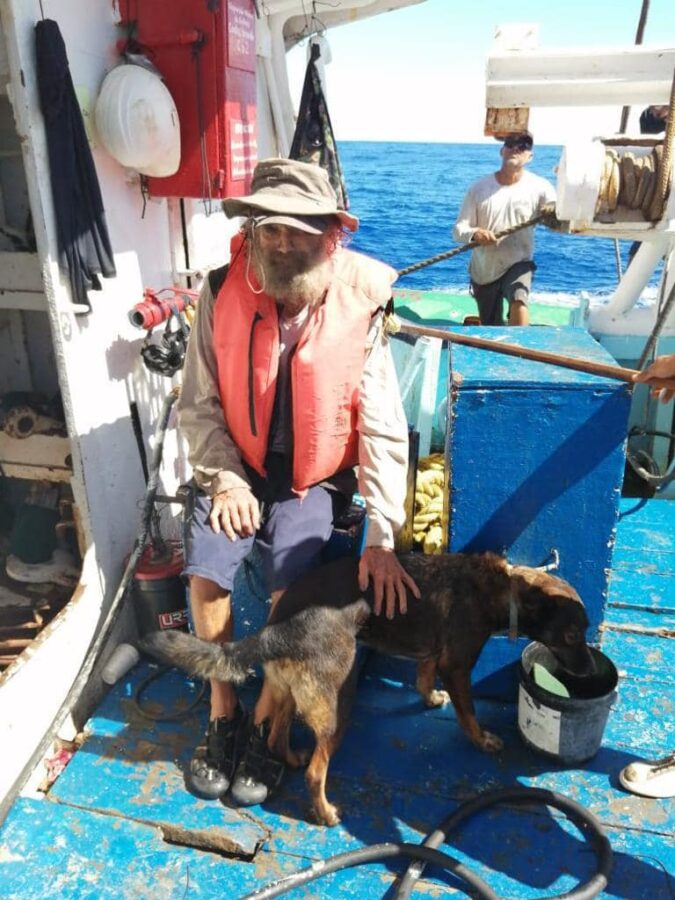 "I'm just so grateful," Shaddock said of Maria Delia's captain and crew, and Grupomar, the company that owns the trawler. "I'm alive, and I really didn't think I'd make it." And while he appeared a little overwhelmed at his reception, Shaddock did his best to answer the reporters' questions.
The helicopter that spotted Shaddock was the first "human vehicle" he had seen in months. His last sight of land had been from the Sea of Cortez, under the May full moon. He and Bella survived by drinking rainwater and supplementing their provisions with fresh-caught fish, which they ate raw as, along with all the electronics, Aloha Toa's cooking facilities were disabled in the storm. He told reporters that his health had deteriorated while adrift — "I was pretty hungry" — but after being rescued and spending time aboard the Maria Delia and eating their food, "I feel really good."
"I want to thank Antonio Suárez [Gutierrez] and his company for saving and for looking after me. I'm very, very grateful. Thank you," he said looking at the man next to him.
Shaddock was, at times, philosophical about his ordeal. "There were many bad days. And many good days," Shaddock said. "The fatigue is the hardest part," he told reporters. "You're always fixing something. And for me, I would try and find happiness inside myself. And I found that a lot, alone at sea. I would go in the water, too, and just enjoy being in the water." During an interview, he told a Nine News reporter in an interview that he had been in communication with his family throughout his time at sea, via his Garmin inReach.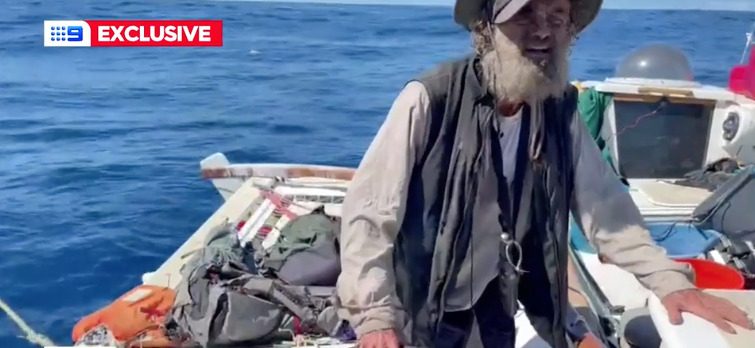 Aloha Toa, which Shaddock describes as "a French Polynesian, traditional boat," that is made for ocean sailing, is still adrift in the Pacific. While the rescued sailor has no immediate plans to go to sea, he still says he loves the ocean. "I very much enjoy sailing, and I love the people of the sea." At this point he is looking forward to going home to Australia and spending time with his family.
Receive emails when 'Lectronic Latitude is updated.
SUBSCRIBE