Alaska Racers Challenge Ellison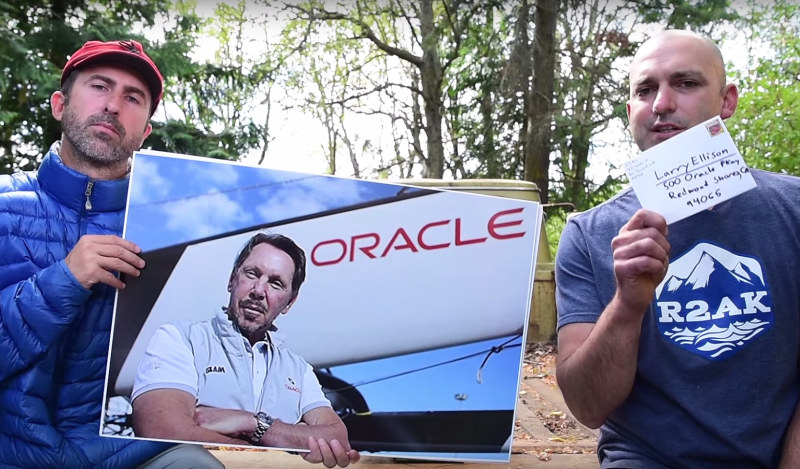 A year ago, when we first heard about a newly conceived race from Port Townsend, Washington, to Ketchikan, Alaska, we had to wonder if the announcement was for real, especially since the 750-mile course was open to any sort of unassisted, engineless, sail-powered or human-powered craft, and it boasted a $10,000 prize for the first to finish. But the inaugural running of the so-called R2AK this summer proved to be a huge success. Looking ahead to next year's race, event creator Jake Beattie has issued a personal challenge to Bay Area software mogul Larry Ellison to give the grueling race a try in an America's Cup boat.
If Ellison and his team can simply complete the course without assistance in the allotted time frame, Beattie says, they'll win a set of official R2AK steak knives, normally reserved for the second-place finisher. "You can do what you want with the knives," says Beatie with a straight face, "split them up with the crew; if you want to give some to Spithill it's totally up to you. And to show you we're serious, we'll even waive the entry fee" ($650 plus $100 per secondary crew member).
Talk about a novel publicity stunt. Madison Avenue spinmeisters couldn't have come up with a better promotional sound bite.
Check out the complete video announcement.
As reported earlier, this year's challenging race — likened to an Iditarod on the water — saw a 50% dropout rate, with 15 watercraft finishing, including a one-man kayak. Team Elsie Piddock won the $10,000 in a borrowed Farrier F-25c trimaran, while Team MOB Mentality on the Farrier 28 Mail Order Bride took the steak knives — but split them with third-place Team Por Favor, on a Hobie 33, acknowledging the hard-fought battle between the two. Learn more about the 2016 R2AK here.
Receive emails when 'Lectronic Latitude is updated.
SUBSCRIBE