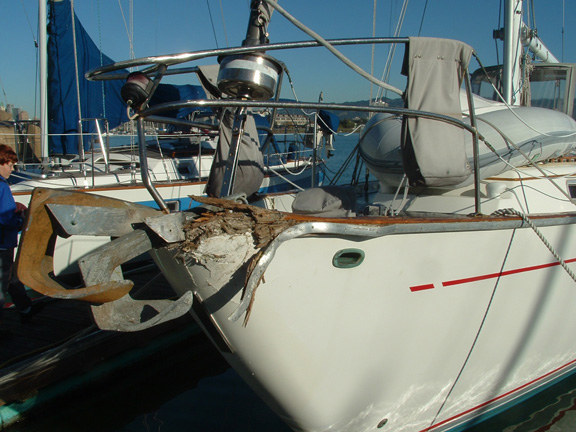 Call it Murphy's Law, or just bad luck, but sometimes trouble strikes in the final phase of an otherwise uneventful journey. It happened to Nigel Tetley near the end of the famous Golden Globe Race – a shoe-in for the fastest time, his boat broke up 2,000 miles from finishing the first solo 'round-the-world race. It happened to voyager William Peterson – he was forced to abandon his Newport 40 after dismasting several hundred miles short of completing a nine-year circumnavigation. And it just happened to a delivery crew bringing the Celestial 48 Tamara Lee Ann back to Alameda from the Baja Ha-Ha.
After an otherwise trouble-free 1,250-mile bash up the coast, the crew apparently lost their concentration momentarily while entering the Oakland Estuary and slammed into a set of pilings near the Alameda Ferry doing six knots. The boat's permanent slip lay only a mile away.
We air this sad tale here not to beat up on the delivery crew – hey, s__t happens, especially in the realm of sailing – but as a warning to everyone to always keep a proper watch and anticipate potential mishaps, even when you think you're home free.
Receive emails when 'Lectronic Latitude is updated.
SUBSCRIBE