A Strange Rescue at Berkeley Marina
Last Sunday evening at Berkeley Marina, sailors, liveaboards and pedestrians enjoying the long summer day suddenly heard tires screeching. That's not unusual at the south end of the marina, where people often do 'donuts' in the Hs Lordships parking lot. But this time, the screeching was followed by a splash.
At the Cal Sailing Club, people were hanging out on the steps in front of the clubhouse when they heard an engine rev and tires squeal. "By the time I looked over, I saw a splash in the water; people were going, 'Holy shit, was that a car?'" said a CSC instructor we spoke with this morning. He grabbed a lifejacket and jumped into a motorboat (a 15-ft Whaler) with the 'dayleader'. Ninety seconds later, they were at the car, which witnesses said was a Dodge Hellcat Charger, a powerful automobile. (The instructor — whom we've decided not to identify because there are ongoing felony charges against the driver — said he wanted to add that, "Cal Adventures responded just as quickly.")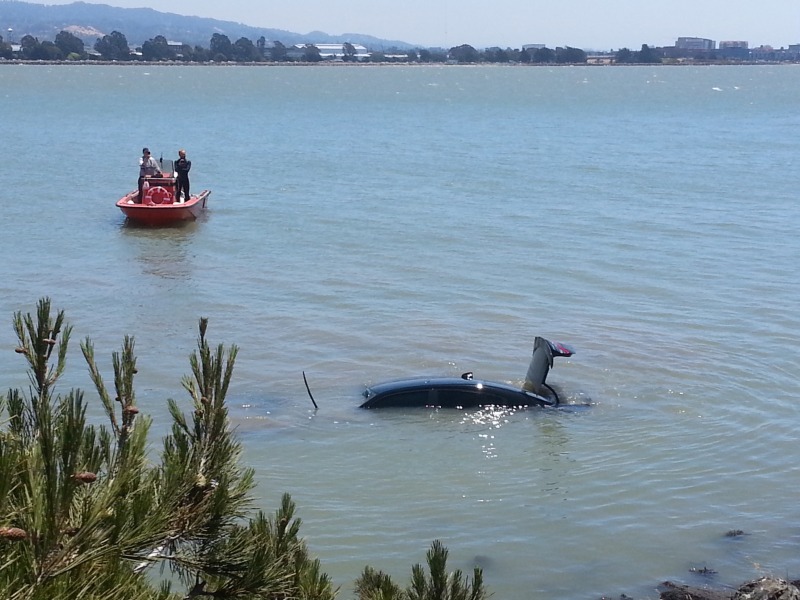 "The guy and the girlfriend were sitting on the hood," the instructor told us. "They had busted out the windshield as the car was sinking; they were in shock and hysterical, and cut up a little bit. It took a couple of minutes to get them into the boat. The guy didn't want to leave the car, and the girlfriend didn't want to leave the guy."
The motorboat headed the short distance back to the CSC dock with the instructor at the wheel. "I got in an argument [with the driver] about sitting down in the boat while it was moving," the instructor said. "He got pissed and decked me. So the dayleader dealt with that. By the time we got to the dock, the cops and fire department were already there." The instructor said he told the police not to let the driver go because he had just hit him, and eventually filed assault charges, but told us he's considering dropping them, "Because that guy had a hell of a day."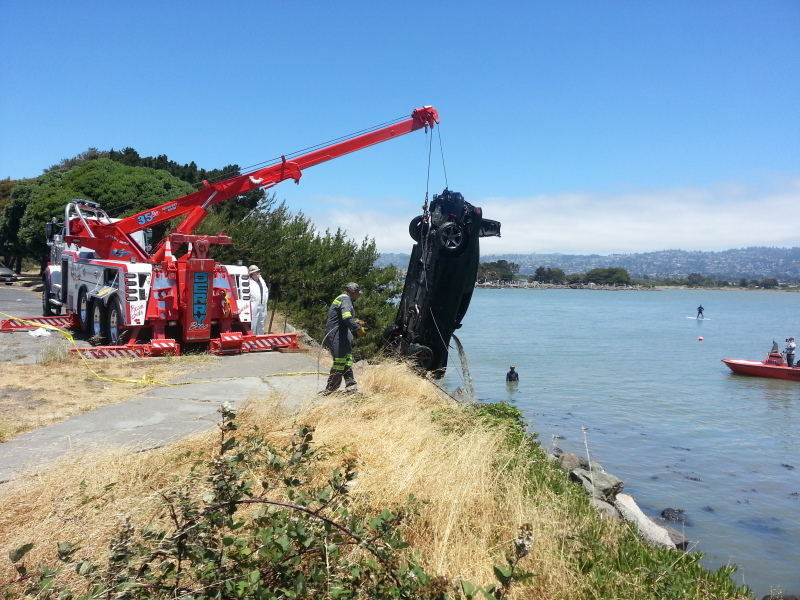 The driver, a 19-year-old man from Berkeley, was arrested on "on suspicion of attempted murder . . . suspicion of felony domestic violence as well as felony battery for allegedly punching one of the good Samaritans who rescued him from his sinking car," KTVU reported.
Reader Nancy Schimmelman — who's a liveaboard at Berkeley Marina — sent us photos from the following day, as the car was being towed out of the water. "I was told by some of the RV denizens who claimed to have seen the water entry that the driver helped his passenger out first."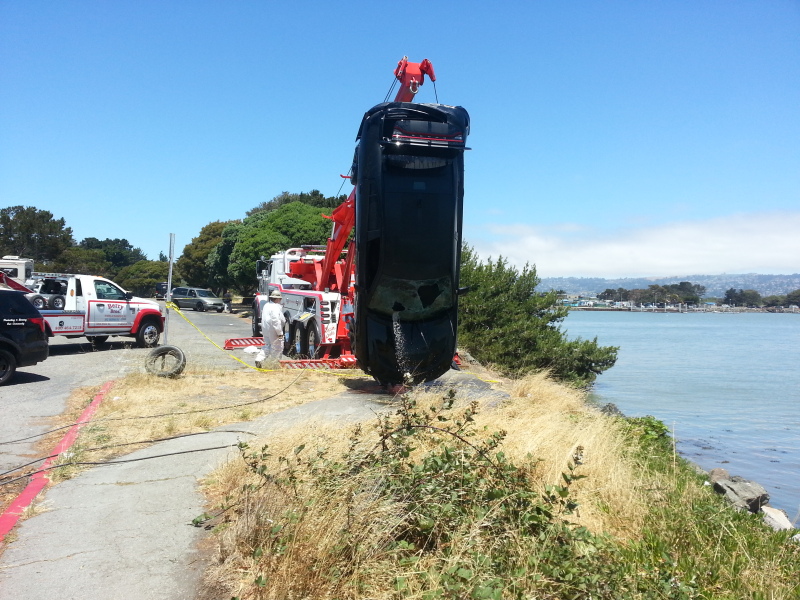 Receive emails when 'Lectronic Latitude is updated.
SUBSCRIBE