The Weird Wind and Weather Continue
"Attached is a photo taken from the El Cerrito hills, on the Bay, in the late afternoon of May 24 — I've seen this phenomenon many times but this is the first time I documented it," wrote Larry Radcliffe.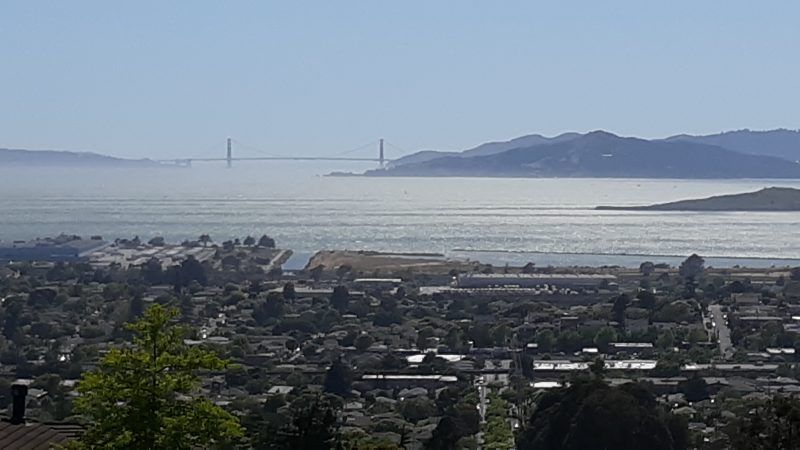 "It shows what looks to me like bands of wind changes in the moderate breeze. Does anyone know what causes the phenomenon observed?  And of importance to racers on the Circle, is it indicative of wind shifts or puffs?
"Just curious."
Excellent question, Larry. After 15 years of sailing in Berkeley (but usually on the Marina side as opposed to the Circle), I can attest to these occasional 'streaks' of wind. On more than a few occasions, I've been rigging, and have watched a 25-knot gust envelop the Marina, followed by a near-glassy patch behind it, with another 25-knot gust behind that, and so on.
What's more, this type of on/off wind seems to have characterized the Bay Area's weather for the last few weeks — especially at the beginning of the month. Many of my dedicated sailing friends say the weather has been indicative of gusty spring conditions, where the wind is far less 'stable' than the summer sea breezes, and typically has more north in it.
Anyway, Latitude Nation, we're putting the question to you. What's been going on? Is this "phenomenon' simply part of any normal weather variance that, once  sailors — frustrated by the conditions — start to mull it over in their obsessive minds, suddenly becomes an inexplicable aberration? Or is there a really cool explanation behind this? Or is everything about the world broken right now, including the wind?
Please comment below, or write us here.
Receive emails when 'Lectronic Latitude is updated.
SUBSCRIBE