A Battle of Epic Proportions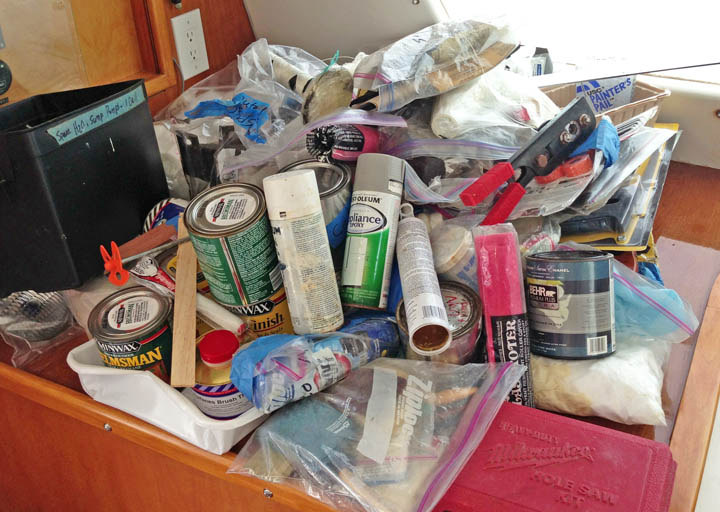 There are two kinds of people in the world. The Hoarders, as exemplified by Doña de Mallorca, and the Tossers, exemplified by the Wanderer. The former keep everything. Everything! The latter chuck everything that hasn't been used in a few months. "This isn't a cargo ship!" the Tosser thunders.
The battle between the two began in earnest yesterday afternoon aboard Profligate in the oppressive afternoon heat at the Marina Riviera Nayarit. The Wanderer, with a goal of removing 2,000 lbs of unnecessary weight to compensate for four drums of epoxy having been added to strengthen the boat, didn't need to look far for stuff to toss.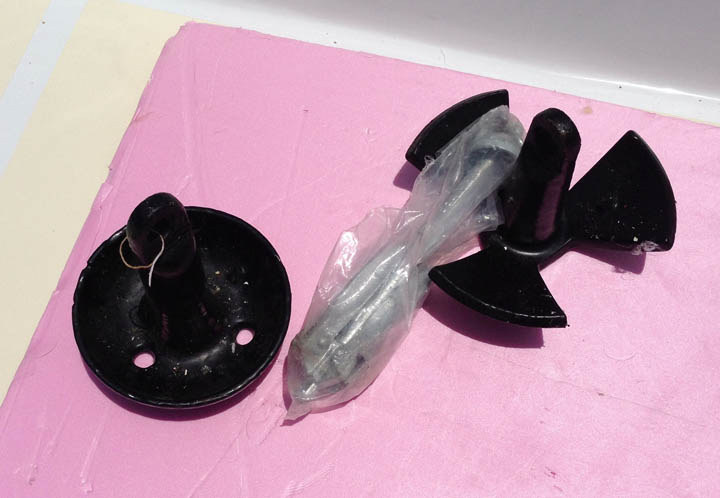 In just one deep and hidden-away section of one part of the food locker, he found 50 lbs of pasta and rice! And that was after giving a 25-lb bag of basmati rice away the day before to some workers. We always knew we could finish a Ha-Ha at Cabo and take off for French Polynesia without having to take on any extra food.
In what is possibly a world record, the Wanderer found five — count 'em! — dinghy anchors for just one dinghy. Along with three giant spray cans of white lithium grease, engine and sail drive manuals for engines and sail drives that were removed from the boat nearly 10 years ago, and 12 pairs of mostly rusty vice grips. The list goes on and on and on.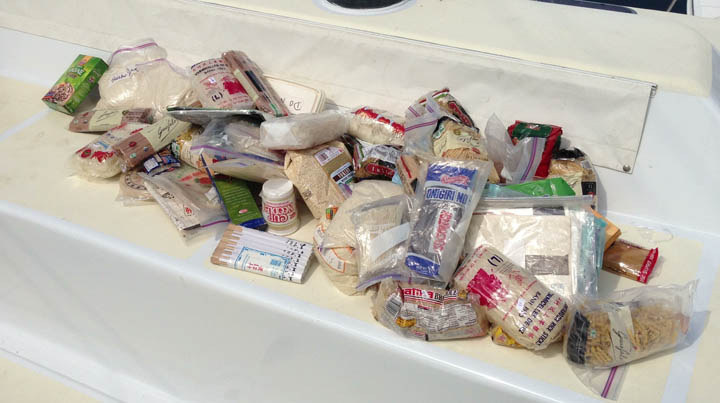 The Wanderer figures he's removed about 1,200 lbs already — who needs seven half-empty bottles of extra virgin olive oil or a half-bag of three-year-old charcoal? — and is hoping to remove another 1,200 lbs. And not to take on more unnecessary weight before the start of the Ha-Ha.
To that end, all 13 members of the Profligate crew for the Ha-Ha are being advised they will not be allowed to bring more than 30 songs each. After all, every unnecessary and extravagant byte will only slow down the boat.
No worries that the food taken off the boat will go to waste, as most of it will be headed to the 'work for food' program in Mita. As for everything else the Tosser has banned from the boat, the Hoarder has eagerly stuffed into bags with the intention of cashing in big-time at an early December marine flea market in La Cruz.
"And I get to keep all the money," she informed the Wanderer.
"It's all yours," replied the Tosser. "I just never want to see any of that crap again."
Any 'cleaning out the boat' stories you'd like to share?
Receive emails when 'Lectronic Latitude is updated.
SUBSCRIBE