News from latitudes a bit farther south crossed the Racing Desk at Latitude 38 this week.
International Masters Regatta
The only international team at the 2019 International Masters Regatta headed back north with the win after three days of tough, competitive racing. Andy Roy and his Canadian team grabbed the lead after the first day of the regatta and wouldn't budge for the remainder of the weekend. The win, Roy attests, is due to clean starts and even better crew work.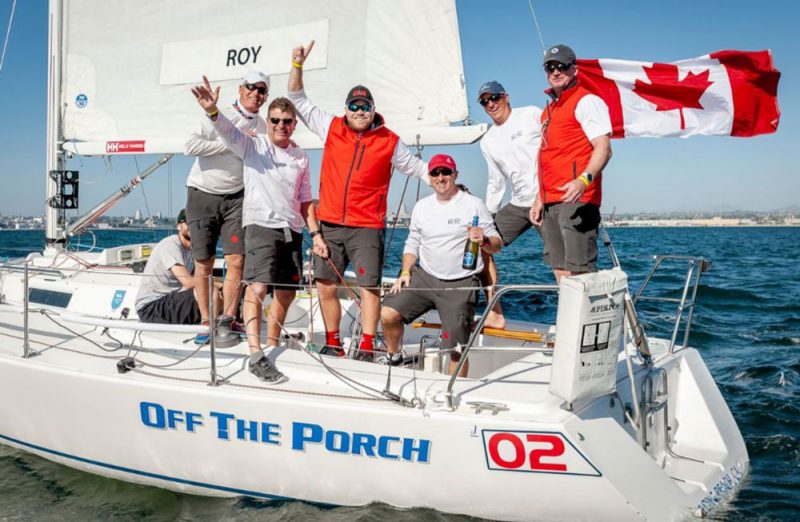 San Diego Yacht Club hosted the regatta on October 18-20. An invited group of 11 North American master skippers battled one another in a rotation of J/105s. What makes them 'Masters'? In addition to their sailing acumen, participating skippers must be over the age of 60. (Crew must be 45 or older.) The International Masters Regatta can be seen as a rite of passage, a reward and recognition after long sailing careers.
This year's 11 teams enjoyed three beautiful days of sailing in breezes up to 13 knots each day. By the last race, whitecaps and extra chop ruffled the South Bay course. Andy Roy of Royal Canadian YC in Toronto finished first overall with 41 points. Scott Harris, Coronado YC, followed in second with 47 points. Chuck Sinks, SDYC, came in third with 49 points.
Next up for SDYC is the Sir Thomas Lipton Challenge Cup starting today. The 11 yacht clubs that battled for the title in 2018 return to South San Diego Bay for a rematch in the J/105s. In the running are San Diego (2018 winners), Balboa, California, Chicago, Coronado, Long Beach, Newport Harbor, Royal Vancouver, San Francisco, St. Francis and Southwestern YCs.
Campbell Cup
Add one degree of latitude to the north and subtract 5 knots from the wind speed and you get Long Beach YC's Campbell Cup. Joel Ronning's Santa Cruz 70 Catapult finished ahead of his two competitors with a solid 2-1-1-1-1 score to win the Campbell Cup perpetual trophy. Meanwhile, Mick and Marlene Shlens defended their championship title aboard Blade II over a half dozen Farr 40 competitors, battling through lead changes at both windward marks and downwind gates.
Ten teams turned out to race in this year's Campbell Cup, originally organized in 2006 by LBYC member Mike Campbell. Campbell successfully campaigned two 70-footers:Victoria, designed by Alan Andrews, and the Kernan 70 Peligroso. He created the fall regatta to spotlight big-boat racing. When Campbell passed away two years later, the event was renamed for him.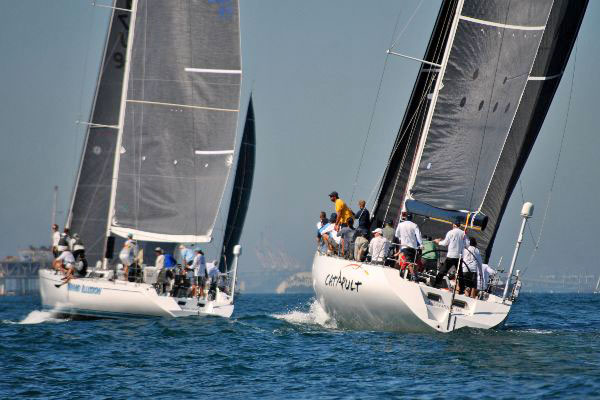 Conditions were mild for the two-day regatta, with idyllic temperatures and southwesterly breeze topping just 8 knots on Sunday. "It would have been a good day for golf," said the Minneapolis-based Ronning. But Long Beach is one of his favorite venues to sail. A second-place finisher in Transpac 2017, Ronning admitted he prefers sailing around the cans to bluewater racing. He hopes to encourage other West Coast 70 owners to come out and play. He says he'll return to the West Coast next year for the Hot Rum Series and Yachting Cup.
Marlene Shlens, co-owner of Blade II, gave credit for their win to "our outstanding crew and a great tactician who was really on his game," referring to Peter Isler.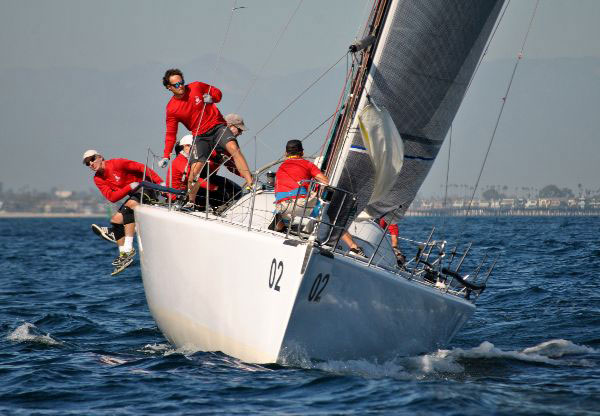 Next up on LBYC's schedule of regattas is the third and final weekend of the California Dreamin' match race series, to be sailed in Catalina 37s on November 2-3.
Receive emails when 'Lectronic Latitude is updated.
SUBSCRIBE