The AC75 Video that Some of Us Have Sort of Been Waiting For
Say what you will about the modern America's Cup, but the launching of an entirely new class — and one of the most ambitious foiling boats to ever hit . . . or rather, skim above the water — is undeniably exciting. We've been eager to finally see the AC75s in action, even if we're not entirely sure how we feel about the new Cup.
After months of talking about the new class, years of planning and designing, then more months of information, pictures and rumors slowly trickling out into the sailing media, the damned things are finally sailing. Sure, we've shared some distant, grainy footage of a few AC75s foiling, but yesterday, while perusing Dennis Conner's Facebook page, we came across this footage of Team New Zealand's Te Aihe:
"Boating Is [Still] a Big Deal in the US"
Over the last few decades, there have been some ominous statistics about participation in sailing. We take such signs with a grain of salt, but the sport and lifestyle of sailing faces some very real challenges, many of which are economic in nature.
But a recent report by the Department of Commerce's Bureau of Economic Analysis (BEA) says that boating — and especially fishing — is still "a significant driver of economic activity in the country, making up 2.2%, or $247.2 billion of the US Gross Domestic Product," according to an article by Scuttlebutt. It's not clear how sailing falls into this slice of the economy, but this is certainly good news for boating infrastructure as a whole.
"When looking at 'conventional' outdoor recreation activities, 'boating/fishing' was the largest conventional activity for the nation as a whole at $20.9 billion in current dollar value added, surpassing RVing, motorcycling, hunting, and snow activities," Scuttlebutt said. "Dollar value includes all economic contributions by marinas, boat dealers, repair shops, in-state boat manufacturers and additional impacts."
"At the state level, the BEA report cited boating/fishing as the largest conventional activity in 29 states and the District of Columbia, led by Florida ($2.7 billion) and California ($1.8 billion)."
More Salty Phrases
The 'Whole Nine Yards' was commonly used to mean "all in" or "totally committed," though no one has gone the, ahem, whole nine yards in finding the true origins of this phrase. It has been attributed, with varying degrees of logic, to various sports; the volumes of graves and coal trucks; the area of a funeral shroud; the length of a bridal veil, bolt of cloth or machine gun belt — and lots of other stuff.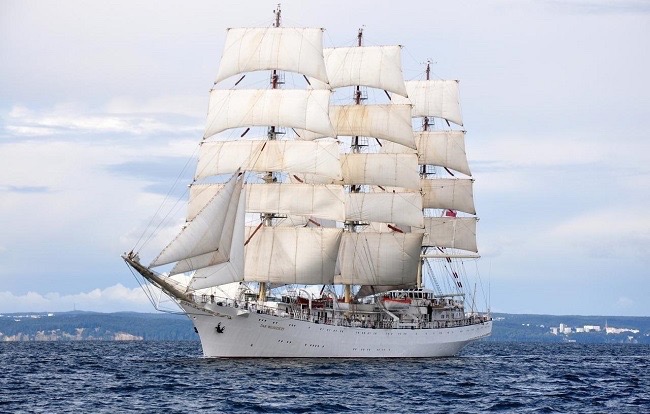 The nautical version is that most early warships had three yardarms on each of three masts, and those yards would obviously change sides during a tack. So during battle, when a ship tacked, the captain was said to go the whole nine yards, meaning he totally committed to the maneuver. (If it was a ruse, they might backwind only three or six yards, then flip back onto the same tack.)
Receive emails when 'Lectronic Latitude is updated.
SUBSCRIBE