Long Beach Firefighters smoked the competition in a series of four races at the Long Beach Yacht Club Heroes Regatta. Roughly two dozen first responders teamed up with coaches and club members for the sixth running of the one-design sailing event.
Competitors from Long Beach first-responder agencies were invited to the annual regatta,  raced aboard the Catalina 37 fleet. Following a morning briefing and chalk talk, the crews set out for a practice race, then three windward/leewards.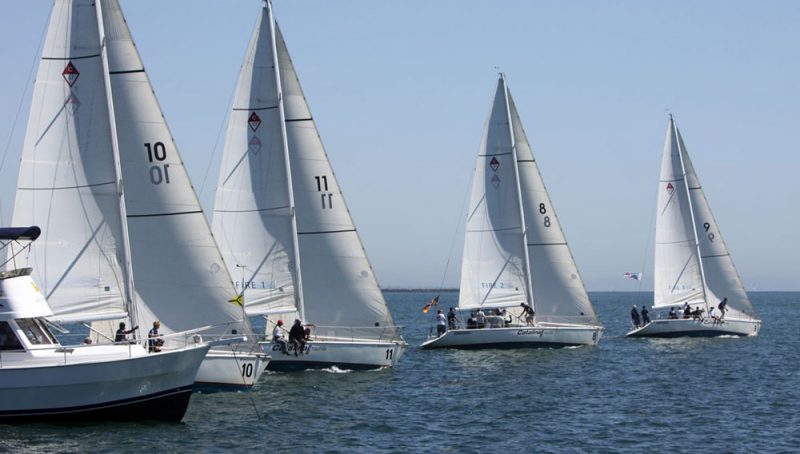 Long Beach Lifeguards made a splash out of the gate, winning Race 1 by just inches, hoping to defend their Heroes Regatta title of 2018. But after three races around the buoys, it was LBFD Station One in command, with a score of 5 points; with LBFD Station Four close astern.
The scorching weather may have given the firefighters an edge. Soaring temperatures inland sparked a stiff onshore breeze and classic Long Beach conditions prevailed, according to racing director Jess Gerry, who reported a "perfect" 8- to 12-knot breeze out of the southwest.
The fourth and final race used a 6-mile random-leg course from the inner harbor breakwater into Alamitos Bay, with the finish inside the harbor in front of LBYC. LBFD Station Four rallied and blazed ahead — winning the tie-breaker with LBFD Station One and the Heroes Regatta championship title.
Rick Brizendine, a coach aboard the victorious boat, said, "The firefighters were a joy to sail with. Each readily and willingly — and probably unwittingly — accepted the most challenging positions, including bow and helm."
Of Kelvin McCaleb, recruited to do foredeck, Brizendine said, "Even a skilled bowman can make any number of errors in any one maneuver, but ours were almost flawless. Wade Haller on the helm really got the hang of driving and found the groove."
But it wasn't the first responders having all the fun. "We sail so often the competitiveness sometimes overcomes the joy," Brizendine added. "Sailing with our local heroes brings the joy back to the sport. We've all participated in this regatta before and will do it again. There is no shortage of volunteers from LBYC when the call goes out to volunteer for the Heroes or Patriot (for active-duty military) regattas."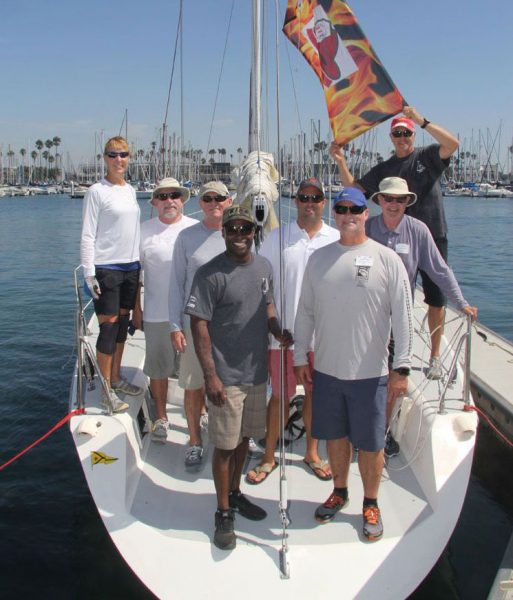 The winning crew consisted of Kelvin McCaleb, Wade Haller, Chris Macy, Bob Piercy, Ken Mattfeld, John French, Blair Carty and Rick Brizendine. Race chair was Christina Mansour. A post-race reception was held on the LBYC pool deck, with burgers for the competitors and their families, coaches and race management. Three teams received Olympic-style medals, recognizing their Olympian efforts both on and off the course.
Receive emails when 'Lectronic Latitude is updated.
SUBSCRIBE