It's no surprise. We expected this. They'd been on target right out of the gate. And we were rooting for them.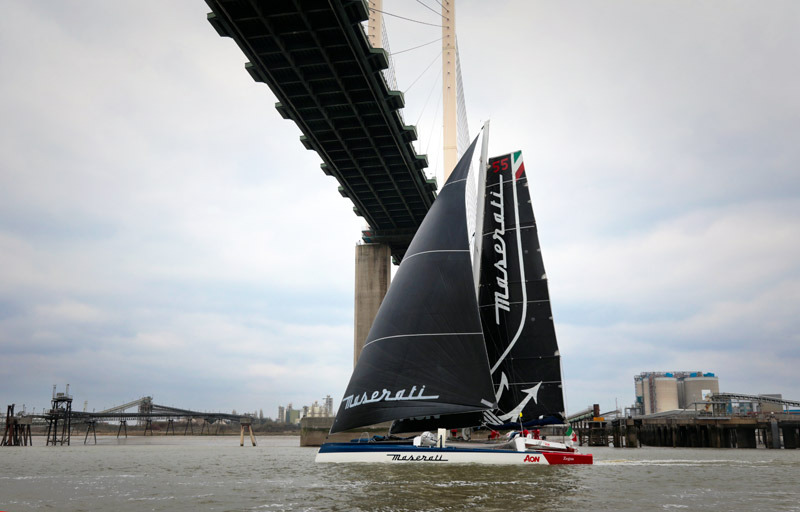 Still, Maserati's finish in London just a few hours ago is impressive by any standard. Giovanni Soldini and crew have broken the 'Tea Route' record from Hong Kong to the UK with a time of 36 days, 2 hours, 37 minutes and 2 seconds. This shatters the previous mark — set 10 years ago by Gitana 13, a 100-ft maxi catamaran — by 5 days and 19 hours.
"We are super happy," Soldini was quoted as saying in a press release. "But also very tired. The last 48 hours have been very tough, sailing in the [English] Channel upwind with a lot of breeze, a lot of sea and terrible cold. The record went very well, and we're happy with our route. The most difficult part was the last [leg]. With more favorable weather conditions in the Atlantic, we could have gained another three or four days. But that's OK. Indeed, it could not have been better. Technically the boat is perfect. From the last time we put Maserati in the yard, we have sailed more than 19,000 miles and everything is fine onboard. Surely this is from the work and preparation by [boat captain] Guido Broggi and the whole team. An excellent crew."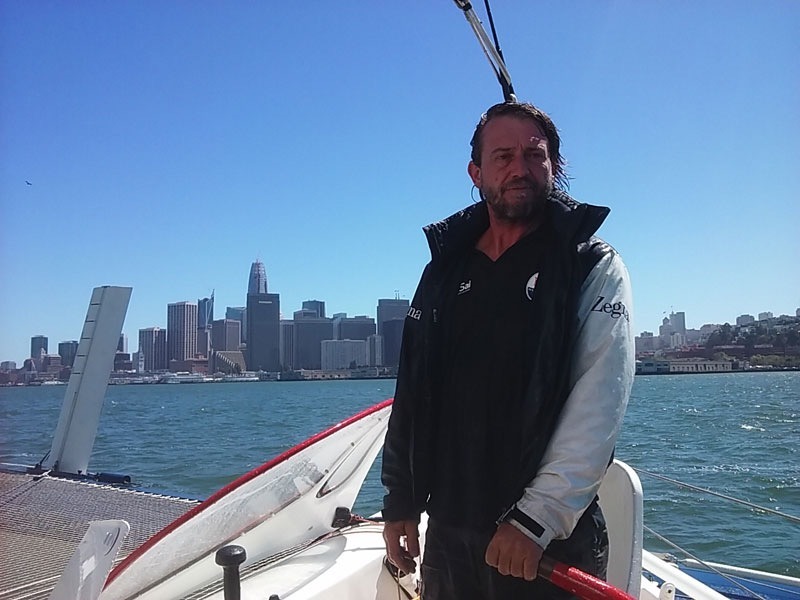 After waiting for the ideal weather window in Hong Kong, Maserati negotiated light and fluky winds through the South China Sea and into Southeast Asian waters. Reaching the Indian Ocean on day six, the MOD70 hit the gas in a tropical depression off Indonesia, a three-day stretch where they logged their best 24 hours with 644 miles, and stretched their lead on Gitana to a few days.
But on day 10, Maserati hit an Unidentified Floating Object and broke a rudder, evoking memories of last year's Transpac where the big trimaran smashed into another UFO and snapped the same starboard blade. It's not clear how much of a disadvantage the damage put Maserati in, but she went on to a third-place finish — a disappointing result for a boat that had a fair amount of hype surrounding her after she was able to 'fly' with the addition of foils. Was Maserati in need of some kind of redemption to prove her ocean racing credentials?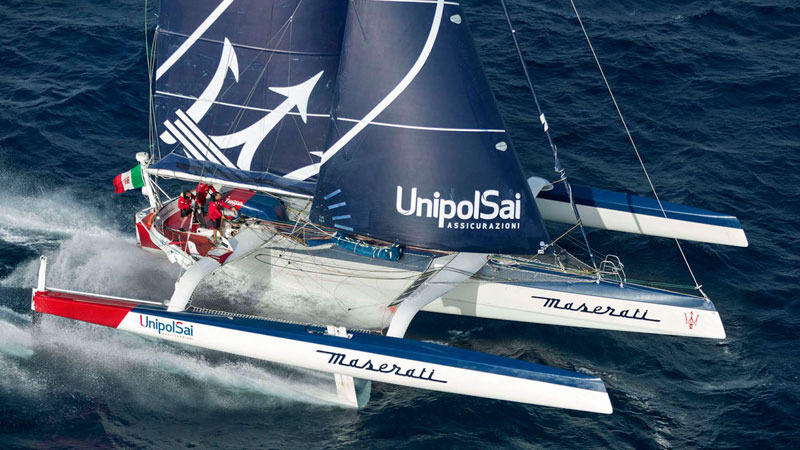 After the MOD70 broke a rudder in the Indian Ocean, Soldini and crew were able to sail into light winds, replace the broken blade, and carry on — their lead over Gitana had shrunk to its slimmest margin at just 250 miles (for the Tea Route attempt, the trimaran was not using her foils, which still seem to be in the experimental phase). Maserati got back in low pressure, hit latitude 38 south, and rounded the Cape of Good Hope on day 16 with a five-day lead. Soldini chose what he called "an unusual route" very close to the African coast in order to thread the doldrums. Maserati crossed the equator on day 22 with her biggest lead of over 2,000 miles. As Soldini mentioned, conditions were frustratingly and atypically light in the Atlantic. Entering the English Channel, Maserati was forced to tack nearly a dozen times as she worked her way upwind, sprinting toward the finish.
We tip our hat to Giovanni Soldini, Guido Broggi, Sébastien Audigane, Oliver Herrera Perez and Alex Pella for an exciting, record-breaking run. We hope to continue to see Maserati in the headlines in the coming months.
Receive emails when 'Lectronic Latitude is updated.
SUBSCRIBE