Team Emirates New Zealand suffered a dramatic wipeout yesterday just before the start of a Semi-Final race against Land Rover BAR — all crew were accounted for and reported safe. Racing has been canceled for today, giving all the teams a chance to lick their wounds.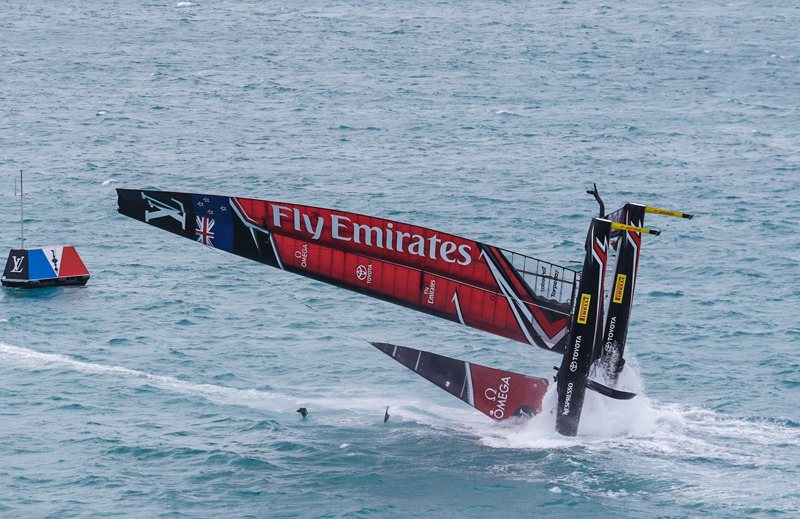 Bermuda's Great Sound saw gray, mean-looking conditions with 20-plus-knot gusts and rain yesterday. Every team suffered some kind of minor damage. During the starting sequence of their second race of the day, Land Rover luffed up Team New Zealand and held them head to wind for several long seconds after the gun went off.
Land Rover finally bore away, got to speed and flew across the line; New Zealand followed, instantly popping up on their foils as they came off the wind. But the boat dipped, their bows stabbed the water, and the 49-ft catamaran pitchpoled, slamming the wing into the water and sending three crew flying, while the remaining three Kiwis clung to the cockpit.
Land Rover BAR took a point for the abandoned race. The Brits are down 3 to 1 against New Zealand while SoftBank Team Japan leads Artemis Racing 3 to 1 — the first teams to amass five wins advance to the Louis Vuitton Cup Finals.
When asked what went wrong in the post-race news conference, New Zealand helmsman Peter Burling politely shrugged his shoulders, said his main concern was that his crew was safe, and said that the team was still analyzing the crash. "You've probably got a better understanding of watching it from the outside than we do," he said.
"Team New Zealand was between a rock and a hard place," said former Kiwi America's Cup skipper Chris Dickson. "They had that incredibly hard bear away maneuver to do through the 'death zone,' and they didn't survive it. It's not the end of the world." Dickson said, adding, "It might cost Peter Burling a bit of money for pizza for the shore team to work all night."
Yesterday's highlight reel was a montage of carbon-fiber carnage. Nearly every boat got a little shredded in the breezy conditions, with lightweight fairing peeling off as the catamarans were engulfed in white water.
While the boats of the modern America's Cup may seem especially fragile, let's not forget that the 70-ft IACC yachts were also susceptible to heavy seas. In 1995, One Australia sank on a 20-knot day in San Diego. And in 1999, Young America suffered damage to its deck and threatened to go under, but was eventually towed safely back to shore.
In a post-race interview yesterday, Sir Ben Ainslie was asked if he was comfortable sailing in such big breeze. "Umm, to be honest, this is the first time we've sailed this boat in this much wind, so we're learning as we go," he said. "The boats are so twitchy. They have to be perfectly sailed, as you can see. But if you get it right, it's rewarding."
Has your 2017 America's Cup experience been rewarding? Are you watching it on TV, on the Internet or your phone (we've heard that some people are having difficulty finding it on the NBC Sports Network)?
And are you enjoying this rendition of the Cup? Who's your favorite team? Were you skeptical of the new format, but now can't get enough of foiling cats? Do you like the idea that sailing is reaching a wider audience? Are you still bitter that we're watching it in Bermuda, rather than seeing it live in San Francisco? Let us know; we'd like to hear from you.
Receive emails when 'Lectronic Latitude is updated.
SUBSCRIBE