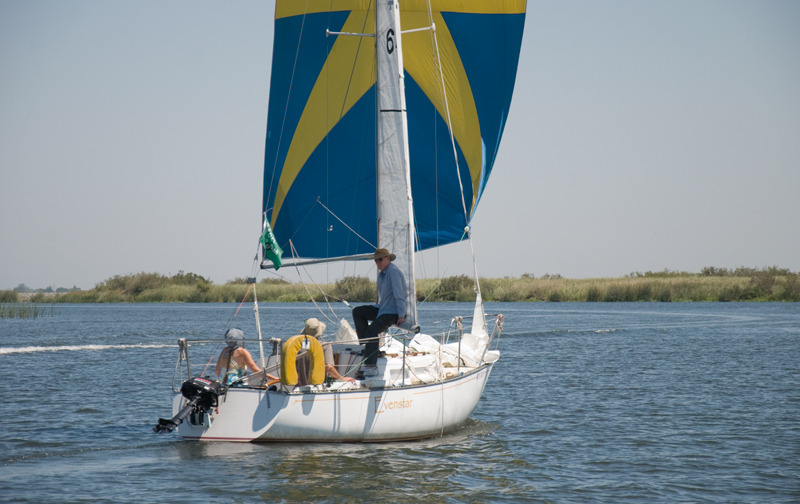 "The Delta and San Francisco Bay are fundamentally linked," says Caitrin Chappelle, Associate Director of the Public Policy Institute of California. She spoke at an event on April 7 hosted at the Oakland office of SPUR, the San Francisco Bay Area Planning and Urban Research Association. Approximately 30 people came to hear about the ongoing debates surrounding the policy and planning process for the Sacramento-San Joaquin Delta, as well as an outlook on its future.
Just the next day, Governor Brown then declared that the state's drought emergency was over. But what does "over" mean? Governor Brown was quick to warn us that the "next drought could be around the corner.'' The blue bars in the graph from Ms. Chappelle's presentation illustrate how quickly the next drought is likely to occur. "Many people question whether outflow water is wasted to the sea," she said. It is not wasted because, "water flows into San Francisco Bay where it supports aquatic species and repels seawater so that water in the Delta remains fresh enough for farming and urban uses."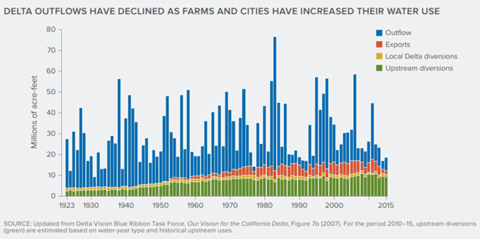 With the expectation of future droughts, exports of fresh water (red bars) have continually increased since the 1950s when the diversion projects were built. Almost every Californian relies on Delta water, which is exported to 25 million people along with other diversions that irrigate three million acres of farmland. The system is stressed in additional ways from being the most "invaded" estuary in the world to water quality effects from contaminants. Maintaining this freshwater flow is important because it keeps salt water from intruding into the system, which would significantly impact farmers and other users, and it supports the region's plants and animals, including more than 35 endangered species, some of which are found nowhere else.
The three main issues now facing state officials are: 1) whether to build a new conveyance project to divert water from the Sacramento River, 2) to determine how much water should be made available for endangered species, and 3) to decide what to do with the more than 1,000 miles of levees that need to be protected for agriculture. The California legislature passed a law in 2009 that required all three issues be addressed as "co-equal goals," but the state was not able to obtain a long-term, 50-year permit from the federal government to move that project forward.
Receive emails when 'Lectronic Latitude is updated.
SUBSCRIBE