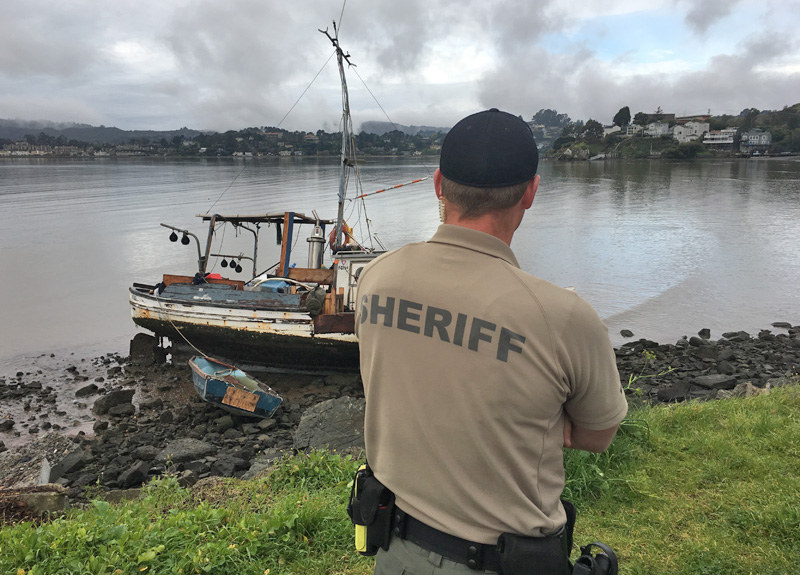 Here in the Bay Area, the combination of powerful storm systems with abnormally high tides can have drastic results — and we're not just talking about boats leaking in places where they've never leaked before.
During the past two weeks, storm surge accompanied by punishing winds into the 40-knot range have pummeled boats, marinas and anchorages, and threatened to flood many waterside facilities.
Our readers and reporters have sent in a variety of storm-related photos, but we'd love to see more. So, we invite you to share your best storm shots, for possible inclusion in a February-issue article.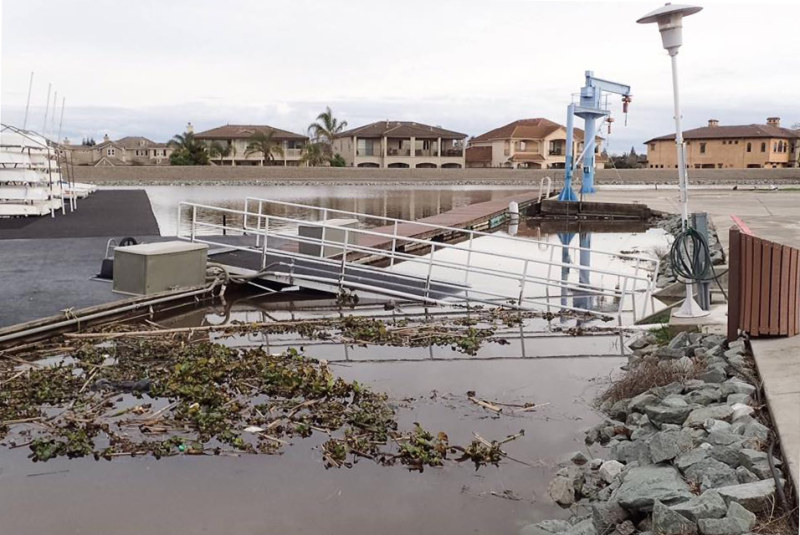 In the meantime, it looks as if we'll have a reprieve from deluging rain until sometime next week, so we'd encourage you to check all your docklines and fenders, and make sure your bilge pumps are functioning properly and your cockpit drains are unclogged. And while you're at it, why not get out on the water for a bit of winter sailing? We can't think of a better tonic to cure the rainy-day blues.
US Sailing announced yesterday that Olympic bronze medalist Caleb Paine of San Diego and IKA Formula Kite World Champion Daniela Moroz of Lafayette (in the East Bay) have been named 2016 Rolex Yachtsman and Yachtswoman of the Year.
Caleb Paine, 25, prevailed in an epic medal race to earn bronze in the Finn class at the Rio Games last summer. Competing in his first Olympics, Paine led the medal race at every mark. "It was a tough battle for me, and I feel fortunate to come up with a medal in the end," said Paine.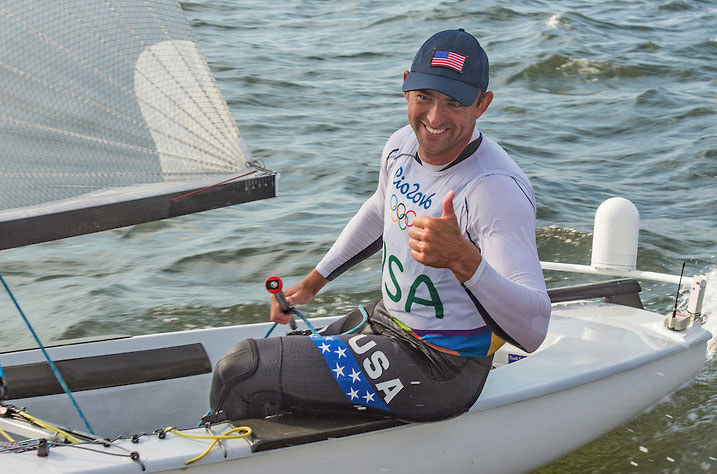 In early March, the Rio 2016 Selection Series in the Finn class concluded at the Finn European Championship in Barcelona. Paine came from behind to win his first Olympic Sailing Team berth over 2008 silver medalist Zach Railey, who came out of retirement in late 2015. "Without Zach, I don't think I would have medaled at the Games because I gained so much from the pressure and intensity of the Olympic Trials," said Paine. "In some ways the Olympic Trials were far more difficult than what I had to do at the Olympics."
A Sailing World Cup Series champion, Paine has been the top-ranked American Finn sailor since 2012. He began his Finn career in the period preceding the London 2012 Olympic Games as Zach Railey's training partner. As a kid in San Diego, Paine devoted himself to mastering the Sabot pram. He bypassed collegiate sailing in order to focus on the Olympics.
As young as Paine is, he'll share the stage with a foiling kiteboarder 10 years his junior. At the age of 15, Daniela Moroz, a high school sophomore, won the IKA Formula Kite World Championship in September in Weifang-Binhai, China. She won 8 of 12 races at the event, including all four races on the final day. "It didn't feel real at first," said Moroz. "I couldn't believe it actually happened. It's always been something I dreamed of doing ever since I started kiting. I've been training and racing with Erika Heineken since the beginning, and she is a role model and inspiration to me. To be able to do what she did means a lot."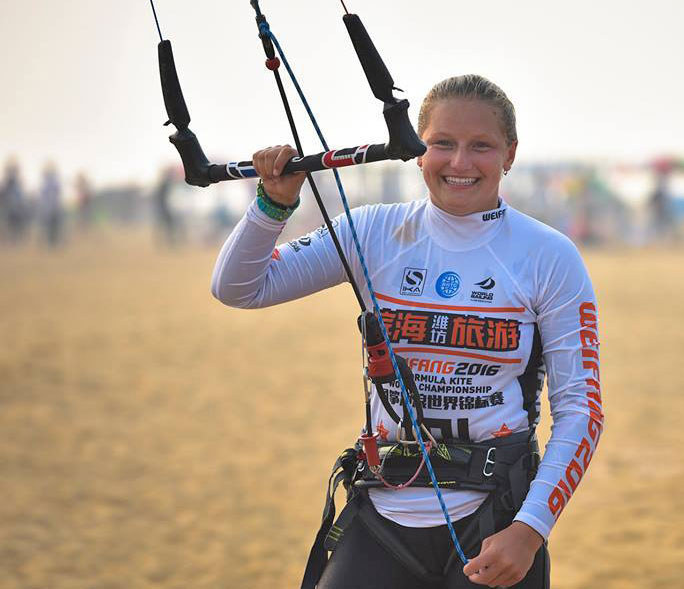 Topping the women's final standings in the 2016 Hydrofoil Pro Tour, Moroz placed first in the women's fleet at the Final Round in Rockingham, Western Australia, and first at Round Three in Pointe d'Esny, Mauritius. "The Hydrofoil Pro Tour … is one of the most amazing experiences of my life," she said. "Traveling around the world and being able to compete is a dream. The racing is a big part of it, but it's not everything. I've made some great friends along the way."
Moroz learned to kiteboard at the age of 11 while taking lessons at Sherman Island in the Delta. She first raced out of Crissy Field in St. Francis YC's Thursday Night Races. Soon after, she learned how to foil and raced the entire 2014 season on a Sword. "Both of my parents were windsurfers, so they introduced me at an early age." Indeed, her first windsurfing race was in 2000. "It was the San Francisco Classic, a long-distance race that takes you on an epic tour around the Bay. That year about 40 windsurfers started but only 8 finished. The funny thing is that I was not even born yet — my mom finished the Classic while she was pregnant with me.
"I chose kiting because this sport had really taken off. Soon after I began racing, the progression from raceboards to hydrofoil had started and I followed that progression."
This is the second time that a kiter has been named US Sailing Rolex Yachtsperson of the Year. Johnny Heineken (Erika's brother) was 2012's Yachtsman of the Year.
A panel of sailing journalists discussed the merits of the eight men and six women nominated and cast votes to determine the ultimate winners. The awards (and watches) will be presented at New York Yacht Club on March 2.
Our congratulations to Caleb Paine and Daniela Moroz!
While some West Coast racing fleets are shrinking, we're thrilled to announce that a new breed of cutting-edge racing machines will soon be heading our way.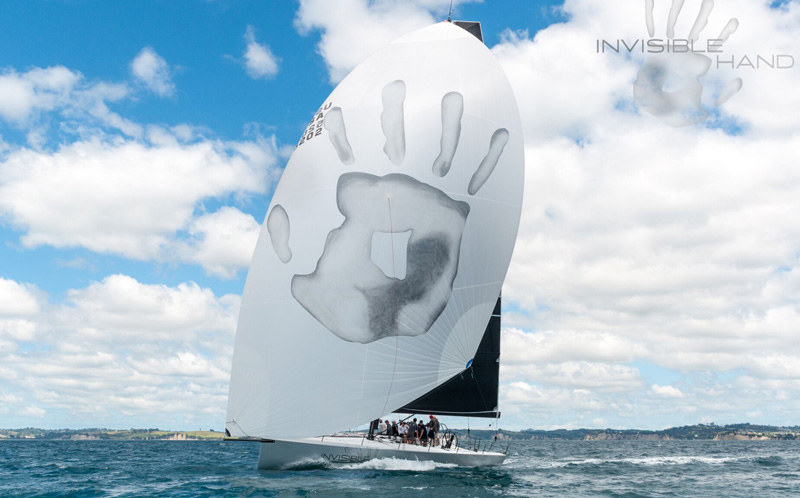 The latest boat to bear the name Invisible Hand is the first of three new Pac 52s to be launched in Auckland, New Zealand, where she recently completed two days of sea trials. According to Norman Davant of Sail California, the Pac 52 ringleader is looking good!
Built for the Bay Area's Frank Slootman, the boat is now being taken apart for shipment to San Francisco Bay, with her expected arrival around mid-February. Here, she'll be reassembled for sea trials on the Bay in advance of her christening and first crewed sailing on February 24. Her first local regatta will be Richmond YC's Big Daddy Regatta in March.
Although you may not be in the market for such a boat yourself, the imminent arrival of the Pac 52s is creating substantial excitement within the racing community, as the Pac 52s are the first new grand-prix fleet to arrive on the West Coast in years. As mentioned above, Invisible Hand's arrival will soon be followed by two more new boats. With the addition of Fox (which is already sailing in Southern California waters) the four-boat West Coast fleet will meet in San Diego on May 4-7 for the Yachting Cup, which will commence the class's five-regatta 2017 season.
The other races are:
• 6/8-11 — Newport OD regatta
• 6/22-25 — Long Beach Race Week
• 9/13-17 — Rolex Big Boat Series
• 9/28-10/1 — Pac 52 championships at StFYC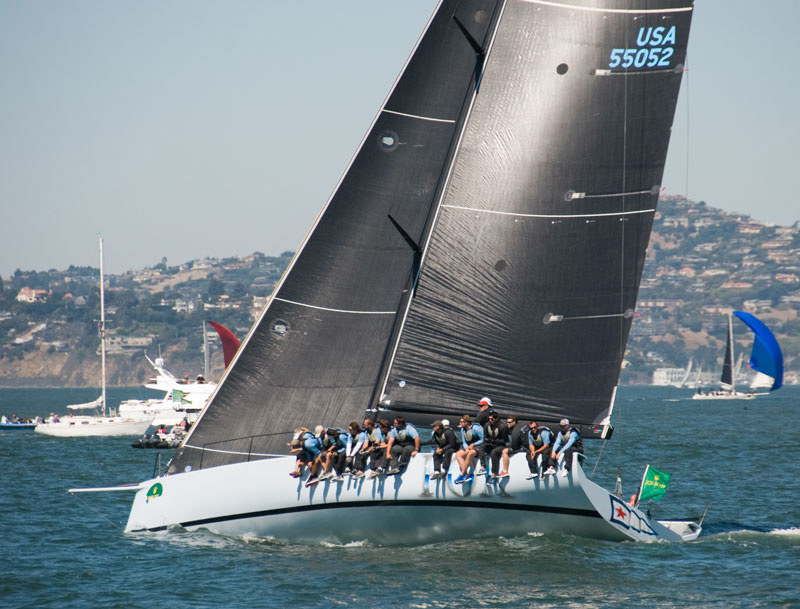 All of the above are scheduled to be four-day events with room in the schedule to allow for boats to participate in the Transpac and other offshore events. Class rules call for owner-drivers with a mix of paid and amateur crew, plus a weight limit that suggests a crew size in the 15- to 16-person range. These boats are designed for both inshore and offshore racing schedules.
Receive emails when 'Lectronic Latitude is updated.
SUBSCRIBE