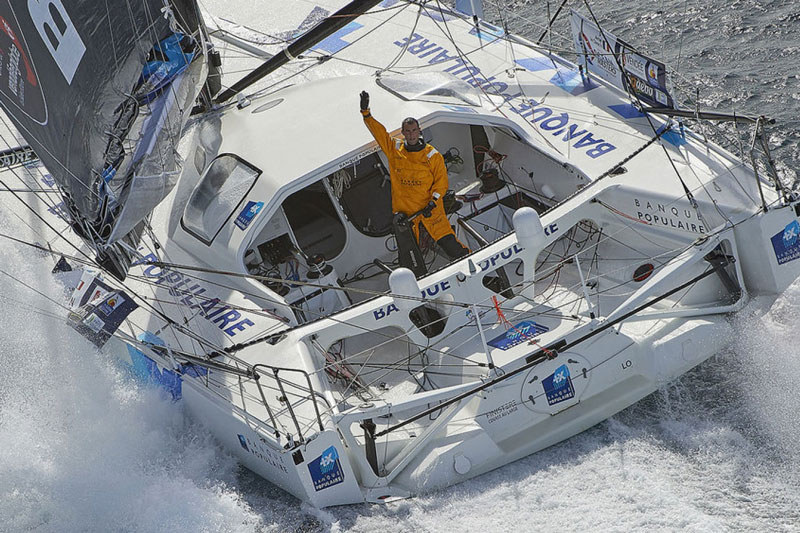 Armel Le Cléac'h on Banque Populaire VIII crossed the longitude of Cape Leeuwin in southwest Australia this morning after 28 days, 20 hours, 12 minutes of sailing in the Vendée Globe solo nonstop race. He thus smashed the reference time set by François Gabart in 2012 by more than five days and 14 hours. The Frenchman has been locked in a battle with Brit Alex Thomson on Hugo Boss since the start on November 6 in Les Sables d'Olonne, France.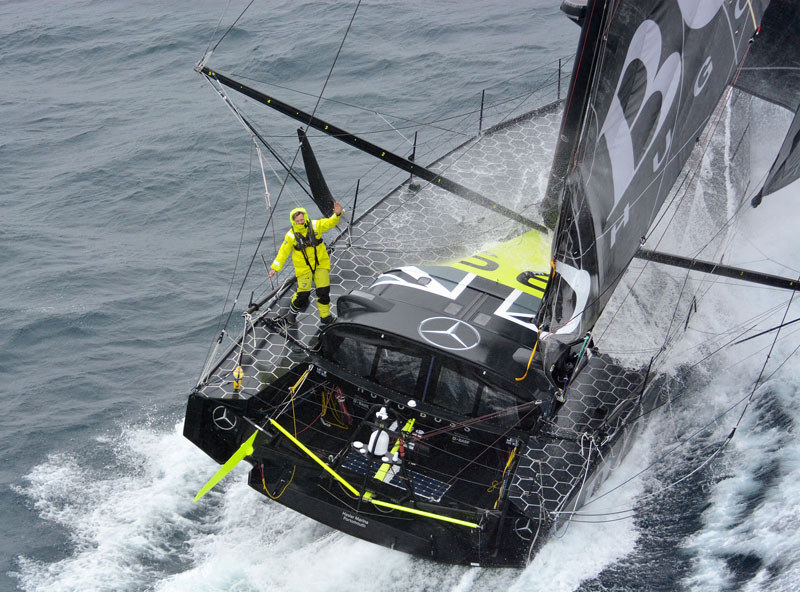 Damage has been taking its toll on the fleet. On Sunday, December 4, Kojiro Shiraishi of Spirit of Yukoh was sailing in a 20-knot breeze, when, from inside his boat, he heard the sound of the rig breaking. "The mast had broken in half above the second spreader," reported the Japanese skipper. "I was able to remove the broken piece. I'm okay. I don't need any assistance, and I am heading for Cape Town."
Conrad Colman, the young Kiwi/Yank aboard Foresight Natural Energy smelled plastic. "Thinking maybe that the batteries were having a problem, I ran my hands over all the electrical system and ran diagnostics on the computer," he recounted. "Everything was fine. I went outside to take a reef and when I came back inside I saw black smoke and yellow flames leaping from behind the chart table. One of the solar charge controllers was burning and was in the process of taking down the entire electrical system as several important cables pass close by. I took the fire blanket and smothered the flames, ignoring electrical shocks and the burning heat in my desperation to save my boat. When the flames were gone I heard one beep from the autopilot and my world turned upside down." The boat had crash-jibed and was trying to capsize. Read the rest of Colman's tale and watch his video here.
PHOTO
Last week, the dueling leaders passed close enough to the Kerguelen Islands to attract the attention of a video crew. A District of French Southern and Antarctic Lands, the Kerguelen Islands are a group in the southern Indian Ocean.
Hugo Boss and Banque Populaire were joined by a French Navy Panther helicopter off the frigate FS Nivôse. A crew from Nefertiti Productions shot the video. Thomson told of his joy of seeing another living being for the first time since setting off on November 6: "It was fantastic to be able to see people … I gave them a wave, went up on deck, and got my Union Jack flag out to wave at them. It was a great moment. I was standing on deck going very fast, with the waves pouring over me, and the helicopter pilot came and flew alongside me. He started flying the helicopter backwards – I was most impressed."
On December 2, the crew captured video of third place Sébastien Josse on Edmond de Rothschild.
Unfortunately, Edmond de Rothschild suffered serious damage to the portside foil after plowing into the trough of a big wave this morning. Josse had been sailing on starboard jibe, contending with winds of 30-35 knots and big, confused seas, when the incident happened about 900 miles southwest of Cape Leeuwin. Josse has put his racing priorities temporarily on hold to avoid the worst of the low-pressure system.
Vendée Globe rookie Romain Attanasio on Famille Mary-Etamine du Lys has altered course toward Cape Town after suffering damage to both rudders about 470 miles south of Cape Town, where he is expected in three to four days. He hopes to carry out his own repairs in a sheltered area near Cape Town in accordance with the race's no-assistance rules. "Romain is not giving up and is already feeling more positive. He will be doing his utmost to repair his boat and continue his adventures," said Sam Davies, Attanasio's partner and team manager.
Receive emails when 'Lectronic Latitude is updated.
SUBSCRIBE