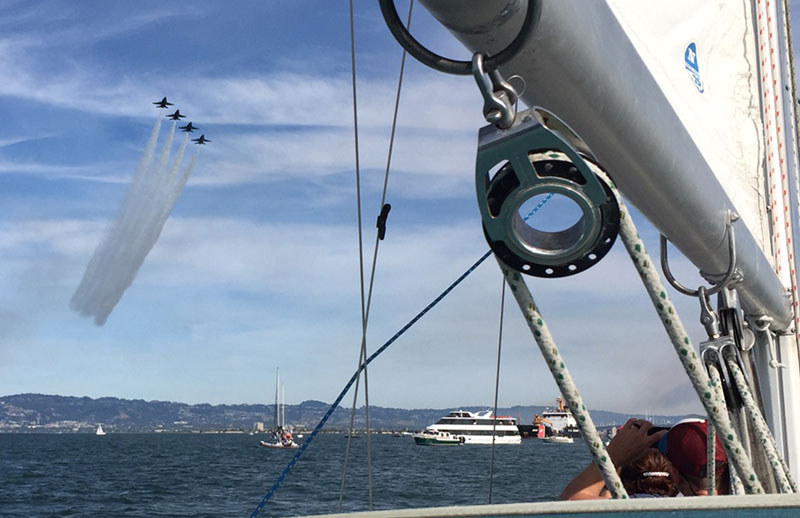 "So low, so loud, so cool," writes Peter Detwiler of Sacramento, succinctly describing the San Francisco Fleet Week air show, enjoyed on the water and on shore by many thousands of spectators over the weekend during an October heat wave. Unfortunately for one group of boaters near Fisherman's Wharf, off Pier 45, Saturday's excursion ended with a life-threatening emergency.
"As the 34-ft powerboat passed behind us, I noticed at least 10 people or more on the bow and more walking up there," writes one eyewitness, who was viewing the air show from aboard his Ericson 35 sailboat. The sailor didn't see anyone, little kids included, wearing a PFD. "The flybridge was full of people. The water was normal — choppy from all the wakes. The powerboat started listing pretty hard to starboard. It sat there for about 20 seconds. People were screaming, some in the water. It just started rolling, the transom sinking fast. It was amazing how fast several nearby boats were all attempting to help in whatever way they could. As we approached the mostly sunken boat, only the tip of the bow was out of the water. In less than two minutes the entire boat had sunk. We threw our horseshoe life preserver to a man and woman in the water and asked if everyone had gotten out of the capsized boat. She said no, there were people still trapped inside. By that time, the police and Coast Guard boats were arriving and told everyone to clear out. We backed off and couldn't believe the terrible scene we were viewing.
"It was amazing that no one died. Damn, that was hard to see. Makes me think of my own safety procedures. They can always be improved, and that made me clearly see what additions we need."

(The dramatic video above was posted on YouTube by John Parker, but has variously been credited to Nannette or Gary Matthews.)
Crewmembers aboard the Coast Guard cutter Pike had notified Coast Guard Sector San Francisco watch standers that the 34-ft Khaleesi capsized at approximately 4 p.m. The Coast Guard quickly diverted multiple on-the-water assets and a MH-60 Dolphin helicopter. Fire and police boats responded as well. Coast Guard crews picked up 20 people from the water, and an SFFD boat crew rescued eight. A father and child were reportedly trapped inside the capsized boat; a Good Samaritan jumped in the water and swam to their aid. Possibly the same child who'd been trapped, a four- or five-year-old boy was unconscious and not breathing when he was pulled from the water; a citizen performed CPR on him until an SFPD officer took over. He is reportedly recovering. All 27 adults and three children aboard were accounted for at Pier 45. The three children, plus five adults, were taken to the hospital, and all are doing well as of Monday morning.
"Strong operational partnerships among maritime agencies in the Bay Area were critical today … in emergency response resulting in the rescue of 30 people from the frigid Bay waters," said Captain Tony Ceraolo, commander of Coast Guard Sector San Francisco.
SFPD's Marine Unit is searching the Bay today using sonar equipment to locate the sunken vessel, which the mainstream media has identified as a "sailboat," but which our correspondent believes was a powerboat.
Receive emails when 'Lectronic Latitude is updated.
SUBSCRIBE