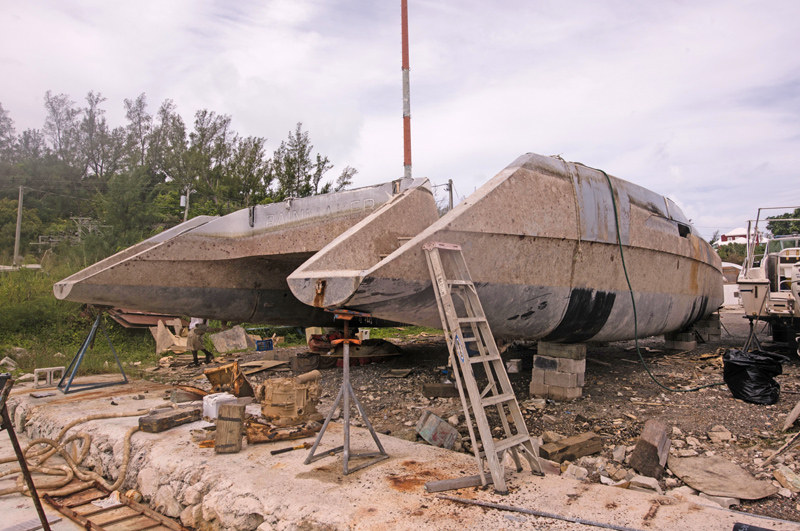 If you're the sort of bargain hunter who's constantly on the lookout for the ultimate boat deal, you'll be interested to hear that the once-gorgeous Gunboat 55 catamaran (#1) Rainmaker is up for auction this month, with bids starting at $15,000 — less than 1% of its original value.
As regular readers will recall, this is the boat that was dismasted on January 30, 2015 while roughly 200 miles off Cape Hatteras, then was left to drift after her crew was rescued by the Coast Guard. After drifting, partly submerged, through two winters, the big cat was finally located and taken under tow to Bermuda, where she now awaits auction.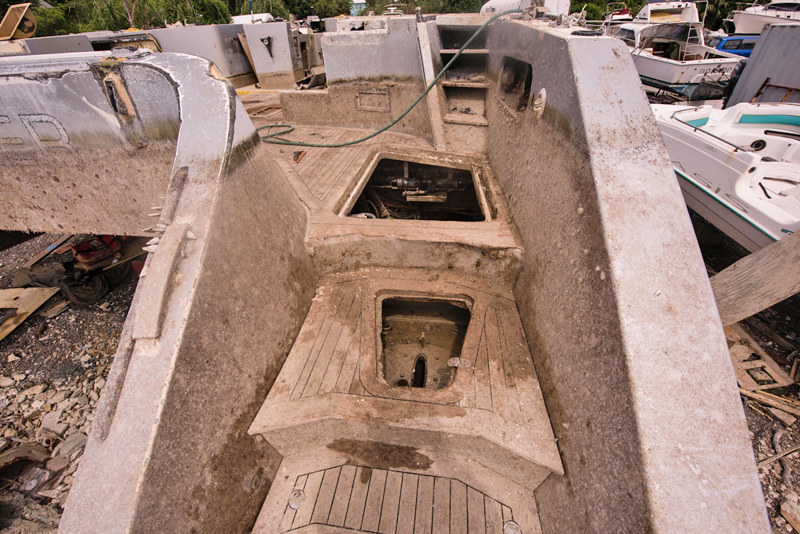 As you can see, her needs are well beyond 'cosmetics', but despite losing her cabin during the dismasting and being partially submerged for more than a year, her hulls appear to be relatively unscathed — at least in the photos we've seen. That said, she apparently needs everything else: engines, a rig and sails, all new interior systems and furnishings, etc., etc. As some waterfront sage once said, "There's nothing more expensive than a cheap boat."
Nevertheless, we wouldn't be surprised if the auction facilitators at Connecticut-based Cooper Capital Specialty Salvage, LLC receive many bids. (Final bids will be taken September 6.) Via their website, Cooper Capital "strongly encourages bidders/buyers to personally examine all assets in which they have an interest in placing a bid." To arrange an inspection, call CCSS, LLC at (860) 395-4745. And if you get her, we wish you the best of luck in resurrecting her. (You may also want to check out Cooper's other sailboats, one of which is a Farr 40.)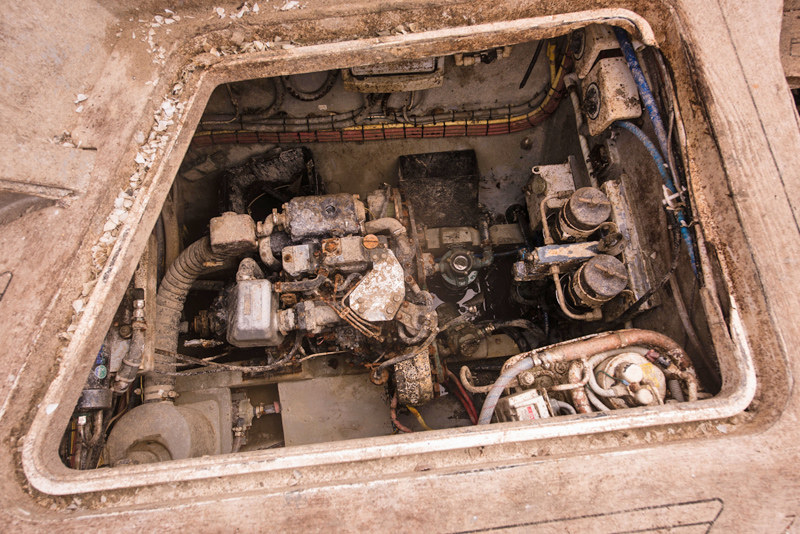 If you're planning to sail to the sunny latitudes of Mexico this fall, you'll be relieved to know that Tropical Storm Javier did relatively little damage to Cabo San Lucas when it passed through yesterday. According to our friend Jesus Esquitel of Cabo Marina, "Javier brought no more than rain in Cabo; all is well. There was no major damage in town, just the usual — streets got flooded and sand is in abundance everywhere, but this is easily cleaned up."
Having weathered many storms, both weak and strong, longtime residents of this popular tourist destination wasted no time in mopping out flooded storefronts, clearing away windswept debris, and getting back to business as usual: entertaining sun-loving tourists.
In the aftermath of the 2015 hurricane season, which was one of the most active on record — with 13 hurricanes — meteorologists predicted in May that the intensity and frequency of Eastern Pacific storms would be fewer this summer as the Pacific Basin transitioned from an El Niño pattern (warmer-than-normal water temps) to a La Niña (cooler-than-normal water).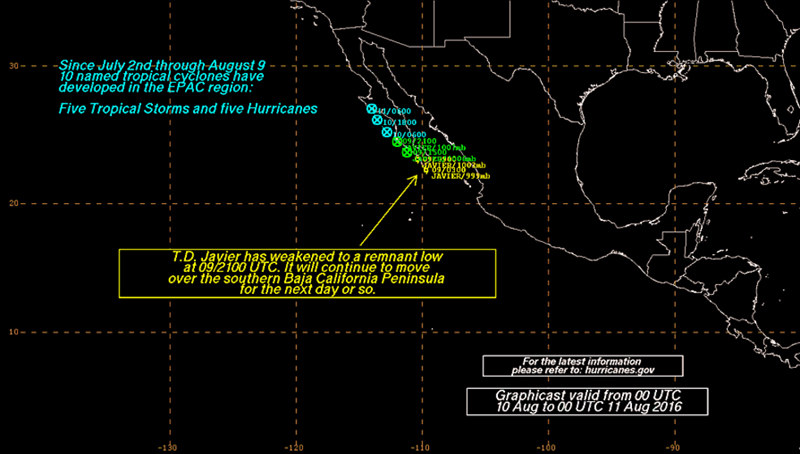 That said, Javier was an odd one. Having developed out of a (low pressure) Tehuantepecer in southern Mexico, it picked up additional moisture and energy from the remnants of Hurricane Earl, which caused devastating flooding on the mainland.
To make things even more odd, both Doña de Mallorca in Punta Mita and Craig Chamberlain of Marina Vallarta reported 50-knot winds, while Mike Danielson in La Cruz, which is between the two and separated by only about seven miles from both, was calm.
Immediately following tropical storms and hurricanes is often a good time to Bash north. Indeed, Doña de Mallorca and crew on the Latitude 38 cat Profligate are hoping to leave La Cruz mañana for the 1,000-mile trip to San Diego.
To keep track of storm activity in both the Eastern Pacific and Caribbean, see this NOAA site. To monitor storms near Hawaii and farther west click here.
Women teach women how to sail at Island Yacht Club's annual Northern California Women's Sailing Seminar, the slogan of which is 'Capture the Power'. "Top-notch women sailors from all along the Pacific Coast volunteer their expertise to provide instruction in workshops in the classroom and on the water," says organizer Nancy Hird. IYC will host this year's seminar on September 24-25 in Alameda.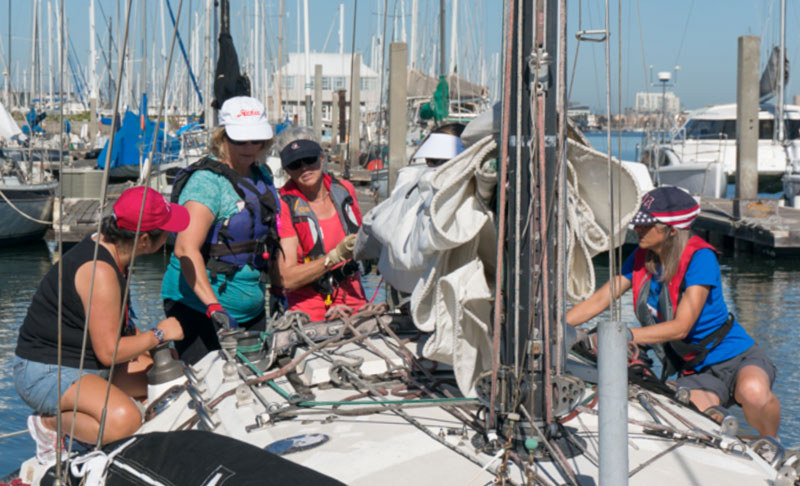 On Saturday, participants choose from a variety of tracks ranging from Beginner through Advanced. Workshops for Spinnaker and Racing are offered, as well as opportunities to customize schedules for specialized subjects such as multihull sailing, weather, troubleshooting, and fixing engine problems. Women often return year after year to advance their skills.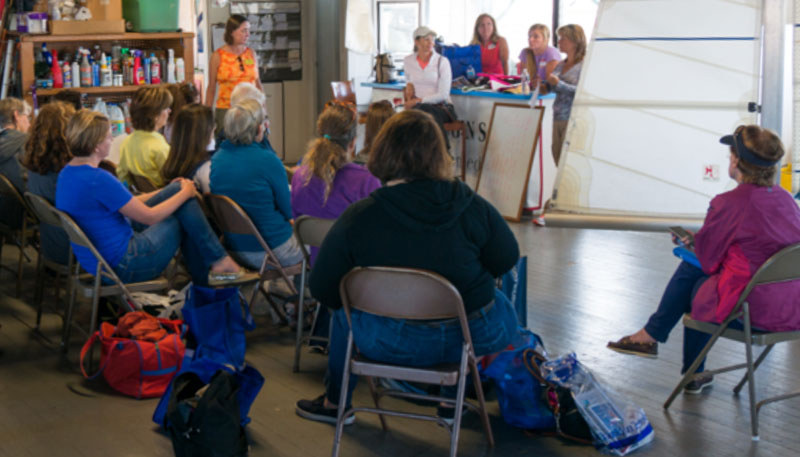 On Sunday, participants choose between a real sailboat race on the Oakland Estuary or a cruise on San Francisco Bay. Those enrolled in two-day tracks continue their practice sessions on the Bay.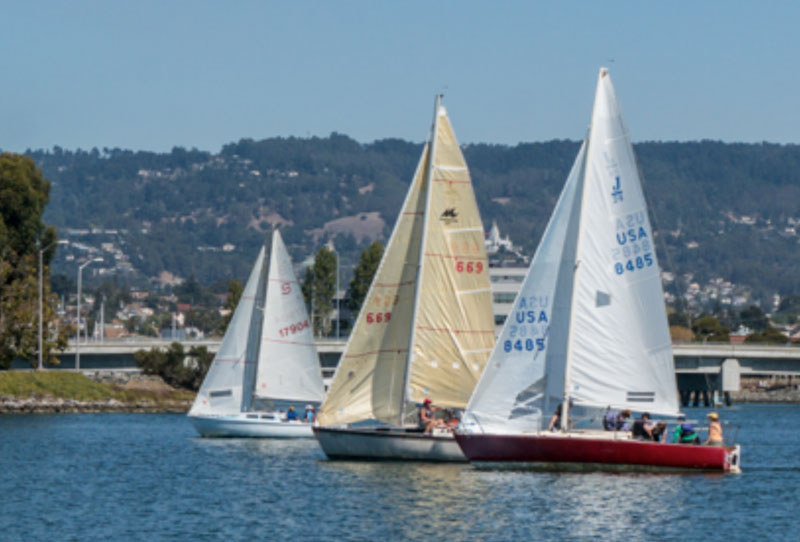 Registration is online at www.womenssailingseminar.com. Payment can be made electronically via PayPal, or students can download the forms and mail them in with a check. Sign up by September 2 for the discounted 'early-bird' registration fee of $250, which includes instruction on both Saturday and Sunday, continental breakfasts, lunches, no-host cocktail party, one raffle ticket, class materials in a binder, WSS visor, and a bag filled with goodies from sponsors. Registration is first-come, first-served. If space is available after September 2, the charge will increase to $275 for both days. Customized scheduling is only available to those who register by September 2. If two women register together and at least one has never participated before, both receive a 15% discount off the regular price of $275 (our fuzzy math tells us this comes to $233.75 per student, a pretty good deal).
Among the local sponsors contributing prizes for the raffle, Latitude 38 has donated six sets of first-class subscriptions to keep feeding the inspiration, plus logowear hats and shirts.
Receive emails when 'Lectronic Latitude is updated.
SUBSCRIBE