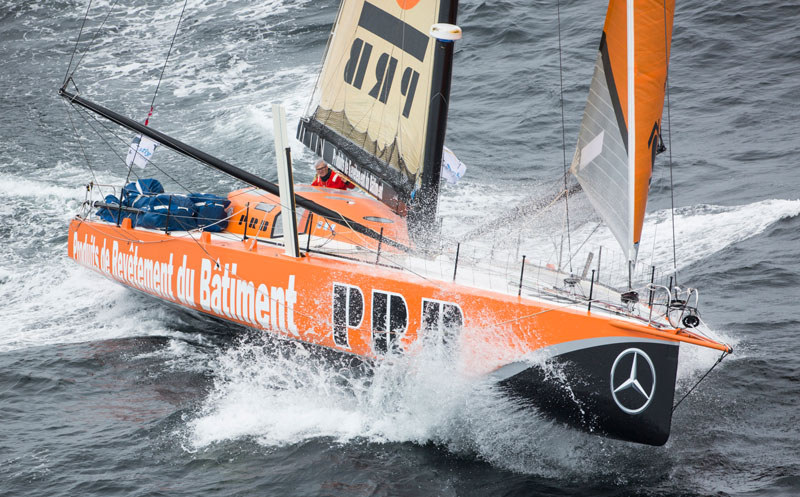 Originally known as the OSTAR (Observer Single-Handed Trans-Atlantic Race), the 2016 edition of the quadrennial Transat Bakerly has been underway for just over two days now. The solo race from Plymouth, UK, to New York has already had its fair share of drama, close racing and chaotic conditions. With 25 renowned skippers competing in four divisions, Transat Bakerly includes Class 40s, IMOCA 60s, Multi 50 trimarans and a trio of 'Ultime' unlimited maxi-trimarans. Arguably the biggest storylines are François Gabart and Macif's current lack of speed advantage compared to Thomas Coville's Sodebo, and Vincent Riou's PRB leading the IMOCA fleet in a 'classic' boat without the distinctive new 'mustache' foils of his competition.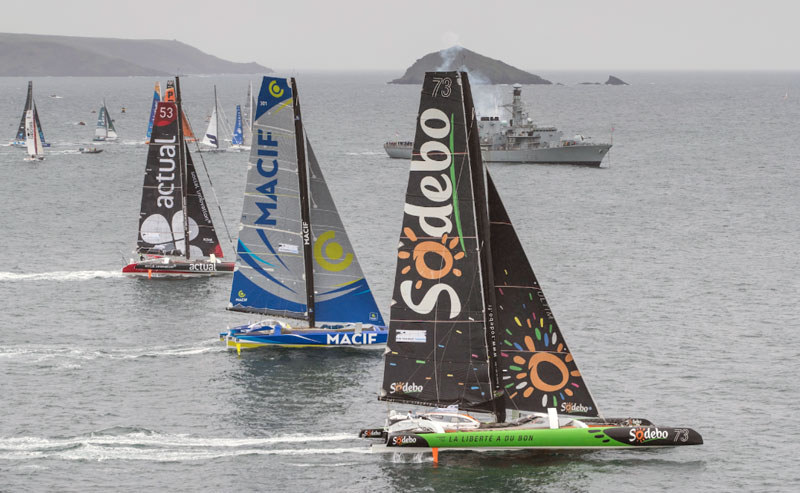 In addition to the four main divisions, legendary sailor Loïck Peyron is sailing Eric Tabarly's famed 44-ft wooden ketch Pen Duick II — fitting because Peyron is truly in a class of his own both literally and figuratively. Peyron, who spent much of his time in recent years on San Francisco Bay with Artemis Racing, is sailing in his 50th transatlantic crossing on what amounts to a floating museum.

©2016 Sea Events Officiel
Using a sextant, paper charts and a self-steering windvane, Peyron is sailing the historic yacht in the traditional fashion to honor Tabarly and to experience the race as Tabarly did 52 years ago. With Pen Duick II, the Frenchman Tabarly defeated the British in this very race in 1964, igniting a passion for solo sailing amongst French sailors that still burns brightly. Peyron talks about racing the winning classic in a video here.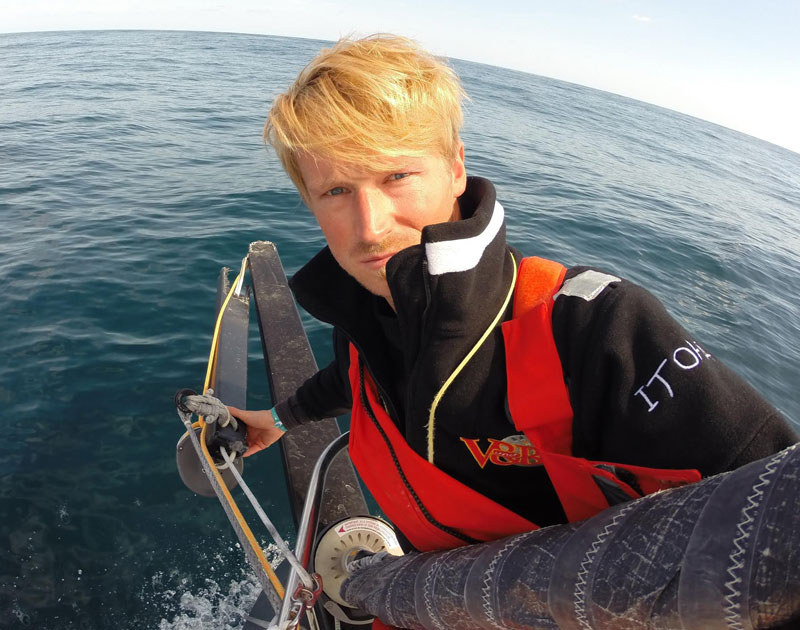 Since the fleet left Plymouth on Monday, challenging conditions have taken their toll and caused a number of retirements. First, Maxime Sorel and his Class 40 VandB — Vins et Bières, or wine and beer — collided with a container ship well off the coast of Brittany. Damage to his bowsprit and more ended Sorel's race. Multi 50 class stalwart Erwan Le Roux's 50-ft trimaran FenêtréA Cardinal has sustained massive damage to the port ama. Seb Josse's new-generation IMOCA 60 Edmond de Rothschild has sustained significant damage to the mainsail and battens. Josse has decided to retire to Spain rather than push all the way. For the six skippers in the IMOCA fleet, Transat Bakerly is just a warm-up for this winter's Vendée Globe.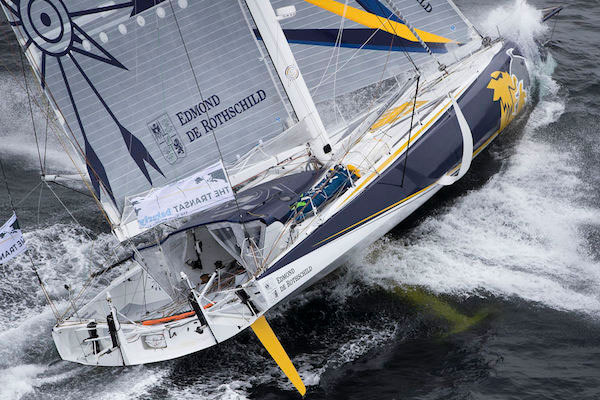 As the remaining skippers settle into this long race and make some serious westing after first getting south into the Portuguese trades, they must begin preparing and positioning themselves for this weekend's forecast conditions. A springtime low-pressure system is currently predicted to form and cut the fleet off at approximately the position of the Azores. The faster multihulls and potentially some of the IMOCAs will likely be able to outrun the system and use it to their advantage to gain speed downwind across the Atlantic, but for the majority of the Class 40 monohull fleet and Peyron on Pen Duick II, it will be war at times when dealing with a predicted 40 knots on the nose.
Elsewhere in the Atlantic, Lloyd Thornburg's MOD70 Phaedo3 is continuing her record-setting ways with yet another attempt; this time across the Atlantic from Bermuda to Plymouth. With a crew that includes Santa Cruz native Paul Allen, the bright green trimaran is currently closing in on Plymouth at about 30 knots of boatspeed and should be wrapping things up about the time that you read this.
With the coming of spring there's been a predictable increase in boat use both inside and outside San Francisco Bay. This week we received reports and photos that illustrate both the pleasures and potential hazards of sailing in Northern California waters.
Sailing instructor Rod Witel and two friends from Club Nautique were daysailing a Colgate 26 last Friday when they spotted two pods of whales "circumnavigating" the Central Bay.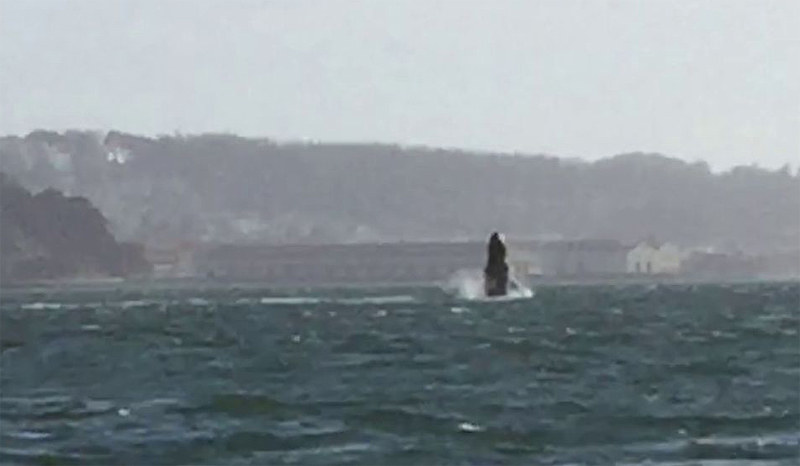 "For three hours we watched from a safe, legal distance as the whales showed off their baleen and treated us to playful displays of slapping the water with their fins and huge flukes," said Witel. Then came the finale of their act: "We were awed when three whales breached in front of Fort Mason within 10 seconds of each other," Rod says. Wow! In all our years sailing the Bay, we can't recall a marine-mammal sighting as impressive as that. Naturally, all on board regretted that they hadn't brought better cameras.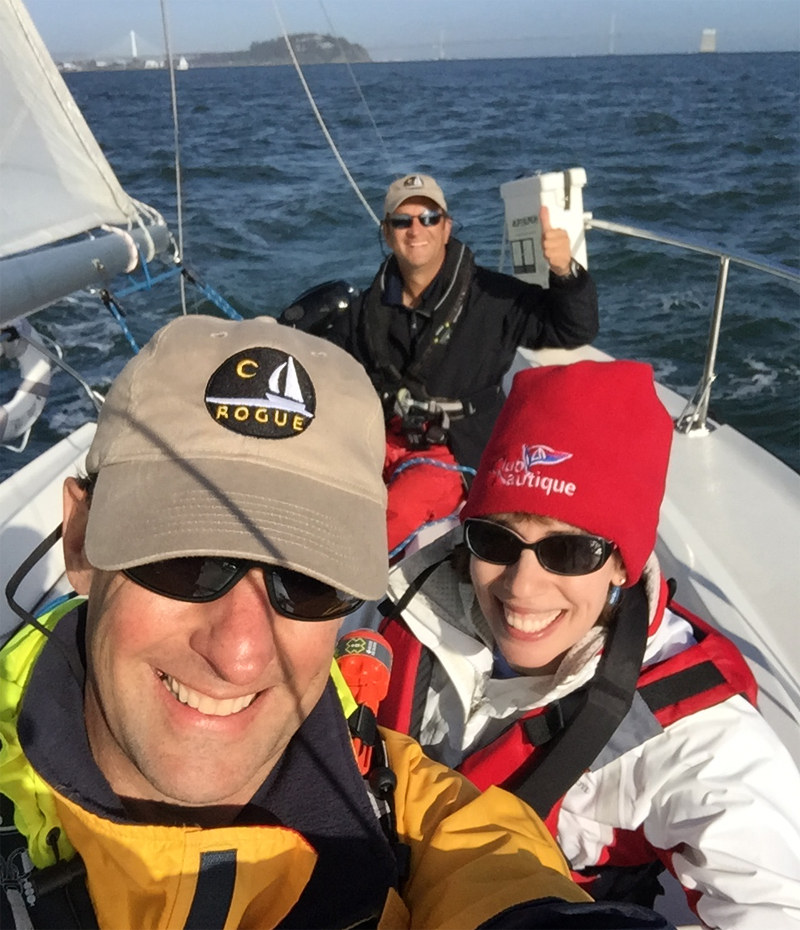 On the 'bummer' side of the ledger came reports that an Alameda-based Newport 28 named Danya had washed high up the beach near Moss Beach in the Fitzgerald Marine Reserve over the weekend. According to a reader named Timm, who came upon the scene while hiking, the owner was on his first day out, heading for Southern California, when "the wind picked up and an 'unexpected' wave tipped him over by the tide pools at Moss Beach. Then he was blown ashore."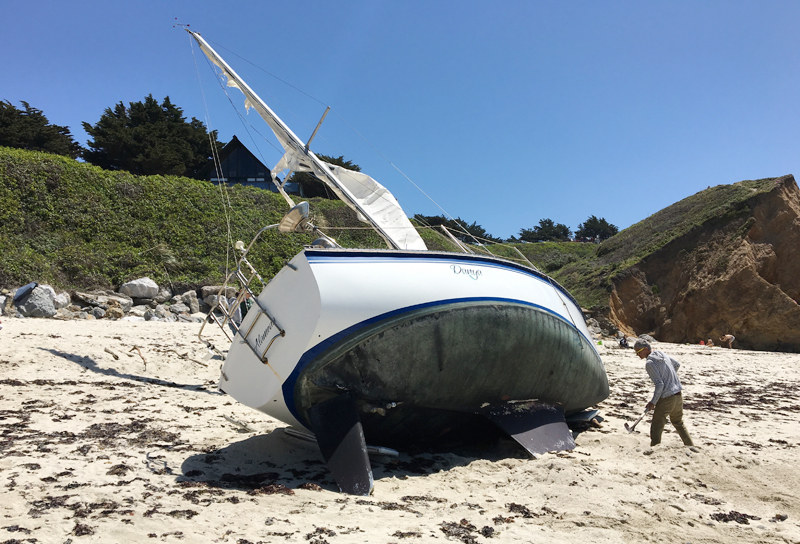 Although we haven't been able to reach the owner directly, this unfortunate incident brings to mind the simple truth that when transiting a stretch of coastline just about anywhere, it's much safer to stay well offshore than to stay in close following the contours of the shoreline. And by all means check with several weather sources — including NOAA's National Data Buoy Center — before venturing out the Golden Gate. A few days before these incidents took place, we reported on the sad news that the one-tonner Kentucky Woman had been caught in violent conditions off the San Mateo coast, and her sole crewman had to be rescued by a Coast Guard air crew, leaving his boat adrift.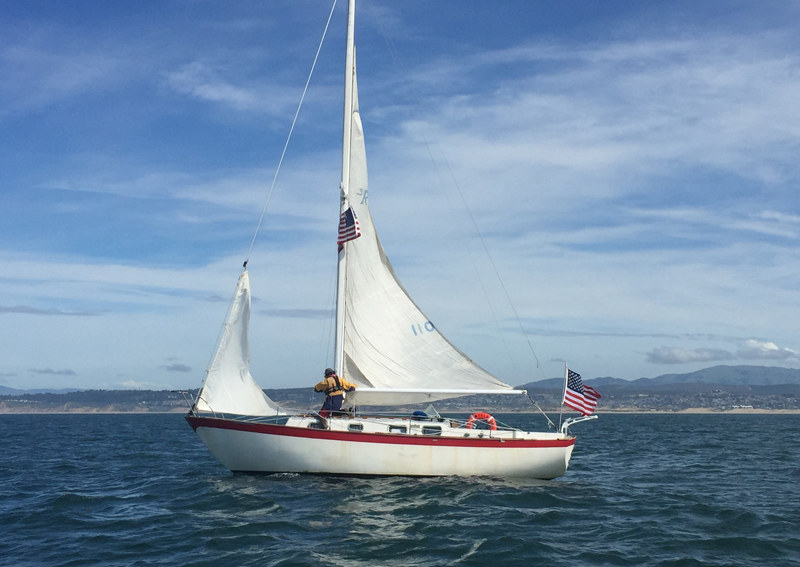 Before Russian-born singlehander Rimas Meleshyus sailed out of Monterey on March 21 with a jury-rigged headsail, he told friends he hoped to return to Sausalito's Richardson Bay in order to make repairs to his vintage Rawson 30 Mimsy — an upwind trip of roughly 75 miles. But 46 days later he showed up at the Big Island of Hawaii — more than 2,000 miles away — having sailed there, as he puts it, "Kon Tiki-style," which we take to mean running downwind under a decidedly non-traditional rig.
Say what you will about this intrepid voyager, he never seems to tire of such offshore adventures, no matter how slow or punishing the trip is. Now comes the question: "Where to next?"
Receive emails when 'Lectronic Latitude is updated.
SUBSCRIBE