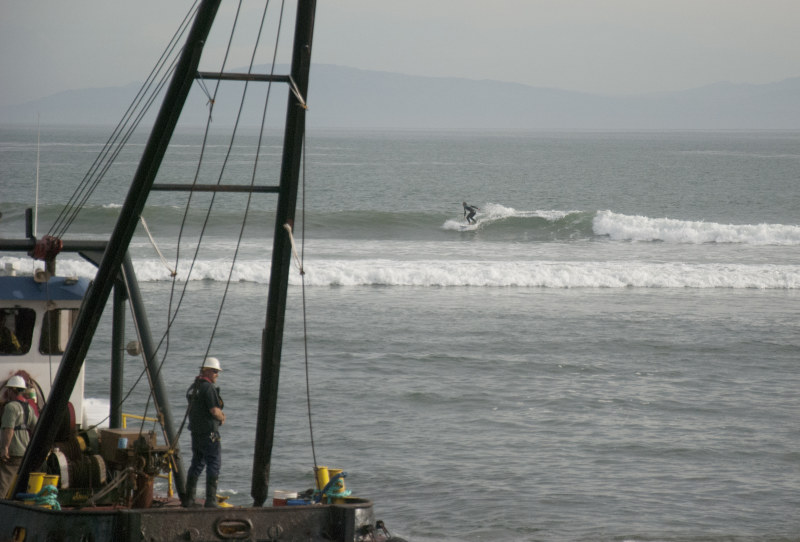 On Friday, the US Coast Guard mandated that Santa Cruz Yacht Harbor is now closed to all vessel traffic due to shoaling at the harbor mouth. Despite the efforts of dredgers, which have been operating on and off all winter, abnormally high surf in recent weeks — at least partially attributable to El Niño — has made harbor transits dangerous enough that the Coast Guard established a "temporary emergency safety zone," officially sealing off the harbor for the first time since the 2001 tsunami.
The closure leaves commercial fishermen stranded, with the commercial crab season opening this weekend and salmon season beginning in less than three weeks. Of course, it also eliminates all possibility of whale-watching expeditions, sailing lessons, Santa Cruz YC racing, and other forms of recreational boating, even for those willing to risk crossing the harbor mouth bar at high tide, as fines for violating the CG's order could be as much as $40,000.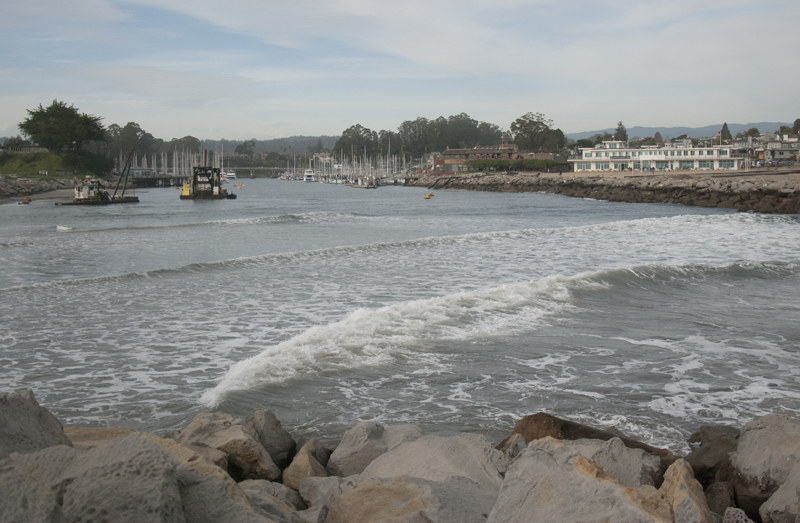 According to a Santa Cruz Port District statement, the channel entrance has been "extremely dangerous" since December 11. The inability of the existing dredging equipment to keep the channel clear has reportedly caused much grousing among harbor tenants, which will undoubtedly continue depite the fact that the Port District has announced via public notices that a new dredge will arrive sometime in May. Meanwhile a Coast Guard source says that agency's request for additional equipment to be sent by the Army Corps of Engineers has yet to be fulfilled. The entrance ban is set to expire May 1, but some sources are hopeful that the work can be done before then.
Even more troubling than the shutdown of the channel for public and commercial use is the statement by the Port District that, "the harbor's fuel pier is at risk of severe damage, as it sits on the shoal, and [has] the potential for breakage of pipelines and a significant spill of unleaded and diesel fuel into harbor waters." And, of course, into the pristine Monterey Bay Marine Sanctuary.
Although there is an active Coast Guard Auxiliary in place at Santa Cruz, no rescue boats are kept in the water during the winter months, and the nearest cutter is stationed at Monterey, 23 miles away — factors that may well have influenced the closure decision.
Receive emails when 'Lectronic Latitude is updated.
SUBSCRIBE