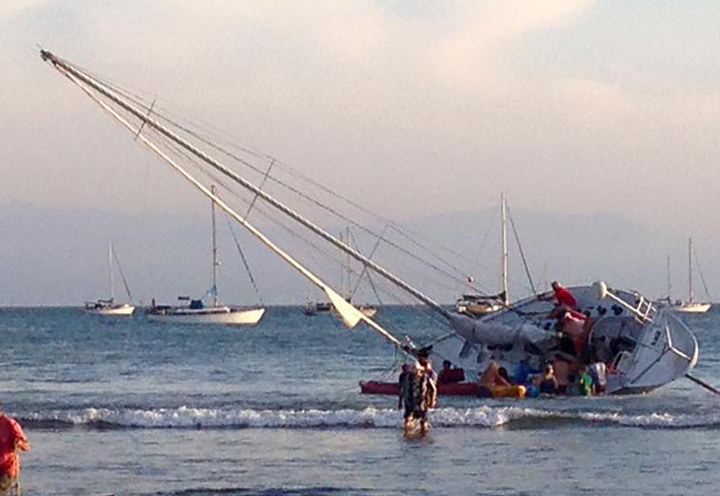 The Vancouver-based cold-molded Wylie 39 sloop Rage went onto the beach just outside Marina Riviera Nayarit last weekend while the owners weren't aboard. Landing on the rocks in front of one of the best surfing breaks in Banderas Bay, she suffered a very large hole in one side of the hull. She is not floatable, reports Mike Danielson of P.V. Sailing, and will be cut up this afternoon.
The boat is an older IOR design and was built by Barry and Connie Ruff of Vancouver, BC. Danielson says that Rage — which many people mistakenly believe is Steve Rander's Wylie 70 of the same name — has been cruised in Mexico for about the past five years and that the owners know the waters well. "Barry has done numerous Transpacs and Vic-Maui races," says Danielson, "and is a very good offshore sailor."
At this point we don't know why the boat went onto the beach. Danielson reports that an unusual swell rather suddenly came up from the WSW, and Rage was in the surf before anybody knew it. As it happened during the daytime, all sorts of cruisers and people from the nearby marina came to help, but, with a huge hole in the hull, there was nothing that could be done.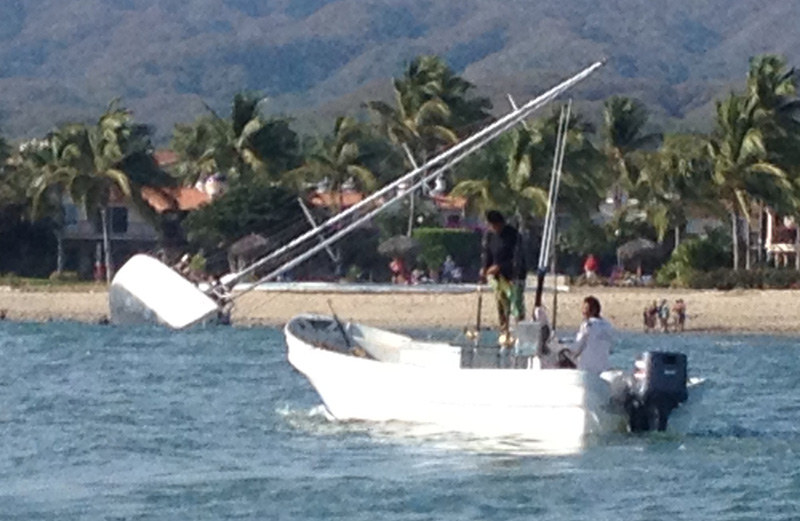 There was one report that said Rage had only 5/16-inch three-strand nylon for an anchor line. We have no idea if that is true, as the report also said that the line had chafed through on coral, and there is no coral reef. So that report isn't particularly credible. We've recently received a correction that states that the rode out at the time consisted of 60 feet of new chain and 50 feet of 5/8" nylon line.
What is known for sure is that a number of boats have gone ashore in pretty much the same place over the last five years or so. The problem is that people like to anchor close to the harbor entrance and beach, but that leaves little room for error when the afternoon breeze comes up. Boats that anchor on the outside of the anchorage have a long way to go before they are aground, and thus are more likely to be spotted before they come to grief.
Danielson says the only bit of good news is that the boat was insured.
Ad: CYC Midwinters/Robgatta
Receive emails when 'Lectronic Latitude is updated.
SUBSCRIBE